5 Minutes with... Mike Alessi
Jagermeister/FMF KTM's Mike Alessi has struggled more this year than he probably has ever in his career. However, before Southwick, he tested some with his team on his KTM 350 SX/F and found some new stuff, and it showed. Alessi went 3-4 for second overall on the day.
Racer X:
In the press conference you were talking about sort of burying yourself. I know a lot of riders have done that, where you do bad, so you try harder, and then you do worse, and you try even harder... Eventually, you're in such a deep hole that you don't really know where you're going, right?
Mike Alessi
: Exactly. Even in life, it applies. When you start pushing so hard and trying to recover from a bad weekend, it's like anything, when you start trying harder you're actually going backward. I feel like that was kind of what happened. Halfway through the season, I started realizing that things aren't going the right way at all, and I think I just continued down that path. I kind of struggled with bike setup going down the wrong road thinking maybe this setting was better. Ultimately, though, I woke up Sunday morning after
Unadilla
and I just thought to myself, "13-13?!" I mean, that's the worst I've ever done – 13th place. I woke up that morning and said I need to go for a run just to kind of clear my head and find myself again. I feel like halfway through the season, I kind of lost
Mike Alessi
there. It was tough for me, because I kept trying so hard and working so hard and I was actually doing worse every weekend. I started off winning [the second moto at
Hangtown
], then I went to a third-place guy, then I went to a fifth-place guy, then to an eighth-place guy, then to a tenth-place guy, and then finally I hit rock bottom at 13th. I realized what happened. "Who am I? What's going on?" I think I finally hit that spot where I lost myself. The last two weeks, I've been working hard, training hard, running on the beach [in Florida]; doing whatever it took – swimming, road biking. Finally, it paid off this weekend. It feels really good. My team has really stuck behind me and they're working hard. It really hasn't been a great season, to say the least – it's been pretty disappointing. I feel like this is a good way to turn around and possibly end the season strong and keep the momentum going. It feels good.
I know, for example, Jake Weimer last year at High Point started both motos in second place and he finished the day with no points. That was his breaking point where he's like, "What's going on with me?" There was a weekend off after that, and he literally did nothing for two weeks. He didn't ride, he didn't do anything. He played with his RC cars and then won the next race at Colorado.
For some people, it's different. They have to take it out some way.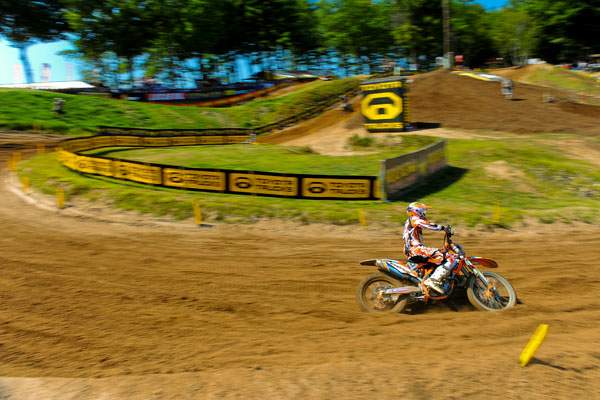 Mike Alessi climbed through the pack for a podium finish in the first moto, and overall.
Photo: Steve Cox
It's about interrupting the pattern...
Exactly, something to interrupt it. To kind of stop that and bring you back to realizing what's going on. "Why is this happening? Who am I?" Like you said with Weimer, you kind of lose yourself. "I started second both motos and ended the weekend with no points. What happened? Why is that?" You get so frustrated then you try harder and you actually go backward, I think. That's what happened. I really say thank you again to my team. It's been tough and Friday we practically stayed almost until dark at some track about an hour away and got some good settings. I was pretty dang happy and left there thinking, "It's probably going to be a good weekend." They stuck it out until nearly dark and I was happy that we did that. I'm sure they're happy, too, now that we did that and the weekend is over. It's good. We're going to go home and keep working hard and keep training hard and go to Steel City and do the same thing – try to be on the podium and try to get some good starts. I got some good starts today. The first moto, I started about tenth and worked my way up to fourth. Luckily, I got a break with [Brett] Metcalfe running out of gas, so I got third. It was good finally moving forward and charging through the pack and passing people. It's a first for me, really. The second moto, I started about fifth or sixth and passed two guys real quick. I got aggressive and passed them real quick to get into fourth. I pretty much just maintained that all the way to the finish. I was right there in third for a while and I think it was [Ben] Townley right in front of me. I was battling with him for a few laps, then [Kevin] Windham. Right at the end, [Matt] Goerke got by me and I got the pit board saying "second overall" so I just stayed right there with two laps to go and brought it home in second. It feels great.
This isn't normally your track. I think you do well in sand, but you haven't been dominant here before or won anything here before, even though you live in the sandy high desert...
The desert is sand, but it's more like powder sand. This is real sand here. Nothing like Lommel in Belgium. It feels good, and that's really all I can say. I'm just proud that all that hard work I did the last two weeks in Florida paid off. I'm looking forward actually to getting back there and seeing what the success has done to keep driving and push harder and keep digging.
What is the overall thing you learned, in case this were to come up again in your career?
You know what? It's something that you have to find within yourself in your heart and your soul; take a step back and ask, "Hey, what's going on?" and figure it out for yourself. People can always tell you this and tell you that. They think they know the best thing for you, but at the end of the day, they don't know you. They don't know your body, only you do. I think that it comes from within and knowing what has to change because somebody can tell you, "You have to run this many miles or you have to run this many laps."
As if numbers could do it. It's not about numbers...
They say in this sport it's 90-percent mental and 10-percent physical. I think that is a huge part of it, and I'm a strong believer that if you tell your mind you're going to do good and you put yourself through that pain and the training, it's going to pay off.
It's probably more than 90-percent if you think about it this way: All of you guys at your level are great riders. You're all very, very fast and in the end the difference is all in your heads.
You don't end up top 40 at a National weekend by accident. You have to have skill, you have to have a little bit of luck, and you have to have a great machine. Also, you have to have a great mind. There are a lot of riders out there who wish they could be top 40. Unfortunately, they can't because there can only be 40 riders. To be on the top step and be on the podium is a huge accomplishment in itself. I can't thank the fans enough for sticking behind me this season and being there for me. I got a really warm welcome on the podium when they said my name and the fans were definitely really excited and happy to see me up there and cheering for me, so thanks again to the fans.
You've always been a great starter, but had trouble coming through the pack. Do you think it's possible that having to pass guys this year is making you a more complete racer?
The way I'm looking at it, this season is more of a learning season. I'm not used to passing, so for me it's like I'm in unchartered waters. Maybe next year it'll happen and I'll be able to just slice right through them. For me, I'm happy getting a holeshot and pulling one or two tearoffs in the race. That's what [Ryan] Dungey is practically doing this season. He's riding good and I want to congratulate him on his championship. He's worked hard and you can tell he's put some hard work in. Winning the Supercross and Motocross championship in the rookie year is no easy feat. It's never been done.
Rookie or not, very few racers have done it.
Yeah, so congratulations to him on his success.