5 Minutes with... Brett Metcalfe
GEICO Powersports Honda's Brett Metcalfe had a breakthrough day at Southwick. One race after grabbing a podium spot at hard-packed Unadilla, he came about as close as you can come to winning a moto without winning it in moto one in the sand at Southwick. He led the whole race, fighting off Ryan Dungey the entire time, but literally ran out of gas with just a few turns to go. Dungey ended up beating second-placed Tommy Hahn by more than 50 seconds; that's how far in front the two were. It was one of the most heartbreaking moments of the 2010 season. We caught up with Metty after the race.
Racer X: Can't we just say that you won that first moto today?
Brett Metcalfe
: No, I can't say it. I was close to winning it, but we didn't cross the line.
But in your head, you won it, right? You may not have gotten 25 points or a bonus, but you won it mentally, right? You took off on the start and you never gave up the lead regardless of who was behind you and you were less than half a lap from the finish of that race. It didn't stop because you fell or you did something, that's why mentally it must be like a win.
Five corners from the finish... Mentally, I felt like I had that win, for sure. Unfortunately, you don't win until you cross the line, and you always race to cross the finish line first.
What did you say? What were the words that came out of your mouth when that thing stopped on that uphill?
I can't really repeat what I said! I was actually pretty mellow...
You didn't look mellow. I saw you throw your goggles off.
I had my hot moment there, but after that, running out of gas is hurtful but it's the best way I can think of to DNF a moto. Remember James [Stewart] here a few years ago with his engine seizing? It's dangerous. To get away with how I did is painful and hurtful emotionally, but safe. Physically, I was good. [Laughs] What was funny was, I ran out of gas on that little uphill and then I thought, "Man, I'm going to push this thing! Come on!" I started pushing it and I got up to the top of the hill, and I was totally out of breath, and I looked across and I had like five turns. I'm like, "No. That's not happening." I rolled down the hill and then I was going to jump off it and ghost it down the hill, but then I'm like, "No, it might bend the handlebars," so I tried to save it and I crashed. I was like, "You idiot..."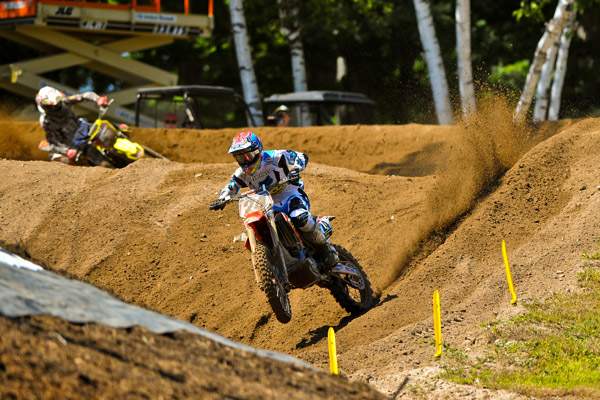 Brett Metcalfe begins to pull away from Ryan Dungey in the last few laps.
Photo: Steve Cox
So, it went completely bad at the end...
Yeah, it was just like a fizzle. Then I just got up off the ground and took my helmet off and walked back. That was it; it was over. I did everything I needed to do, which made me pretty stoked. I had heat on me the whole time and I was able to stay mentally focused on what I needed to do, which makes me pretty proud. The way I rode that moto showed me that I can handle that, and it was good.
That seems like a victory in and of itself. You've been racing in America eight years and you've won heat races, but you haven't won any points-paying races yet. Now you have to kind of believe that you can...
I've been close for a while, but never quite as close as today. Even though I ran out of gas today, what I did during the moto showed me a lot. Now I believe I can run at the front, for sure.
Like, "Brett Metcalfe belongs up here, not back there."?
Yep. Every weekend is a new weekend, and we'll see what it brings. Today was a pretty big day for me. It was unfortunate that we didn't get to cross the finish line, but still, it was pretty cool.
What was the attitude in the pits when you got back there? Obviously, the guys had to be pretty bummed out...
Everybody was just bummed out for me and apologetic, which in my mind wasn't needed at all. They were saying sorry and as a team they feel bad because their bike didn't make it to the finish line, but my team is awesome. It's no reflection on what they didn't do or what they did wrong. We really felt like we had this thing covered today. We had a big tank on and everything. We were bigger than anybody else on the Hondas and still didn't make it. We had to go to the off-road tank [for moto two, like the team's 250Fs run]. Everybody was bummed. They just wanted to see me have that victory and they all believe in me, so they wanted me to cross that line and feel that. Everybody said, "That was as good as a win for us," so that was cool.
You know what that means, right? You're too fast for the bike. You actually pinned it too hard and ran it out of gas...
Possibly. If I had slowed down I might have made it. [Smiles]
The second moto, you started near the front again and then you didn't come around. What happened in the back?
Me and Kevin [Windham] got together. Off the first/second corner, Kevin swept wide and left the inside open. I'm like, "Perfect, I'm going to take this inside and I think I got him. I'm going to take the lead right here in this third corner." I felt like I had the spot pretty easy, but then we came into that next left-hander close and I just couldn't get the brakes down. I was going for it in attack mode and then realized, "Man, he's already there..." We hit and my front end tucked in the sand and I don't even know what I did. I endoed or catapulted; I did something funny. I ended up crashing two more times just running into traffic with the lappers.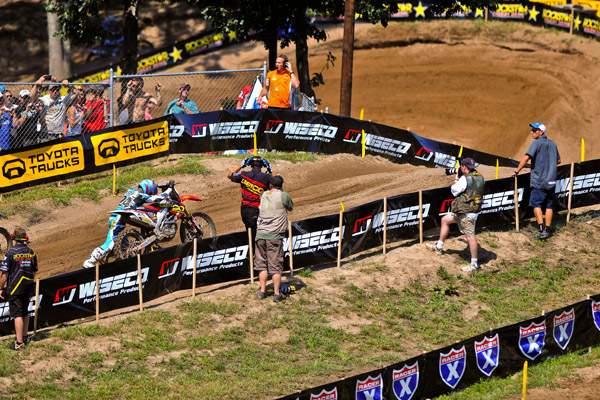 Metcalfe pushed his bike up the hill where it came to a stop, only to fall when coasting down the other side.
Photo: Steve Cox
But you went from way back there to seventh. That's ridiculous. That was a great charge. Even more so if you fell two more times.
Yeah, I felt like I was riding good. I looked at my times and they were all over the place, but to come through the traffic and pick off some of the times that I did was pretty cool, I thought. It was a tough track to pass on, actually; really tough. With the roost and everything, it was difficult to make moves. To get back to where I did was cool. I salvaged at least some points and it was good.
I know you're still looking for a ride for next year... Do you want to tell any of the teams anything?
If any teams are out there looking to hire; 24.
The guy in that first moto right there...
Both motos. You get the guy in both motos. You can't just get the guy in the first moto that's up front. You might get him at the back, too! [Laughs] Just kidding. I try my best every moto...