5 Minutes with... Clement Desalle
Teka Suzuki's Clement Desalle came over on an off-weekend to race the Unadilla National last weekend – and he nearly won! Riding on a bike that was mostly not familiar to him, in his first visit to Unadilla, he went 2-2 for second overall, beating James Stewart in moto one for the second spot, and then duking it out with Ryan Dungey in moto two for the win. Dungey ended up getting the best of him, but we caught up with Desalle about his weekend and his plans for the future.
Racer X:
You've been here before – raced Washougal last year. So what were your expectations coming into this race?
Clement Desalle: I just wanted to do my best, like last year. It was good. I had a podium today, but that's still second, you know? It was possible to be first...
Does it really bother you that you couldn't pull off the win?
Yeah, sure, because I could've won, but [on the positive side], I didn't have any crashes, and it was fun to be on my bike today, so it was really good.
It looked like you were basically riding an American factory bike, rather than your customary GP bike. Why was that?
We brought my suspension, but it didn't work on the bike because of the front wheel is so much different. It didn't work with my suspension, so I had to use the suspension from here, and it was a lot different. The fork was a lot different.
Did you have less feeling from the front end or something?
No, it was more traction, but I'm not used to it, and over jumps when you scrub, to come back was more difficult.
Plus, if you have more traction in the front, scrubbing has to be harder on the face of the jump, too, isn't it?
Yeah, yeah, exactly...
You said in the press conference that you'd like to come race over here. Everybody always asks this when you want to race in America, but what about supercross?
I like supercross. I like that type of racing, but I would just have to get to training on supercross again, because it's much different, but I'm open to coming over here. I really like it.
So, it's like, you race dirt bikes, and you know how to ride them, so you should be fine, huh?
[Laughs] Yeah...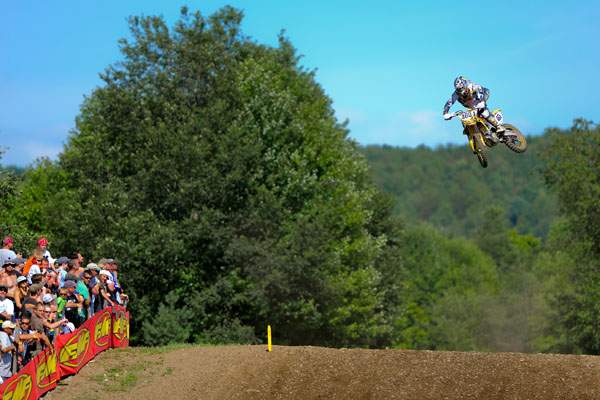 Clement Desalle nearly won the Unadilla National on unfamiliar equipment.
Photo: Steve Cox
You go to Brazil from here for the next round of the World Championship. So that's going to be similar to this, isn't it? Isn't it very hard-packed there?
Yeah, I fly Monday night. But whether it's similar to this, I don't know. I've never been there before. We'll see.
The two tracks you've raced in America are both some of our more hard-packed tracks. Did you do that on purpose? Did you pick the tracks that are most like the GP tracks?
Hard for you, yeah, but [Unadilla] had really good traction for me! In Europe, the tracks are much more hard-packed. It's different. So, for me, it's really good traction here! [Laughs]
Most of our tracks are more deeply disked, like Glen Helen was on Saturday...
Yeah, but even that track was not so deep. It was good there. I like riding that. I like the tracks here.
Do you think you might have a real chance of coming and racing here next year?
I don't know, really, but it would have to be a yellow bike. For next year, I mean, it would have to be a yellow bike, so we'll have to see...
Roger Decoster is from Belgium and all... You know... That could help, right?
[Laughs] Yeah, we'll see, you know? I would like to, but it's not so easy sometimes... We'll see. I'm open.