Monday Conversation: Ryan Dungey
Rockstar/Makita Suzuki's Ryan Dungey just keeps surprising people. Not many figured he would be "the guy" to win the 2010 SX title chase, and then when the series went outdoors, especially after a fairly disastrous Hangtown National, things didn't look all that great for Dungey. Since then, though, he has managed to win every single AMA National and holds well over 100 points going into Southwick in a couple of weeks. To add more hype, 2008 Champ James Stewart (who failed to lose a single moto that year) returned to the fray at Unadilla, and Dungey bested him as well, silencing critics – for now. We caught up with him after the race.
Racer X:
Obviously, there was a lot of hype this weekend, as you mentioned on the podium out there. Now that you've gone out and won again, what does that mean?
Ryan Dungey
: Having James [Stewart] return was a
good
thing, not only for us but for the sport. He's a popular rider – one of the biggest names in our sport – so to have him back was great. Coming in, I really didn't know what to expect. I was trying to have an open mind and really just do my own deal. I think a lot of people were wondering this and that, but I was just really focused on trying to do my own deal and not worry about everybody else.
That's what you did at Anaheim 1, right?
Right.
You just came in wanting to concentrate on yourself, and you nearly beat James that day, too.
Yeah, I mean, you pretty much said it. It's really about just going out there and doing your own thing. We're all lined up and ready to go, and you've got to have the confidence in knowing that what you did all winter was a lot, so when you show up, you know that you're ready to go, and that's all I tried to do. It was a long off-season and we were just waiting for Anaheim 1 to come, but you put in the work and you've got to believe in that.
Does this change anything for you at all, knowing the reputation James carries (deservedly) at being so fast and so hard to beat? Because that's really the first time you've ever beaten James Stewart straight up, since he won at Anaheim 1, and at Phoenix and Anaheim 2, he was hurt...
It's hard. It's tough taking time off from racing, and I can't really say much because I don't know what all he has been through. I haven't heard anything, and then he just comes to race. Behind the scenes, that's his deal, and I don't really know much to say about it. I guess everybody wants all these answers and I don't know what to say. I'm glad he's healthy, though, and he's back, and I look forward to racing with him hopefully for many years to come. I'm just really happy on the day that I was able to go 1-1, and I got off to great starts, put myself in a good position, and then had a good little battle with [Clement] Desalle that second moto.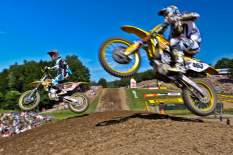 Ryan Dungey (5) checks that he's keeping temp-teammate Clement Desalle (right) behind him in moto two.
Photo: Steve Cox
Talk about that. He was going quick!
Yeah, he actually had some great lines and he was riding really good. I think we were about third and fourth in the beginning, and we were able to work our way into first and second, and from there he was tough. We got real close to passing him a few times, and then he'd get me back with a better line, but I was able to get a good run in the back section and make the pass. But he really rode good, and congrats to him. It's good to see him over here racing.
You have over 100 points in hand now going into Southwick, so if you manage not to lose too many points, it seems likely that in a couple of weeks you'll clinch the championship. Then what? Are you just going to go hang out at home and play video games?
No! I mean, every race is important. It's important to race hard until the end of the season. I want to just keep taking it one race at a time and keep doing what I've been doing. Just because this or that happens doesn't change the way things are out there on the track. I'm just trying to put my best foot forward, carry the momentum, and try to win these races from here on out.
Last year at the MXdN, you were sort of under the radar. But you won, and then you've won everything since, so you can't be under the radar anymore. Does that change anything for you?
I guess not really... I think going over last year, I had big shoes to fill, but I knew that. But I expect a lot of myself. I expect to win just like any other race. Being the Captain of the team is an honor, and with Trey [Canard] and [Andrew] Short, I really believe that we can do what we need to do and come out on top. It's going to be tough racing, for sure, and I don't think any of us should downplay that. There's a lot of great talent out there.
Clement Desalle is a good example of that!
Right! Exactly. So I just want to go there, put our best foot forward, do all we can, and ride to the best of our abilities and enjoy it. If we do that, we'll be fine. To have people like Roger [Decoster] and Mitch [Payton] and Davey [Coombs], and a long list of people like that who have been there, it's a nice environment even if it is your first time, like it was for me last year. It keeps you calm to have that knowledge and experience behind you. I think everybody's in good hands, so we just have to have fun and do our jobs...
Just go ride your dirt bike?
That's right! [Laughs]