5 Minutes with... Sebastien Tortelli
By Esteban El Pahis

What are you doing this weekend when everybody else is in Unadilla for the outdoor series?
I'm actually in Mexico for the weekend in a small town called Tlajomulco next to Guadalajara. I'm co-promoting a World Celebrities Motocross Race with 10 riders from all over the world. The event is going to happen on Saturday 14th & Sunday 15th. We're expecting a great turnout because Mexicans love motocross.

Could you please tell us more about the race itself?
We've invited ten international riders mainly celebrities. Stefan Everts is coming from Belgium, Anthonio Balbi, Doug Dubach, Pedro Gonzalez , Sean Hamblin, Damon Huffman, Adrien Roberts, Jason Thomas, David Vuillemin and myself. It's going a very big show. The Mexicans fans don't have the opportunity to see those stars very often so we are very excited to bring them to a public passionate about the sport.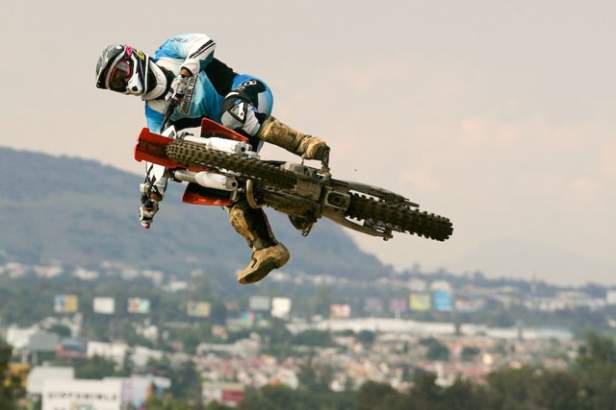 Sebastien Tortelli will be racing the World Celebrities Motocross Race in Tlajomulco, MX
Photo courtesy of WCMR


What's the race format is going to be?
We will have 4 races total during the weekend, 2 on Saturday and 2 on Sunday with 15 minutes motos. In the mean time a freestyle show will be presented by two local riders and a rider from Canada. It's going to be very excited to watch. Let's throw in the mix a bikini contest and we will have quiet of an astoning show.

Why did you choose to be involved in this unique event?
I met my partner, Nicolas Espana, one day in California and it wasn't planned or anything. We talked about lot of differents things, I liked the guy and he finally asked me if I will be interested in helping him bringing a great race to Mexico. Nicolas had the city agreed to it already because they want to promote this beautiful region to the world. We talked back and forth for a few months. We finally came to a great project and here we are. It's our first year, it's not going to be perfect but we put our hearts into it. The goal is to have a fun race with no agressivity and block passing. It's all about the fun of riding together and enjoy the Mexicans fans.

Is the World Celebrities Motocross Race a one shot deal and will we see more of it next year?
The WCMR is definitely here to stay. The city wants to do it every year. We have a lot of local sponsors but next year we'd like to step it up and get more money so we can promote a bigger event for everybody. I think it's going to help the local riders as well. It's tough for Mexicans to get a good ride.