Privateer Profile: Tommy Weeck
Tommy Weeck has had a rough season so far. He has missed most of Supercross, then came back at the end of the Nationals, but for the most part, his name hasn't been featured in the results much this year. Now, he's back, and he was the top privateer at Washougal with 15-14 scores for 13th overall. We caught up with him while he was driving to Unadilla.
Racer X: Tell the readers a little about yourself.
Tommy Weeck: My name is Tommy Weeck. I'm originally from Redmond, Washington. I moved from there when I was 14 to the great state of California to be closer to the heart of motocross! I was a KTM amateur racer pretty much all through my amateur career until recently, due to the poor economy. Now, I'm doing a privateer deal on Hondas, trying to pursue my dream of being a contender in the motocross world.
So how is your program now? Do you get support in any way?
My program now is basically just being surrounded by good-hearted people! [Laughs] I'm getting a ton of help from Mitch Payton at Pro Circuit, Von Zipper, No Fear, TCX boots, Shoei helmets, and Escondido Cycle center is helping me out with what they can. The tough economy does not help a true privateer racer much.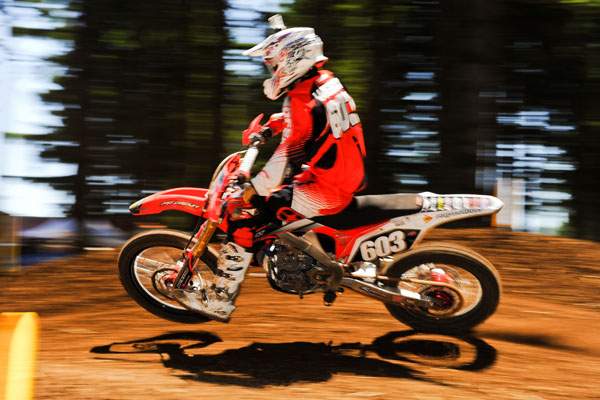 Tommy Weeck started out hot at Washougal. He now heads to Unadilla.
Photo: Steve Cox
How do you get to the races?
My parents have a motor home and a trailer that we took to the amateur races and is fully set up as a racing rig. They are now letting me use it for the last five outdoors. I can't thank my parents enough, because without them I would not be able to get to the races this year.
How do you feel about Unadilla?
I'm stoked for Unadilla. I got to race at this place last year and the track really suits my style; rough, gnarly, rocky and hopefully hot and humid. It's a really rugged track and I believe my fitness will benefit me huge.
Tell us about your training program and what you do during the week.
Well, I worked with Ryan Hughes for over three years off and on now. I follow his program 100 percent. I believe in what he teaches completely, from the diet to the riding techniques to training in the gym. The guy's teaching ability is incredible. I can't tell you what we do; I can just say it's a lot of circuit-style training!
Do you have a mechanic?
Yeah! I have a longtime friend, Josh Bartnik, doing my wrenching for me. He is actually living with me in the motor home while we're back east to do the last few outdoor races. I can't thank Josh enough for jumping on board with me so last-minute and just being ready to help in whatever way he can. He has been a huge part of making this program come together.
So, what's the plan for the rest of the year?
My plan is to finish off the next four rounds and try to be consistently in the top ten. I want to prove to the factory teams that I haven't gone anywhere and am still working just as hard to pursue my dreams. So, I will finish off the outdoor series and try to land a ride so I can compete in a full season next year!
Do you have anything set up yet for next year?
I currently don't. I am 100-percent open to any offers right now.
How did Supercross go for you?
I got to do two rounds of the West Coast Supercross – I did San Diego and Anaheim 3. I had some rough luck in them, though, with one being a mudder, and at the other I had a mechanical problem. But I got a ton of experience with Supercross training and am super-excited for it next year!
Are you currently still training with Hughes?
I pop in and do workouts with him when it works. Funds are tight, so I do a lot of it on my own. I follow all the things that he has taught me in the past.
Now that the races are on the East, where are you going to ride and train? Are you staying on the road?
I am staying on the road living in the motor home and am going to team up with Jimmy Decotis since he lives back this way. We are going to train together and we are both also going to hook up with John Dowd, who I met last year when I was back here, and do some sand riding before Southwick.
How do you think your season has gone so far?
Well, my season has only been Washougal so far! That was the first race I have done in months. I had a few crashes and got taken out, so a few mishaps that I need to work on and keep moving forward, but I can't complain with the results at the end. I had some hard charges and some fast lap times. So, I want to take the few things that went wrong from there and change around my program a little bit so I can be even smarter come this weekend at Unadilla.
Well, good luck for the rest of the season! Anyone you would like to thank?
Thanks! And yeah, I want to thank my parents again – like I said, this wouldn't be possible without them – along with Josh Bartnik, my mechanic, Pro Circuit, No Fear, Von Zipper, Shoei Helmets, TCX Boots, Escondido Cycle Center, Custom Decals, Dunlop, Maxima Oils, Acerbis, DT1 filter services, MRM-USA.com, QTM, and Kicker.