Monday Conversation: Three Champions from Loretta's
The 29th Annual AMA Amateur National Championship from Loretta Lynn Ranch presented by Amsoil is complete, which means several pro stars of the future have taken big steps in the present. This week for our Alpinestars Monday Conversation, we chat with Supermini 1 Champion Cooper Webb, 250 A Champion Ian Trettel, and 450 A and AMA Horizon Award Winner, Jason Anderson.

Ian Trettel

The transition from minicycle champion to big bike winner, and eventually a star at the pro ranks, can be a tough one. Just ask North Carolina's Ian Trettel, who dominated the 85 (7-11) ranks at Loretta's in 2004, only to miss the next full year of racing to a knee injury, and then several more races with other injuries, while trying to mount comebacks. Meanwhile, his primary competitors like Justin Barcia and Eli Tomac kept building speed and confidence, and clearly things worked out pretty well for them.

Meanwhile, Trettel has finally put together a few healthy years, and he was looking to end his amateur career as a champion once again. He crashed a few too many times to take the 250 A Pro Sport title, but still had a shot at 250 A. He and fellow Suzuki rider Gannon Audette were tied heading into the third moto, and Trettel pulled off a come-from-behind victory to seal his first championship at the ranch in six years.

Racer X: Six years ago you were the man, winning two 85 championships against guys like Barcia and Tomac. Then you had some injuries. Explain the long road back.
Ian Trettel: Yeah that's were we all were, that long ago, with me, Barcia, Dean Wilson and Tomac, we were all battling. Unfortunately I had some tough luck with injuries and stuff that set me back, and I kept falling backwards, then trying to come back up, then getting hurt again. But I think that's something everyone is going to have to deal with, that time of their career where injuries play a big part. So hopefully I have mine out of the way, I've been steady now for the last two years, I'm working hard and it's paying off. I'm looking forward to going up there and racing with guys like Barcia and Wilson again. I just want to go up and race the big boys.

Ian Trettel hopes to possibly get in some pro nationals before the year is through.
Simon Cubdy photo
Explain the pressure of this final moto. You and your Suzuki teammate Gannon Audette were tied with a 2-1 and a 1-2 heading into this final moto. Whoever won was going to get the title. You both got bad starts, but you pulled through. What's that like to face that pressure?
Yeah it's kind of hard to explain. You just know what you have to do when you're out there. I had a bad start with him, and I just did what I had to do. I knew he was right behind me, so I just used him as a gage and rode smart, I didn't want to do anything more or less than I needed to do, and 90 percent of the time, that works out best. I didn't try to do too much.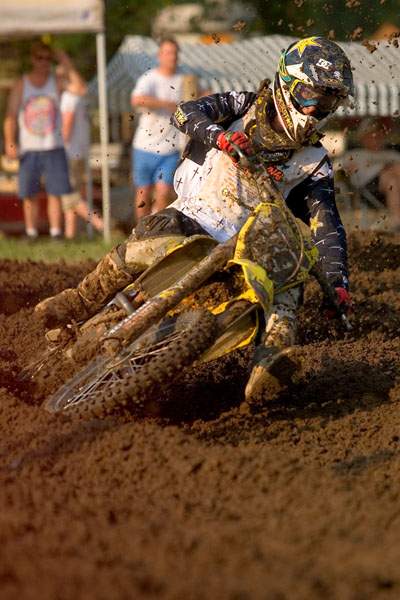 Ian Trettel didn't let the pressure get to him at Loretta's.
Photo: Matt Ware


Now the impressive thing is that through all the ups and downs you've had, Suzuki has always backed you.
I've been on Suzukis ever since I got on 80s. They've been really supportive the whole way. Then this last year I got to join Bobby Hewitt's team with Rockstar Suzuki, and they've been great. I'd really like to just stay on the team for next year with a pro deal, I think it would be good for me to stay on the Suzukis because I'm already used to the bikes. Suzuki has been good to me my whole career.

What's the plan now? Race nationals this year? Wait until supercross?
Well, some stuff has come up just this week. Hopefully I'll be racing Southwick, but this just came up, we just started talking about things like that this week. I'm not sure, it's all up in the air, but that's what I'm thinking about and that's what I'm looking forward to doing. It's been a long amateur season preparing for this, so it could be good to take a break, but at the same time, I want to get my feet wet before I go to supercross next year, so at least I'll be used to the big scene. I don't want to be having a heart attack when I go to the line in supercross next year.

Cooper Webb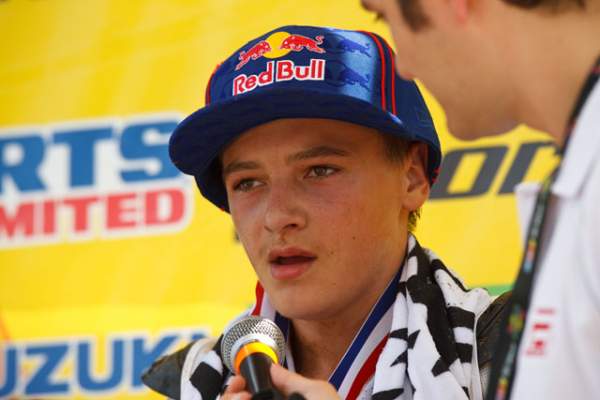 Cooper Webb is JGR's first big amateur threat.
Simon Cudby Photo
Kawasaki's Adam Cianciarulo was the biggest name in the Supermini classes this year, but Honda Red Bull rider Cooper Webb was aiming to grab some titles of his own. Their battle failed to materialize when Cianciarulo fell victim to a bunch of mechanical problems, but Webb still had to face the Suzuki tandemn of Jace Owen and Dakota Alix if he wanted two championships.

In a wild third moto in Supermini 2, Owen crashed, and Webb battled past Alix. He had the title in hand until he tangled with a lapper on the last lap, dropping him out of the lead and allowing a persistent Owen to bag the title. A few hours later, Webb faced off against Alix for the Supermini 1 title, and the two raced head-to-head the whole way, with Webb finally pulling a small lead late in the race to claim the title.

Well that's got to feel good. I know it was a heartbreaker for you this morning, leading until the last lap, and then crashing with a lapper and seeing the championship go to Jace Owen. How do you put that behind you?
You know, I just try to put that in the past and use that as a motivator. But yeah it was definitely a heartbreaker. So I try to use that to make me work harder. It taught me a lesson. So to come back and get this win, it's just a dream come true.

Talk a little about your program. First, Red Bull backs you with their Junior Amateur (JAMS) program. And now Joe Gibbs Racing has decided to get into the amateur scene, and they selected you as their first big rider.
Yeah Red Bull is awesome, they're just the best sponsor ever. Then this year we hooked up with JGR, it works out great since I live in North Carolina and that's where they work. I get to stay there and ride and train with their pro guys, so that's great for me.

Now, you won some titles earlier in your amateur career, but the last few years have been tough. Take me through that transition, and how difficult it is to stay up here and win year after year.
Yeah you know I won a couple of titles here when I was small on 60s and 50s. It's definitely harder, every year everyone gets faster and it gets tougher. This is definitely awesome to get my third one. It feels great.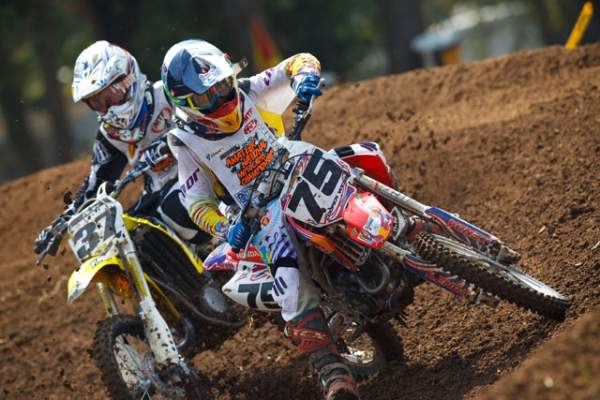 Webb (75) had some tremendous battles with Vermont's Dakota Alix in Supermini.
Simon Cudby photo
What was the focus coming in? There were a lot of fast kids in this class, with Cianciarulo, of course, and the Suzuki boys Jace Owen and Dakota Alix were fast the whole week. Tell me about your plan. Go all out and try to win motos, or stay consistent and see if the title came your way?
Yeah I know there's a lot of competition in Supermini, so I just tried to work on being perfect all week. I've been working a lot with Gary Bailey on that, trying to ride like the pros ride, and it worked out. It's awesome to win, especially against a tough group of guys like this.

What's next? Do you put the 150 away and go for the big bikes, or are you staying on this for awhile?
Uh, well, I'm only 108 pounds right now. So I'll probably stay on the little bikes again, so next year you'll probably see me on the 150. But who knows, that's a long way off, maybe you'll see me on a 250F next year.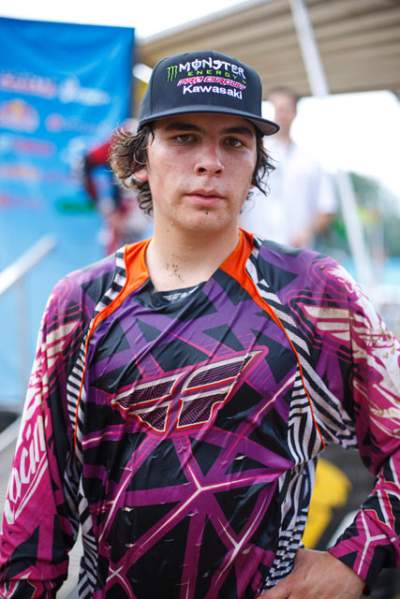 Jason Anderson is capable of pulling a Tomac/Barcia/Wilson on the pros and winning in his rookie season.
Simon Cudby photo
New Mexico's Jason Anderson was actually expected to turn pro after last year's AMA Amateur National, but he suffered through a miserable week of crashes and mechanical problems. Then he ended up out of a KTM ride as the brand reshuffled their amateur racing program. Jason stayed amateur, hooked up with Monster Energy Team Green Kawasaki and dominated all year long. At Loretta's, he won the first four 250 A Pro Sport and 450 A motos and appeared headed to two titles. But his bike broke in the final 250 moto, leaving him with heartbreaking 1-1-DNF scores. He would have to deliver on the 450, and he crashed three times on the first lap of the last moto. It looked like he was out of it, until he launched an amazing last-to-fifth comeback to grab the title via 1-1-5 scores.

First, Jason, you've gone through some ups and downs to get here. You rode for a bunch of different teams, talk about all of that.
Dude, I rode for everyone! From a few years with Suzuki, and then KTM, and now Kawasaki, I mean, I even rode Yamahas a little bit on 80s. So everyone has helped me out, and I loved it each time.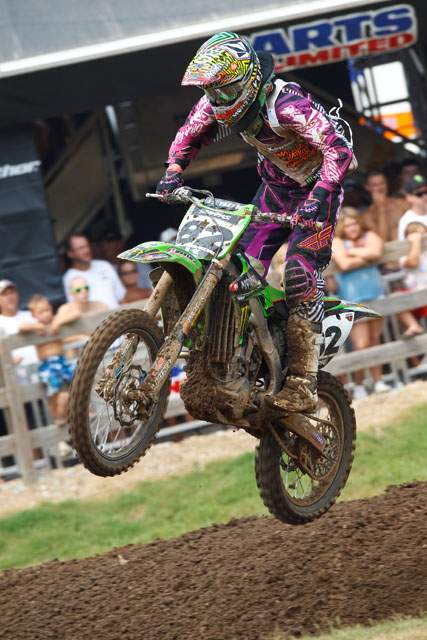 Anderson looked just as comfortable throwing his 450 around as he did on a 250F.
Simon Cudby photo
You were supposed to be KTMs big hope for the future, but their amateur program kind of changed up last year, and you ended up on Kawasakis. When did you start riding these bikes?
I started in December. It's gone awesome, it's a real professional team and that really helps me out.

I'm sure the focus was to get two titles this week, but this morning didn't go right when your bike broke.
Yeah everything was going good, I won my first four motos, then my bike broke this morning, so I went 1-1 DNF. I was bummed. So I knew I had to win this 450 class, and I had a good start and then things started going wrong. I hit a pileup in the third turn, then a pileup before the Ten Commandments, then I went over the bars at the end of that section. I was just freaking out. Then I kind of got my cool again, and I started going forward. I was really worried and I didn't know what was going to happen. I managed to get from last to fifth, and it worked out.

How hard did you ride in that last moto?
So hard, dude. I mean, I was just pinned, over riding a 450 like you're not supposed to!

Did you know what you had to get? You had to get fifth, and you got there.
I didn't know where I was at. I didn't even read the pit board, I was just going for it.

Do you get tired riding like that?
I feel fine right now. I'm not tired at all.

Wow. I know you have some old-school guys who have been backing you up for a long time. Rick Johnson has been saying big things about you since you were on 85s, and you're still working with Sebastian Tortelli.
Yeah Rick Johnson has always been there for me, he's gotten pretty busy right now with other stuff like his truck racing and all, but I respect that, he's still super cool and he still helps me out when he can. I love the guy. My mom and dad and grandma and grandpa have been there for me since day one, and that's the most important part. And Sebastien Tortelli started helping me out when I was 12 years old. He's stuck with me. We've been through ups and downs, and he's been by my side the whole way. That's awesome. Now I just started working with Coach Seiji as my trainer, and he's awesome, too.

What's next? Any idea?
I have no idea!

Racing some nationals in a few weeks? See you next year? What's up?
Well, you definitely won't see me racing here next year. I'm just glad to get this title. Next year, I don't know. Start at the nationals maybe? Supercross maybe?

But for sure not any of these last four nationals?
Honestly I have no idea what's going on yet. I guess I'll just celebrate this.