5 Minutes with... Ryan Sipes
MotoConcepts Yamaha/Oneal/FMF rider Ryan Sipes is having a great first year in the 450 class. In 16 motos, Sipes' overall finish has only been outside of the top 10 twice, and he currently sits eighth in points, thanks to another strong showing in Washougal, where Sipes went 5-11 for a career-best of sixth overall in the 450cc class. We caught up with Sipes after the Washougal round to get his take on his solid finishes, and his expectations for the remaining rounds.
Racer X:
How was your race?
Ryan Sipes
: The first moto went pretty good. I didn't feel like I had a great start, but I rode good and came through the pack and got fifth place. But the second moto, I knew with a good start I could be even better, and I came out great; I think I was about sixth. I came into the second corner, but where they had used a dragger around it, my front wheel caught an edge and I just fell over and got up twenty-something.
How was the track today?
I liked the track. It was really rough the second moto; real choppy. I liked the track. I think our setup could have been a little better for the second moto. The first moto was really good; the bike worked great. The second moto, we could have made a few adjustments, but we'll know that coming in next year.
How much of a role did the shadows play? Did they make it hard to see in the second moto?
Yeah, it made it tough because you couldn't see. There are a lot of places where the track is not really level; It's off camber, or there are little edges you can't see. You're just riding through, hoping you hit the right line. The first moto, they weren't bad at all, but the second moto they got worse.
You've been consistently finishing inside the top ten this year. Did you think you would do this well in your first season on a 450?
Honestly, I want to be doing a lot better. It's cool to be top 10, but I know I have speed, and I have what it takes to run up there; it's just gettin' it done. I just need to quit trying and start doing it.
What is it going to take to break into the top five?
Consistent, good starts, and staying off the ground. I had a bunch of dumb little fallovers today. Just like today, without falling over, even if I'd have just gotten seventh, I would have had fourth or fifth overall. It's just the dumb little mistakes. I'm trying to push it on that 450. I have a lot of bike time on it. I haven't had as much as some of these guys; they've been riding it longer, and it's just a learning curve I guess.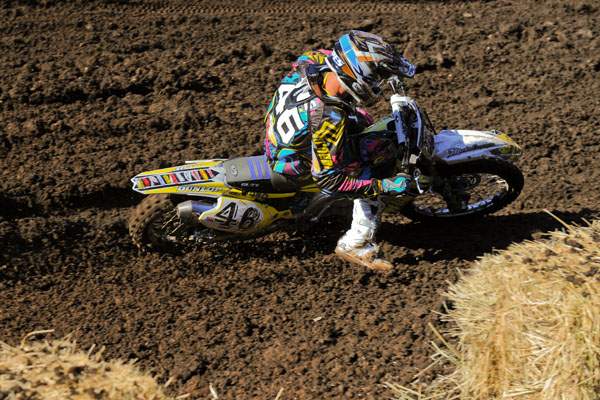 Ryan Sipes had a career-best day at Washougal, grabbing sixth overall. He's looking for bigger things at Unadilla and beyond.
Photo: Steve Cox
What are your expectations for the rest of this season?
Honestly, I want to be in the top five. What do we have, four rounds left? I want to be in the top five. I want to be there, if not every moto, at least for the overalls and try to make up some points and get up there. I think I'm eighth now in the points, but I want to start getting some top-fives and get up there in the points.
How long are you signed with the MotoConcepts Yamaha team?
Just for this year.
Do you have anything lined up for next year?
I'm working on some stuff; I'm not sure yet.
Is there anything you want to add before we wrap this up?
I'd like to thank my family, God, MotoConcepts, Yamaha, GYTR, O'Neal, Motorex, FMF, Dunlop, EKS, OTM, Vortex, ICW, ODI, Guts, DT1, Mechanics Wear, VP Racing Fuels, RK Chains, C4, Talon and Adrenaline Designs.
Thanks Ryan, and congrats on your race!
Thanks.