5 Minutes with... Nick Wey
Strong results have been hard to come by for veteran rider Nick Wey of the Monster Energy Kawasaki outfit in the 2010 AMA National Motocross Championship. However, Wey has been able spool things up as of late and begin climbing up the leader board in the series points' chase. Last Saturday afternoon at the fabled Washougal MX Park in Washington State, Wey raced to 10/6 motos scores to nail down a hard earned fifth overall finish. With the Nationals taking a week off this weekend, Wey has just touched down in Los Angeles where he will compete in the Moto X event on Thursday in the ancient Los Angeles Memorial Coliseum (the birthplace of the sport of Supercross back in the July of 1972, by the way). Today we talked with the 12-year veteran of the sport who completed his first professional season in 1998.
Racer X:
Nick, late in the second moto last Sunday at Washougal, you were passing guys at will and moving toward the sharp end of the field. You looked like your old self. Where has that dude been? Because that's the dude we expected to show up at every race this season. What's the skinny?
Nick Wey
: Yeah, I definitely didn't start off like I wanted to, for sure. Obviously, with things being up in the air with what I was going to do for outdoors, the first time I really rode outdoors was after Vegas, really, so I definitely came into outdoors not really as prepared as I would have liked to have been, that's for sure. It's tough to make too many improvements when you don't have a lot of time off. The Kawasaki guys have been helping me get the bike a little more comfortable for me, so I feel like it's coming around. I was disappointed with how I finished at
RedBud
and
Millville
because those are kind of like the spots where I excel at, usually. Obviously, I was able to get in the top ten, but that's not really what I was looking for. I've just been working hard and this weekend, 10-6 isn't the best moto result, but fifth overall I'm pumped on that, for sure.
I know that maybe it's not where you expect to be, but it certainly is closer to where you expect to be, right? The rest of the season has been a lot tougher on you than last weekend was...
Yeah, I mean, for sure. I've been training really hard and things just haven't been working out. It's easy to kind of give up or slack off or lose focus or whatever the case is, but I just need to stay focused. I guess that's what happens when you keep trying your best; good things will happen.
Did any of it have to do with you feeling more pressure or more responsibility with your teammate Chad Reed exiting the series for reasons we're all still sort of unsure of? Did you feel like the team was counting on you getting up there?
Obviously, every weekend I want to do my best. I think it had really no bearing on how I did at all with Chad being there or not being there.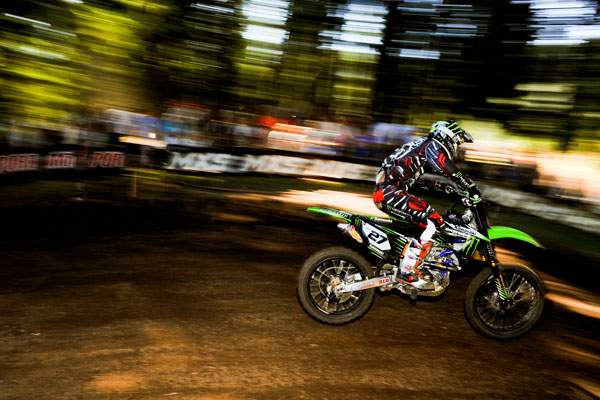 Nick Wey scored a fifth overall at Washougal.
Photo: Steve Cox
You said it was tough getting testing done during the week. Have you gotten some testing done in the meantime so that the bike is coming more around to your liking?
We're basically just changing little things here and there. Definitely, over the last month, I'm a lot more comfortable with the bike. Ultimately, it's quite a bit different than the standard one, with the transmission being so different, the suspension components and things like that. It definitely has a way different feel and I obviously have a lot of time in on the more standard Kawasaki. It's kind of getting used to things and it takes some time. In Supercross, I was riding what would have been like Chad's settings at first and then, toward the end of Supercross, it was more like Ryan [Villopoto's]. They use different transmission ratios. Ryan's is quite a bit different than what standard is, so it's a little bit tricky as far as bike setup. Obviously, the engine affects the chassis and things like that, and it's starting to come around with everything. The bike is awesome, it's just quite a bit different from what it would be standard, so I feel like I'm getting a little more used to things and I'm able to find my comfort zone.
You've always said Millville [Minnesota] was one of your stronger tracks. What was your take on the Washougal circuit?
When I first started racing at Washougal, I didn't like it at all and I was pretty horrible there, to be honest. Like you said, Millville and RedBud [Michigan] tracks are kind of sandy, which are more of my forte, growing up in Michigan. Over the last couple of years, it seems like Washougal has been pretty good to me. I enjoy it up there. Obviously, the scenery is awesome and the track is just so different than anything you would ever ride unless you were from that area, or maybe from Europe. It's definitely slippery, but it has treated me pretty well the last couple of years.
With Chad Reed now out of action, you'll be the only Monster Kawasaki 450 rider for the last four races of the year. Are you cool with that?
Yeah, I have no problem with that, for sure. Obviously, I appreciate all of Monster's backing, and obviously the Kawasaki guys and everybody for getting me in that spot. I just want to continue to improve and keep doing my thing. Obviously, I get along with Ryan and Chad. I don't have a problem with either of those guys. I guess I would consider both of them my friends. I would rather have one of those guys there to hang out with, but as far as on the racing side, it doesn't affect how I'm going to do at all.
The stadium scene's going to be a bit different in L.A. for the X Games, dialing your Supercross suspension midway through the MX Nationals. Nonetheless, are you happy to be lining up for the X Games?
Yeah, I had a good time doing it last year. There's a great vibe around the race with all the other action sports going on. A lot of those guys gravitate over to watch us race – and I know some of the Moto-X guys like checking out some of the other sports. So yeah, it'll be a good time.
What are your favorite sports to watch out of all the other X Games events?
Gotta keep an eye on my Monster boys in the Halfpipe: PLG and Bestwick. The Rally's pretty cool as well and I'm looking forward to this new Super Rally deal they've got going. We'll be pulling for Monster's Ken Block there, for sure.
You turned pro in 1997, but 1998 was when you were drafted into the pro motocross scene for your first full season. You won the AMA's Horizon Award for Rookie of the Year, racing that year, and 1998 was also the last year they ran Supercross in the storied L.A. Coliseum – including the ski jump heading out of the Peristyles. The Coliseum's hallowed turf – pretty much ground zero when talking the history of American Supercross. Are you pumped to be racing there for the first time?
I've still got all the old VHS tapes of RJ, Bailey, Ward and those guys battling at the Coliseum – and 1992 when Stanton mentally ended Damon Bradshaw's career [Note: Bradshaw faltered in the final race of the year, giving Stanton the title]. I kind of figured I'd go my whole career without ever getting to race there. So when I heard X Games was returning there I was pumped, yeah. Can't wait to wheelie the Peristyles!