Fiolek Claims Double Motorcycle-USA.com Holeshot Awards at Millville
Medford, OR
– Defending WMX champion Ashley Fiolek doubles her holeshots at Round 5 of the 2010 MotoUSA.com Women's Motocross Championship in
Millville
, Minnesota, winning both
Motorcycle-USA.com
$250 Holeshot Awards. In Moto 1, Fiolek launched her Honda CRF250R into the point position, but was soon engaged in an epic battle with her nemesis, Jessica Patterson. After swapping the lead several times, at the checkers it was Patterson with the advantage. A mistake by the Honda holeshot artist dropped her to third for the opening race.
Moto 2 was just as exciting. Once again Fiolek had perfect clutch and throttle timing off the starting gate and looked to redeem her loss in the opener. Racing conditions had deteriorated with nasty weather and the women faced a difficult track for their second outing. Patterson was able to slip past on her way to a perfect day, but the DMA Shred Stix Yamaha pilot crashed on Lap 7, allowing the defending champ to once again inherit the front-runner position. JP would recover for second in the moto but her 1-2 score topped Fiolek's 3-1 for the overall victory. Patterson, a two-time holeshot winner herself this season, extended her championship lead to 28 points.
The MotoUSA.com Women's Motocross Championship will return for Round 6 at the 2010
Southwick
National, held in
Southwick
, Massachusetts on August 28th. MotoUSA.com is the official Title Sponsor of the Women's Motocross Championship and Motorcycle-USA.com Holeshot Award Sponsor for the WMX - providing $250 to both Moto 1 and 2 holeshot winners.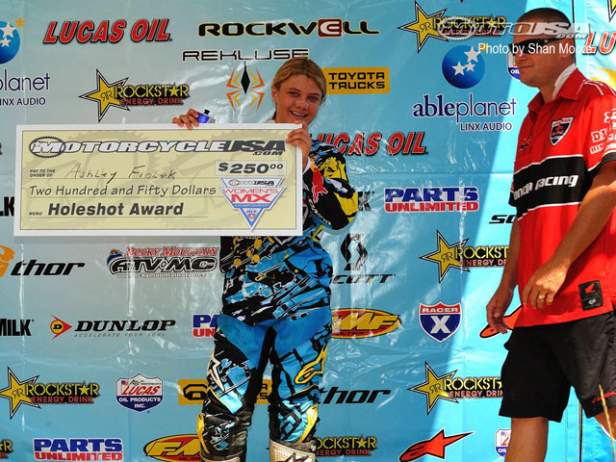 Winners to Date:

Round 1 - May 22:
Hangtown
Classic - California
Moto 1: Ashley Fiolek
Moto 2: Jessica Patterson
Moto 1: Ashley Fiolek
Moto 2: Ashley Fiolek
Moto 1: Ashley Fiolek
Moto 2: Jessica Patterson
Round 4 – July 3:
Red Bud
– Michigan
Moto 1: Ashley Fiolek
Moto 2: Ashley Fiolek
Round 5 – July 17: Spring Creek – Minnesota
Moto 1: Ashley Fiolek
Moto 2: Ashley Fiolek
About Motorcycle-USA.com
Motorcycle-USA.com is the most advanced and diverse motorcycle content site on the Web. For more than a decade, Motorcycle-USA.com has provided breaking industry news, comprehensive motorcycle tests, product reviews as well as race coverage for both street and dirt. We have more photographs, motorcycle specifications, rider impressions and online videos than any Internet publication.
www.Motorcycle-USA.com
- Climb On.
About the MotoUSA.com Women's Motocross Championship
The MotoUSA.com Women's Motocross Championship is the world's most prestigious women's motocross series. The Series is managed and produced by MX Sports Pro Racing, whose mission is to raise awareness of motocross racing through the promotion of professional championship racing events nationwide.
The series is also produced in conjunction with Alli, the Alliance of Action Sports, a global business that encompasses national and international action sports events, multimedia production and a consumer-based lifestyle brand.
Alli is owned by NBC Sports and MTV Networks and represents a vast network of athletes, fans, brands and properties.