Welcome to Redux presented by Renthal. Is it really all about momentum?

Ryan Dungey is firing on all cylinders right now. The ball is bouncing his way. Everything he touches turns to gold. All that. A few weeks back, we discussed that luck isn't a factor, because when you win for such an extended period, luck, in fact, needs to ruled out. But what can you say after that epic Red Bud first moto? Wasn't that luck?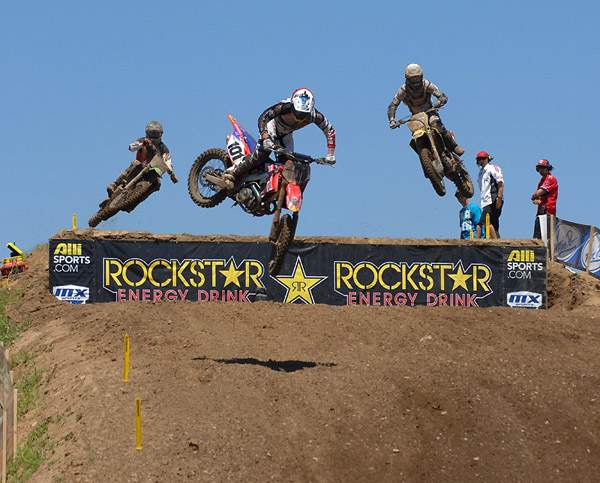 In what should be used as a poster shot for the series, this is the LAST LAP of the first 450 moto!
Carl Stone photo

In moto one at the Rockstar Energy National at Red Bud, Andrew Short grabbed his fifth holeshot in a row. Ben Townley was up there with serious determination. Chad Reed had a good start. Josh Grant caught up to Reed and got in the mix. Dungey made some moves, but the pack had an answer for him. Grant crashed early and fell back. Short fought Dungey hard but eventually lost the pace. But Townley and Reed kept trying and believing. All season long, Townley has been fast, but small washouts and tip-overs have cost him. It looked like he had finally gotten that out of his system this time, as he battled Dungey tooth and nail. Dungey mounted several attacks, but Townley's experience and race craft allowed him to maintain the lead. Down to the last lap it went, Townley, Dungey and Reed all digging super deep and going for it. The Red Bud fans were going nuts. This was the race of the year, and two guys had a chance to topple Dungey. Who was going to take it?

Townley cracked, losing his front end and going down. Dungey snuck past, literally hopping a breaking bump and jumping over BT's front wheel, while Reed got collected in the mess.

The first and third place guys crashed but the second place guy sneaks through? Isn't that pure luck?

I say it's something else. Last week we mentioned how hard the 450 contenders are trying to beat The Dunge. When phenoms like Ricky Carmichael and James Stewart were handing out perfect season butt whippings, the competition knew they didn't have a chance. But there are at least five guys this year who think Dungey is beatable, and that's why every week someone steps up and almost gets him. Short wins a moto at Budds Creek. Grant wins a moto in Colorado. And that first moto this time….

They can keep chalking it up to Dungey being on a roll. Keep talking about momentum. But here's something more tangible that I noticed:

Townley admitted he had gotten just plain tired in that first moto, and that's why he made the mistake. The track was way, way rougher in moto two, and I think the other riders were already spent. Dungey grabbed the holeshot, was passed momentarily by Short, then retook the lead and took off. Short, Townley and Reed tried to hang with him, but they couldn't.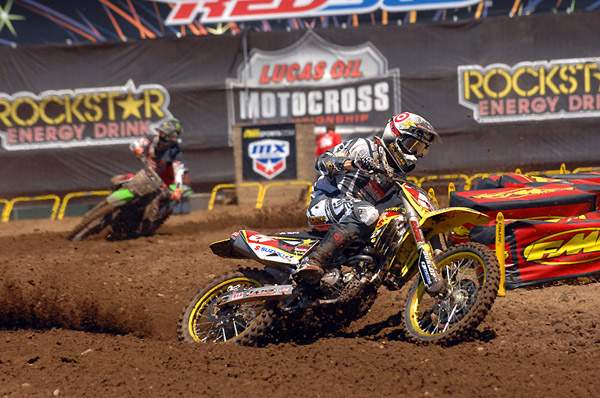 Dungey pulling away from Reedy in the second moto. The second motos are where he's been earning his money.
Carl Stone photo

I don't think it was luck on this day for Dungey. Or momentum. Or being on a roll. In my opinion, it's fitness. The dude is just so strong that in the heat of these battles, he's cruising along at 95%, taking it in, thinking clearly, staying relaxed, while everyone else is maxed out. They have no room for error, and that means errors happen. In the first moto, Dungey was passed twice by Short. Later, he tried to pass Townley probably four times and couldn't get by. After each situation, you'd see him back off a bit, drop a few bikes lengths back, and calmly regroup for another attack. He never got rattled and never got desperate.

Then in the second moto, when it was super rough, he was fresh and the others were stale. We've had some gnarly races this year, like a super-hot one in Texas, a super humid one in Budds Creek, high altitude last week, and a crazy battle on rough track this week. Have you ever even seen Dungey look tired after a moto? Do you ever hear about him being sick, or burned out? He comes off the track like he was on a jog while everyone else was doing sprints.

Ricky Carmichael keeps referring to Dungey's genetic makeup, and how it's easy for him to do the hard workouts during the week and bounce back. When Carmichael mentions Dungey's genetics, most think he's talking about Dungey's height. That's not all, though. He's talking about Dungey's natural talent with cardio. I know, we all want to think hard work can overcome all, but some people are built like power lifters and some are built like marathon runners. What category would you put Dungey in?

I know Reed, Townley, Short and Grant are working hard. But I don't think they can go the distance with the Dunge twice in an afternoon for 35 minutes, or, in order to go as fast as he does, they're having to ride much harder, which means they get tired and he doesn't. If they get an advantage—maybe Dungey gets a bad start, or falls, and maybe then they can save enough to neutralize his advantage. But if Dungey rides smart enough to stay close, his fitness takes care of the rest by the time the second moto rolls around.
Plus, we have Millville coming up next, and you know it's going to be a massive Dungey homecoming. Unless he gets hurt, or James Stewart and Ryan Villopoto suddenly show up 100 percent fit and ready in two weeks (which ain't happenin') this luck and momentum thing may continue. And really, while Stewart and Villo surely think they could be winning these races if they were out here, whose to say if that's even true?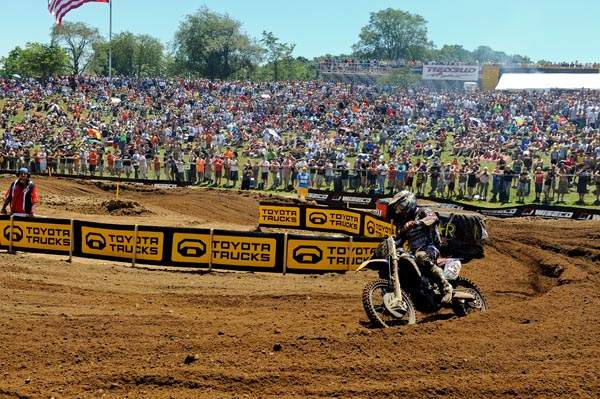 Everyone expected Josh Grant to be flying at Red Bud. But he crashed in practice and in both motos. Ouch.
Steve Cox photo

I'm actually kind of bummed at myself for trotting out the "Dungey's in better shape" quote. I'm usually the big champion of the "he who works hardest doesn't always win" theory, and nowhere has that been proven better than in the 250 class with Trey Canard. If winning just came down to training hard, riding hard, trying hard, getting on a good team with good equipment and surrounding yourself with the right people, Trey would have won a bunch of nationals by now. He does everything right, but he had actually had not won anything outdoors coming into Red Bud.

This just shows how tough this sport can be. Only one rider in each class can win each weekend, and when you throw in injuries and errors, the guys who deserve it the most don't always reap the rewards. Trey seems to make mistakes at the worst possible times, and I thin part of that comes from trying too hard and wanting it too much. Last year at High Point, he gave it everything he had to beat 250 dominators Pourcel and Dungey, and he went over the bars and out for the season. A lesser man would have rolled over and let Pourcel and Dungey pass, say he was happy to finish on the podium, cashed his pay check and moved on. We've also seen Trey go down in supercross far too many times trying to slice inside of a guy in a corner. These are effort crashes.

Last week in Colorado, Canard had Pourcel on his tail again. Trey put up a good fight but Pourcel ultimately got him. Trey admitted that he was happy to just make it through five races healthy, which is something he couldn't do in '08 and '09.

He made it to fight another day, and that day was Red Bud. He charged from 10th to fourth in the first moto, a good effort, but surely not enough to give him the overall. He rode incredibly hard in moto two, passing Blake Wharton, Justin Barcia (and getting to feel the full Barcia experience, banging bars a few times, with Trey admitting "it fired me up a bit") and then going after the Pro Circuit boys, Pourcel and Rattray. He made those passes, too, including an awesome scrap with Wilson for the number-one spot where they went back and forth a few times before Trey finally lined Dean up and bumped him off the track. Good hard racing there.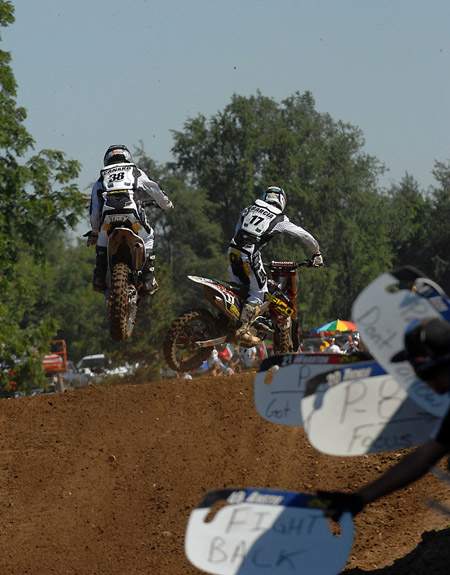 The teammates give each other no room, because no one in the 250 class gives anyone any room anyway.
Carl Stone photo
The 250 class is so darned close on speed. Those kids are giving it all they have, twisting those bikes to the limit, trying and digging and fighting with everything they have. For Canard to battle to the front in both motos and win the overall is just a phenomenal effort, and the fact that he is this good and wants it that bad but has never actually won before says a lot about how tough it is at the top.

So, although I started this off by praising Dungey's fitness in comparison to his peers, I'm not taking anything away from guys like Reed, Townley and Short. Just because one guy is super fit doesn't mean the guys he's beating are lazy.

And in the 250s, watch any of those motos and dare to say the guys up front aren't giving it everything they have.

Two years ago at Red Bud, Canard and Dungey were having an awesome battle for second, with Villopoto way out front, of course. Canard won the duel when Dungey's bike broke on the last lap. The next week, they tangled again at Budds Creek, and it looked like Canard would get the edge until he crashed into a lapper. They battled some more at Washougal, until Dungey and Villopoto took off, and Trey tangled with a lapper again and went down with a broken leg.

Point here is Canard has been at Dungey's level before. He works just as hard. But injuries and other stuff have knocked him down a peg. After the race, I asked him if he thinks about those days battling Dunge, and he admits that he does think about it from time to time, really to help boost his confidence.

We love telling stories about wasted talent in this sport, but for every Jason Lawrence "if he had just trained he would have been unstoppable" story, there's a Broc Hepler, a guy who had the talent and the work ethic, and it just didn't work out (Broc's still on the sidelines after a series of concussions). That could have been Canard—all the training and talent can't overcome major misfortune. I'm pumped that Trey survived to get back up there.

You can say the same for Townley, too. From dead, gone and given up on to coming within half a lap of beating the 450 points leader straight up for a moto win? These are inspiring stories, and the desire these guys have leads to great races. That's what made Red Bud such an epic weekend for the sport.

That said, if only that first 450 moto got to air live on NBC!

Hey so while we're talking about all-out efforts, what gives with Christophe Pourcel? He's Superman in one moto, and Clark Kent in another. I asked him if he was sick, hot or tired in the second moto, and he said he wasn't, just that "there were a lot of bump" out there (he means bumps) and he couldn't make passes. He also got bumped around a bit by Barcia (of course), which scared him a little bit. This year, the 250 class is racing after the 450s every weekend, and CP says the tracks are often too bumpy by their second moto. I say Christophe likes to find smooth lines wherever he can and there simply aren't any smooth lines in moto two on some tracks. In the big picture, he's doing the right thing by just getting points every weekend and being safe. But will he be able to pull off stuff like that in the 450 class next year and have similar success? I really don't know the answer to that.

Last week rumors were running rampant that Nico Izzi had been benched by the Star Racing/DNA Shred Stix Yamaha team for "lack of effort." This weekend I talked to Nico, his trainer Randy Lawrence and Star Racing Team Owner Bobby Reagan and the story was totally different. Nico had a case of mono during supercross, leaving his immune system depleted. He then caught strep throat before Colorado, so they told him he could stay home and rest. They even gave him the option of staying out until Millville, but Nico wanted to ride Red Bud since he's originally from Michigan. Nico finished 12th overall on the day with 9-18 scores, his best outdoor ride in ages.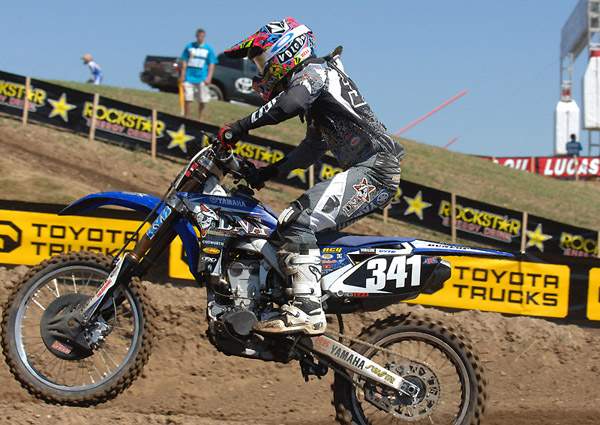 Izzi back? Yes he is!
Carl Stone photo

Star definitely has "next team" status behind Pro Circuit and GEICO, as Izzi, Broc Tickle, Martin Davalos and Max Anstie all show speed at times. Tickle was first "non PC or GEICO" with seventh overall, which is like a win in some ways. Davalos was ninth. Anstie had the second moto holeshot but succumbed to some bike problems. I think the big question with this team is, will they keep their guys and keep getting better, or will they become a farm system that the PC and GEICO squads just pick from? Every week I hear "How do you think Tickle would do on Mitch's team?" and I have to wonder how this will all turn out.

Eli Tomac continues his "I'm only human" tour with 12-9 scores for tenth overall. Jake Weimer finally had a chance to show he still had it, but he and Tickle collided in the first moto, which sent him back. We're looking at an interesting Motocross of Nations team debate right now since Weimer, last year's 250 entrant, just can't seem to get going. Is Canard's win a signal that he should get the nod? Should we send Barcia and have him one-man wrecking crew the other teams?

We're 2000 words into this column and I haven't even mentioned Mike Alessi yet. He's a non-factor. I don't even know what to say, except to repeat the fact that Tony Alessi told me after Hangtown that they wouldn't know where anyone really stood until Red Bud. I saw Tony and told him he must really wish he were wrong about that. At that moment he was torn between taking credit for predicting things accurately, and yet knowing Mike has dropped away off. It's kind of like when your fantasy quaterback ends up playing your favorite team for the weekend.

Perhaps Reed summed it up best in the press conference when he said, "Seems like doing well at Hangtown was the worst thing that could happen. Me and Eli won and me and Eli suck right now. Mike isn't doing any better, either."

Red Bud has definitely become the automatic answer to "what's the best national" and you could see why. Massive crowd all pumped up on July 4th-ness, cool looking track with LaRocco's leap, great summer weather. However, you will hear a few riders say the track gets tilled up so deep, with so much sand thrown in, that it's actually pretty one-lined at times. It's almost like a mud race, and if you go off the main line, you just sink in and bog down. I understand that theory but after that epic first 450 moto, though, you can't complain too much. Dungey and Townley worked each other for a half of a lap several laps in a row. That's the way motocross is supposed to work. Let's just call it a perfect weekend and move on to other things. But not criticizing the effort the leaders put in. They're all working hard out there.

GNCC points leader Josh Strang came to Red Bud to race his first-ever national, and the young Aussie went 20-28. Scoring a point was the goal, so he accomplished that. Better yet, we ran through the top 20 results on the live NBC show, and for some reason they had him listed in 17th place in the second moto! So he got extra love there.

The GNCC XC2 points leader (Lites class), Kailub Russell, tried qualifying as well on a 450. On the first lap of practice, he went flying on the ski jump that claimed Mike Alessi two years ago and lost his bike. The KTM literally rolled all the way to the bottom of the hill by itself! That was it for that session and KR didn't make the cut. I'd say Strang looked solid out there and Russell looked shaky, we'll see how they do the next time.

And speaking of off-roaders, Mike Brown was back in the small-bore class! He went 19-12 for 17th overall, which is really good, but I had these crazy visions of Mike pulling a holeshot and giving the kids hell until his arms pumped up. It was also interesting, on Friday we were shooting the Racer X Motocross show with Grant Langston, and Brown walked by. GL and Brownie had one of the ultimate motocross rivalries, chasing each other for 125 titles in Europe and here for a good four years. They ended up shaking hands and bench-racing for a bit. Man, as a fan, you can really make things out to be a lot more heated than they really are.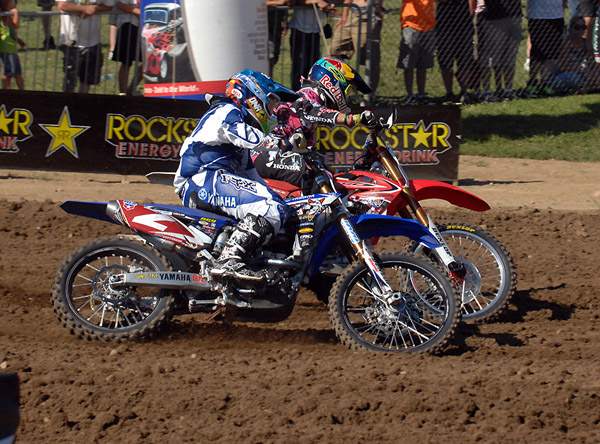 Another classic Patterson vs. Fiolek battle.
Carl Stone photo


Hey, Ashley Fiolek finally got back into victory lane! Grabbed two holeshots and this time had the answer, speed wise, for Jessica Patterson. JP made some bike changes for the second moto and pushed her harder, and it came down to the last lap in classic Fiolek/Patterson fashion. Fiolek held on for the win. Do we have ourselves a series?

That's it for this week. I've been typing this column with one hand while trying to feed a baby. Email me jasonw@racerxonline.com