5 Minutes with... Tarah Gieger
In spite of being the first-ever woman to compete in the prestigious Motocross of Nations, taking a Gold Medal at the 2008 X-Games Women's Motocross, and nailing a back-flip, Tarah Gieger wants something else - a WMX Championship. The 2009 season could have been a great opportunity for that until a hard crash in Europe resulted in a severely broken arm, sidelining her until the final two WMX events. Coming into the 2010 WMX series, the 24-year-old has found the pace much quicker than before, but nonetheless has been a perennial podium finisher and is now a solid third in the championship. We caught up with Tarah, who was 2007's AMA Female Rider of the Year, after the day's racing at RedBud.

Racer X: Tarah, let's begin with RedBud and taking third overall.

Tarah Gieger: It was definitely better than last weekend, when I crashed a couple of times. During the first moto, I just didn't seem to have what it took to stay with them [Ashley Fiolek and Jessica Patterson]; I was there for a while, but then they got away from me after I made some silly mistakes. In the second moto, they kind of gapped me at first because I started in fourth and had to work my way past Sara Price. I began to close that gap on them a bit but I got cross-rutted in the shadows of some of the trees and Price got back around me, so I had to catch back up to her just to get third.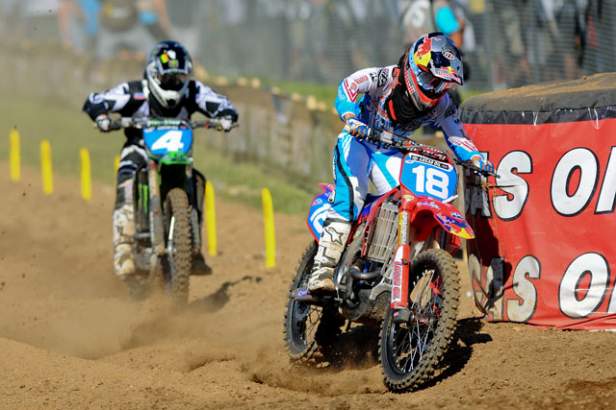 Tarah races past Sara Price at Red Bud
Photo: Steve Cox


You've been near the front this year but just haven't been able to beat Patterson and Fiolek; what will it take?

The first few races this year, we were still working things out with the bike and getting it set up, but now I feel we have the right setup. A lot of it is just due to my lack of riding that up-front pace – and I think that was what held me back some the first moto at RedBud. I was really pushing it in that second moto, because I couldn't just go the same speed – I needed to be quicker. So I just pushed it, and went down. But overall it was good; I am figuring out the pace now, and just need to keep getting good starts like they have been getting, and run with them.

How is it working with the TLD/Lucas Oil Honda team?

It's great. Whenever I get out to California, we are always trying to make the bike better, and I get to ride with Cole [Seely]. When I am out there riding with Cole, it really helps a lot; he is a great rider and has a very smooth style. Out there, I also get to work with the team's trainer, and that also helps a lot.

Speaking of riding and training, you're boyfriend is legendary Off-Roader David Knight; does he help you?

Well, in the winter we get to ride a lot, and he definitely helps me out. I also try to help him out when I can, but usually he is much quicker so there's not a lot that I can do. But riding with him definitely helps me out. Earlier in the year, I went to a couple of his races in Europe and helped him out there, and he's been to these last two races and helped me out a lot. The rest of the races we will be on our own because the races conflict with each other for him and me. In the fall, we will get to ride with each other again.

Getting back to the WMX series this year, it seems that there is much more media coverage happening.

Oh definitely there is; MX Sports has really stepped things up and made us a true part of the program and schedule. We're not just thrown in at the last minute any longer. It's a real series. Miki Keller (Former WMA President) really did an amazing job with the WMA, but there was only so much that one person could do. Now with MX Sports, Alli Sports, the teams, and everyone else supporting it, the level just keeps going up. Fortunately for me, I have been here for a while and am still racing for the wins, so I am happy about that. I'd really like to capture a Championship! This year will be very tough to accomplish that, but hopefully next year I can. It's been tough coming back from last year and my injuries; both Jessica and Ashley have really progressed a lot. I just now need to pick up the pace and make a real run for the title next year.

And there's more competition than ever now, right? The start gate is full.

That's true. Maybe due to the more mainstream coverage there are a lot more girls racing, and many are getting some form of support. It's awesome. In the past, the first race may get 30 to 40 girls, but now that number is the same wherever we race. It is a very good show for us and the fans.

Do you feel that you can win one of these rounds before the end of the year?

I'd better! I'm putting in the work, and the team is putting in a tremendous amount of effort. I've got to bring home the gold one day this season!

That's a good way to wrap up, Tarah, but first who do you want to thank?

Definitely all the guys at Troy Lee Designs and Lucas Oil, Honda, Red Bull, and everyone for giving me this opportunity. I'd also like to thank everyone who sees a future in Women's racing, and wanting to support it, as well as all the sponsors who are supporting the other women – it's truly what the sport needs. Without the sponsors, we would really be stuck in a rut. We are progressing a lot and I'd truly like to thank everyone involved.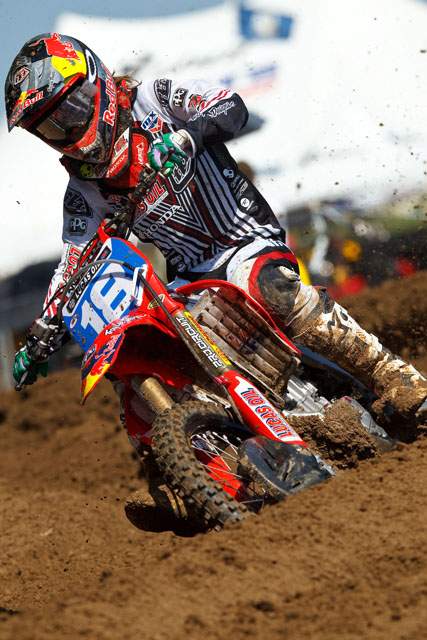 Tarah Gieger at Freestone, TX.
Photo: Simon Cudby