5 Minutes with... Ben Townley
TLD/Lucas Oil Honda's Ben Townley has finally done it: He has gotten back on the podium at an AMA National after a two-year hiatus from the series. We caught up with him after the race to get his take on things.
Racer X:
It's round five, but after the GP and things like that, it almost seems surprising that it took this long for you to get up on the box.
Ben Townley: Yes and no. I expected to, but coming into the season, I had that little setback [an internal injury], so we reassessed – me and Ping and my mechanic, Clint, sat down and looked it over. Nine weeks before the start of the season, I had a six-week healing process. I couldn't do anything for six weeks because they cut through my abdomen. So I had three weeks to get ready for
Hangtown
, and I told the guys that I thought that by round three I'd probably be back. So I rode
Hangtown
, and it went pretty good, and I had sort of been building back up. And although I did win the second moto at the GP, a lot of things worked into my favor that day – I didn't do the first moto all the way, I love
Glen Helen
on race day; it's a rough, tough track. I like that. And to be honest, the European guys are not as fast; especially over here. Go to Europe and it's a different story, but here in this really deep dirt, it's tough. And most of the national tracks are like this – they're really deep, rutted, and they're just different. I'm still getting my groove back. It has taken a little bit longer than I would've expected. So even though I went 6-2, it's not what I'm looking for, but I'll take it. It's a good building block today, for sure.
The one thing that seems like it's been holding you back a lot are the minor tip-overs and stuff like that, and that happened in the first moto. What is that about, do you know?
Probably trying a little hard. Since Texas, I definitely have been a little frustrated because I want to be where I was today, standing up on the podium. That's the goal and hopefully one step higher in some stage. It is those little mistakes that come from pushing hard. First moto, I was sitting pretty in second and I was trying to push the issue and I hit some water and just washed out. Then I came back really well and I was all over Metty and I went down again so I've just got to eliminate that stuff. A lot of it is coming from me not getting such great starts – they're average. And then I put on a little bit of a "BT charge", and I get my weigh through, but then I need to sort of settle down a bit. I forgot that the 450 class is different. It's different to racing Lites. In '07, last time I raced over here, it was just me and Villopoto just doing it. You started and if you holeshot you're like, "Go, get away!" and if you didn't get a good start, you're like, "Where's Villopoto?" So it's a different story now. I raced Shorty [Andrew Short] and [Brett] Metcalfe all the way to the 36th minute of that moto, or 34th minute, so it's a lot different in this class. Obviously, Dungey is riding really well and we're sort of into a fair chunk of the season now and the championship is starting to play out, and I want to start chipping away and get myself into a better position.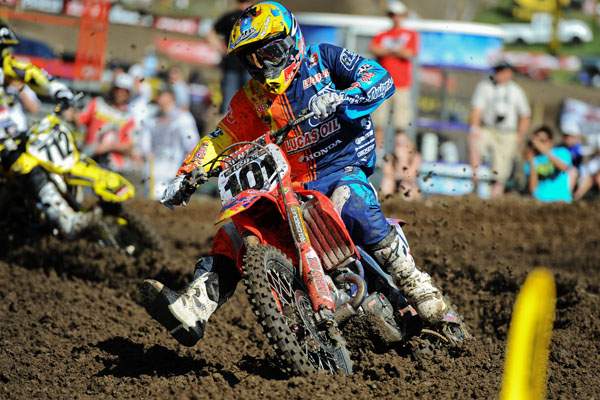 Ben Townley is back in podium form as of Lakewood.
Photo: Steve Cox
Is that something you ever used to do? Did you ever used to have the problem of the tip-overs and stuff while you're pushing?
No, it's a little uncharacteristic from my side of things. In the same breath, and it's not an excuse. The six weeks I had off, I missed a bunch of riding over in Europe that I was meant to do racewise, and testing. So we're doing a lot of testing still, and that might sound stupid, but I'm still not comfortable. I get good results, but to be able to consistently get them, I need to be 100-percent comfortable with where I'm at. A lot of it has got to do with not racing for so long so we're still working a lot of the bugs out. In the same breath, this team has gone over and above to make me as comfortable as they can. They've really stepped it up. It's not without hard work.
I don't know that you were necessarily burnt out before you took your time off, but I know you were sick of being hurt and stuff. Having all that time off, did you come back just feeling really fresh and ready?
I was burnt out of injuries. Yeah, definitely. I said to someone today, I wish the races were two days because it just bums me out that I'm only here one day. I'm really enjoying it. I was really rejuvenated from that break. I went home and everyone knows – I've been very vocal about it – that it was a great break for me. Physically, that's what I was looking for – rest for my body – but mentally it was just as good and I didn't think I was searching for that, but I got it and that was awesome. So, apart from that little setback before the season, I'm on a high. I'm stoked with how things are going. I would like the results to be better, definitely, but I think we're getting there and I've shown glimpses of it. There's no reason if I've got glimpses of it – if we get the whole package put together – that I can't do it all the time.