5 Minutes with...Sarah Whitmore
It's been over ten years since Cheboygan, Michigan's Sarah Whitmore hit the women's pro motocross scene. At just 25 years old, she has achieved much in the sport, from Loretta Lynn's championships to podium positions in the WMA. (It should be also mentioned that in her free time, Sarah competes in the occasional WORCS race, like this past weekend at Cahuilla Creek, California, where she won the women's pro class.) We caught up with the KTM rider after the Freestone National in Texas.


Racer X
: Sarah, with two races in the books so far what are your thoughts?

Sarah Whitmore: Not so well, actually. This was definitely not what I expected coming into the series. I have just had so much stupid luck, with crashes, getting stuck in the starting line gate, and then having my throttle stick in Texas. I really have improved my whole program coming into this year, and I know that I am way better than my results have shown – it's been a bummer so far for sure.
What are you doing to prepare for round three in Colorado?
Well, at the opening round, I was just so nervous to go out and prove that I am still here that I rode very poorly. So before Texas I just changed my whole mindset, to just relax and have fun without caring what anyone else thinks, which I did. The only thing that I'm now doing differently for Lakewood is that I'm getting a new 2011 bike and getting adapted to that.
It seems like the more the series moves on, the better you do.
Yeah, you're right. I guess that it does take me a while to get my momentum going. That's also the same as with racing a moto: I'm always faster at the end of a race than during the beginning. If we had a longer series, I would probably do better.
While it's primarily been defending champ Ashley Fiolek and Jessica Patterson battling for the wins, there are many other fast women in the class of 2010.
Oh, yeah, there are definitely a lot more faster girls racing right now. In the past, if I had crashed or gotten a poor start, it was much easier to work my way up through the pack, but now the entire field has picked up the pace. It's actually pretty cool to see how much the sport has grown. We had thirty girls signed up for the first two rounds—we haven't had that many in years. The sport is growing, in spite of a lot of other women that aren't racing this year due to the economy. Just imagine if the times were good—we would need qualifiers!
Many of the men's teams have been adding girls to the roster – that must be positive.
Of course it's a good thing! That's been the way that it is in Europe: all the girls are under the same race team as the men, and it's finally been catching on here. But mostly what has really helped us is that MX Sports has made us an official class at the nationals. We are no longer a side show; we are a separate class, part of the main program. I believe that a lot of the teams now want to have a strong showing in all three classes. The economy has affected everyone in motocross, but the support for women was never that great anyways. It's harder to get support now, but on the other hand, we are getting much more media coverage and the WMA series is more professional.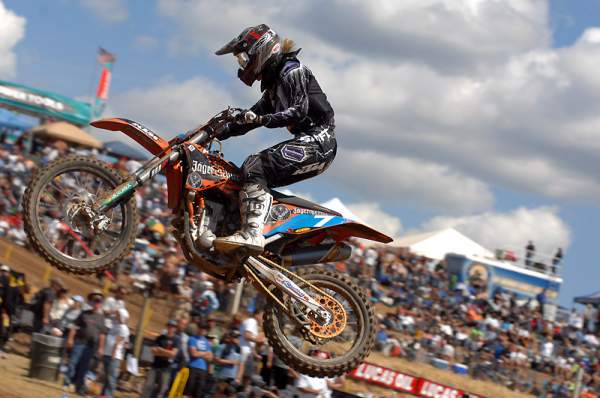 Support Sarah on Facebook at Facebook.com/sarahwhitmoremx
photo: Carl Stone


You have a somewhat unique way of getting to the races, right?
Yes, that's true. KTM has done a lot for me as far as getting me bike parts – as well as doing a lot of my stuff in-house - as with their other riders. But I still have to pay my own expenses getting to the races and getting my own mechanic. I've been struggling to get more sponsorship, but I have been very fortunate to have such a strong fan base, so I came up with an idea to be sponsored by my fans. I have a fan page on my Facebook account where people can buy T-shirts or even sponsor me and get their name on my pants' butt patch. It really has helped a lot!

At 25, you are still a young woman, but in many ways you are one of the elder stateswomen of the sport.
It's sometimes weird to think that I'm the third-oldest woman out there, behind Patterson and Mariana Balbi on the line. Twenty-five is not at all old, but in women's racing, everyone thinks it is, because in the past most women had to quit by my age because they couldn't make any money. I'm sure that both Tania Satchwell and Stefy Bau would be racing today had they not got hurt, but they did, so now I'm the veteran.

Let's give you a minute to thank some people before I ask you one last question.
I definitely want to thank all my fans and supporters on Facebook.com/sarahwhitmoremx, the entire KTM crew, Shift, Smith, Leatt, Gaerne, FMF, and MX Sports for making our series better each year. Finally, I want to thank my family for always being there for me!

To wrap up, as a Michigan native, how excited are you that RedBud is on the WMX schedule this year?
You have no idea how happy I am. I love that track. For the national, they add so much sand, and it gets so rutted and deep. It's awesome. I never thought that I would see the day that there was a women's national there, so boy, am I happy! It's so close to home that my entire family can come – and I can bring my puppy!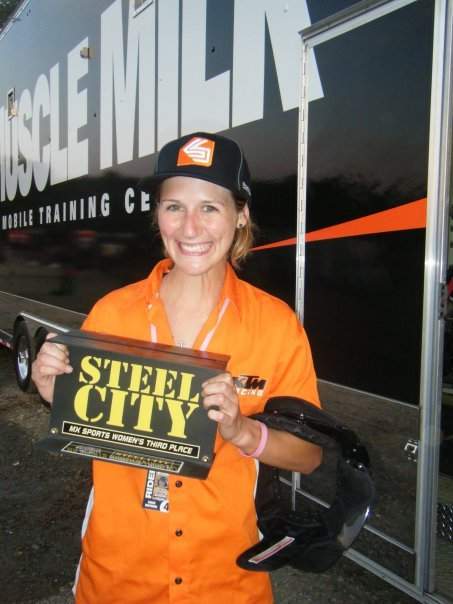 photo: Courtesy of Facebook.com/sarahwhitmoremx