Monday Conversation: Dean Wilson
Monster Energy/Pro Circuit Kawasaki's Dean Wilson is having a great outdoor season for a rookie. He nearly won the Texas national, and only two races later he backed that up with a straight-up win at Budds Creek. We caught up with him after the race to get his take on it.
Racer X:
Do you get mad when people keep saying you're from Canada?
Dean Wilson
: I don't get mad. I mean, I kind of am [from Canada], but at the same time, I'm from Scotland, too... It's why my arms are so long, because both sides are pulling so freaking hard! (Laughs)
We've got to get this figured out. Are we supposed to say you're from Scotland from now on? Or from Canada?
I don't know...
Let's make a decision!
I'm from in between...
So, you're from the middle of the Atlantic?
Yeah, I'm from the middle of the ocean...
That sucks!
I know, it sucks. I get sea-sick all the time. [Laughs]
Well, you made up for that goofy mistake in Texas and won a moto and the overall today at Budds Creek...
Yeah, it feels great! It's a dream come true, to say the least. I've always dreamed about winning... I mean, dude, I'm racing against people I look up to. It's pretty crazy. To finally get the monkey off my back and get a win, it feels awesome. I couldn't thank the whole team, and my mechanic, and my parents, and my trainer Sam enough for getting me to where I am.
When you are racing against guys that you looked up to, and now you have to race with them, how do you do keep your mind off of the fact that this is so-and-so who you're racing?
I used to look up to them. I don't look up to them anymore, of course because I'm racing them [laughs]. I don't know, though; I mean, I'm here to race, and that's my job, and I'm not going to let any of those guys get into my head just because I used to look up to them. The name on the back of the jersey doesn't mean anything anymore.
Especially if you're in front of them, because then you can't see it...
That's true...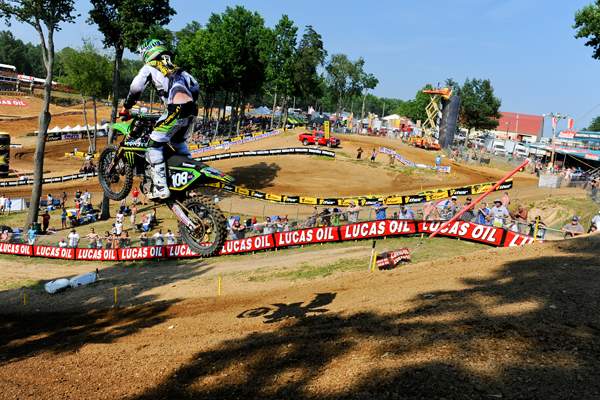 Dean Wilson took his first overall win at Budds Creek.
Photo: Steve Cox
Late in that moto, with all that has happened this year, did you start to get nervous?
I did a little bit, but the moto was just so long... I was just focusing on my riding and trying not to make any mistakes, and that's pretty much it.
Part way through the moto, Justin Barcia got kind of close to you, so what were you thinking? You used to race with him a bunch in the amateurs, didn't you?
Yeah... It's pretty awesome when he's behind you because you know where he's at all the time.
Because you hear the panic-revs everywhere?
Yeah! So, the first little while, I could hear him behind me, and then I think I pulled away from him a little bit. Then I kind of took it down a notch for a while and I could hear him coming back at me a couple corners behind, so I kind of just stepped it up a little bit, and the last couple of laps, I just made sure I got across that finish line.
You said in the press conference that you didn't know you won the overall until after you finished...
No, I didn't! I was so pumped to finally win a moto! I've been really close, so to finally win felt so great, and I really didn't know the points [for the day] and stuff. So, once I found out I took the win, it was a really great feeling. I wish my parents could've been here with me for my first win, but oh well...
That's a good Father's Day present, though...
It is. He asked me why I didn't wish him a happy Father's Day on the podium, too, and it made me feel so guilty...
That's kind of messed up...
It is low, but it's all right; I love him, still. [Laughs]
Well, it's your first win, so that's a lot to remember on the podium after winning your first-ever race! It's a lot of pressure to be up on the podium and remember everything...
Yeah, and I just drank so much water that I had to pee so bad up there... I mean, I was holding it in so bad! I probably forgot half my sponsors!
What was harder? Winning your first national, or not peeing your pants on the podium afterward?
Seriously, I was about to pee my pants! I didn't care, but I didn't want the fans to see pee dripping from my pants when I was up there, so... Winning the moto was probably harder, though, because after a while, the need to pee just went away. I was so relieved...
Oh yeah, and then you can't pee even if you want to...
Yeah, I still haven't peed yet! It's weird! I've drank like five bottles of water and I haven't peed since then! I could've peed at any moment on the podium, but now I don't have to...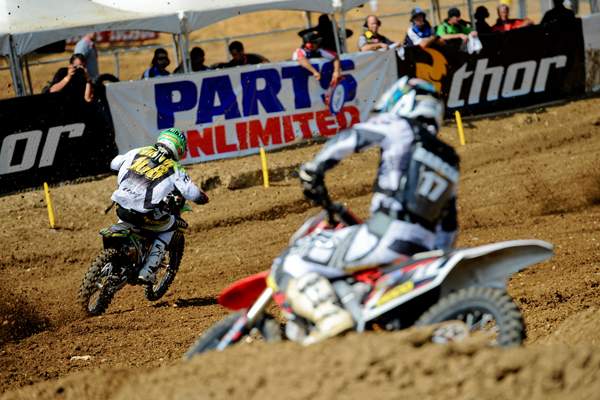 Wilson leads Justin Barcia in the second 250cc moto.
Photo: Steve Cox
You're really close in points with your teammate Tyla Rattray and you've got Christophe Pourcel out there a ways, but you have 16 motos left to run, so what are you thinking now?
I'm just going to go to every race with the same attitude and just go out there and do my best. That's all I can really do. You never know who can win or what will happen because the Lites class is pretty intense. I just need to take it one race at a time and see how it goes...
Are you happy there are no races in Canada that would get you stuck up there again?
Yeah, that would suck. Ruin another season.
Okay, thanks Dean.
No problem.