Thursday Rev Up: Budds Creek
Hello, everyone, and welcome to the Rev Up. Round four of the 2010 Lucas Oil AMA Pro Motocross Championships arrives at Budds Creek, Maryland, this Saturday afternoon. With perfect weather and what promises to be perfect track conditions, we should see a lot more excitement in both divisions. High Point was really good, but when the rain gets to a track like that, it makes it tough for the riders to find a rhythm or push the envelope. I think that is why we didn't see as much side-by-side racing. Each section had multiple lines, but when it gets soft during the first moto, then dried out as the sun came back, there is always a line that's faster. High Point is very tricky anyway, with the off-camber corners and relatively slow speeds.
The Budds Creek track is super fast. You'll be seeing a lot more third- and fourth-gear action, and on the long and rough downhills, it's a matter of who can hold it on the longest before seeing Elvis. A lot of guys had bad luck at High Point and round three may have served as a mulligan for title hopefuls Josh Grant and Chad Reed. I wouldn't start fitting the 450 crown on Dungey's head just yet, though. There is a lot of racing left!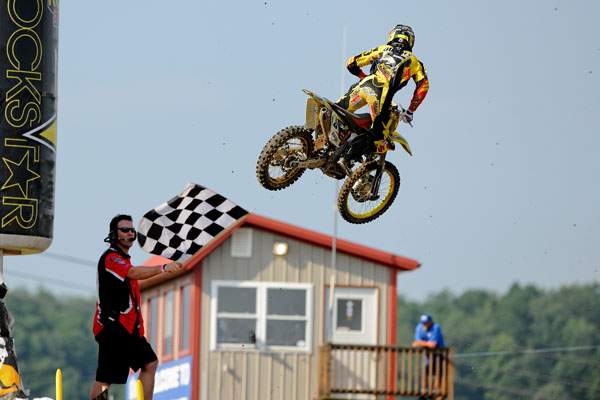 Ryan Dungey has gotten four checkereds in a row.
Photo: Steve Cox
Budds Creek is a special place and played host to the 2007 Motocross of Nations. I'll never forget how fast Ryan Villopoto rode that weekend, and as I watched Ryan Dungey breeze his way to a 1-1 last weekend, I could only think, "RV Park would have made that interesting." But that's racing. RV2 is laid up, meanwhile RD5 will bolt on the red number plate and try to keep racking up points.
It's going to be an awesome day of racing in both divisions. Let's go ahead and push up the jersey sleeves and throw a couple of McGrath claps as we get Revved Up for Budds Creek!
450
It's a pesky motocross tradition how one rider raises the bar over his competition. Nobody has had anything for Ryan Dungey in the past four motos. A couple of guys may have had some speed for 15 minutes, but the main thing I saw at High Point was that nobody can ride with him for 30 minutes plus two laps. Grant may have held Dungey off in the first moto had he not fallen down; then again, he may not have fallen down if he wasn't losing energy and focus. Keep in mind that Josh has only raced three times in 2010. He's been training hard, and he'll be stronger each time out. Grant has a solid chance to win again and give this division a kick in the pants.
Suffice to say that Chad Reed will be happy to start over after his High Point nightmare. Poor starts played a role in his bad luck and as the old racing adage goes, "If you hang around with dogs, you're going to be bitten by fleas." Well, I heard that somewhere, anyways. Say what you want, but the guys up front off the start didn't have to worry about roost and banging into the back of slower riders. "The Thunder" rides Budds Creek as good as anyone and he'll be tough to beat if he gates in the top-five both motos.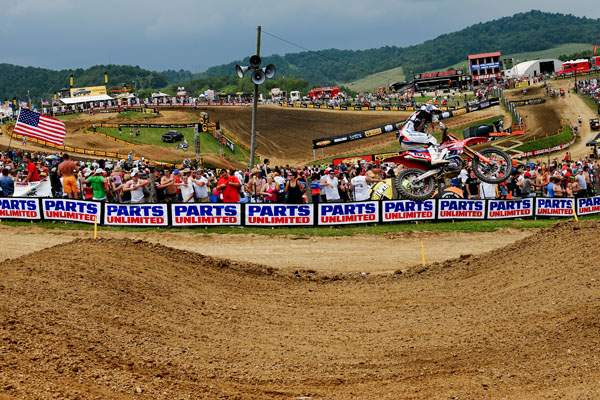 Will BT101 be able to make a charge if he gets a start?
Photo: Steve Cox
In my opinion, Dungey, Grant, and Reed have the speed to win motos, and then you have Brett Metcalfe, Mike Alessi, Andrew Short, Ryan Sipes, Matt Goerke, Tommy Hahn, and hopefully Kyle Regal racing to prove me otherwise. Alessi needs to work on the ergonomics of his machine. His handlebars look way too high and he isn't cornering like he normally does. Hopefully, he made some changes that will help him flow.
I'd like to give a lot of accolades to Andrew Short for his strong rides last weekend, but dammit, a rider like him has to win that second moto! He was riding awesome, and his factory Honda looked and sounded like the best bike on the track. The speed was there, but the heart and determination was 10 minutes short. A lot less can be said for his teammate, Davi Millsaps. I can only shrug my shoulders on the effort #18 put in last week. I've long been a 'Saps fan, and I think he'll race well this Saturday afternoon.
Let's give Ben Townley a start this time around and see what he can do at the front.
250
When I did the Moto Show with Jason "Big Daddy" Weigandt last weekend, we asked ourselves who we were forgetting about in the pre-race clip. We both concurred, "Weimer!" We were close, but the real answer was Tyla Rattray. I'm never big on foreign riders stealing our countrymen's rides (Blake Baggett), and after Tyla's 2009 season, I was bitter toward him as I watched Bagget win a supercross on a 2009 RM-Z. Well, "Styla" has made me a believer in the past two weeks. He rides hard for the entire moto and looks hungry like a wolf. I like how he carries himself in his interviews, too.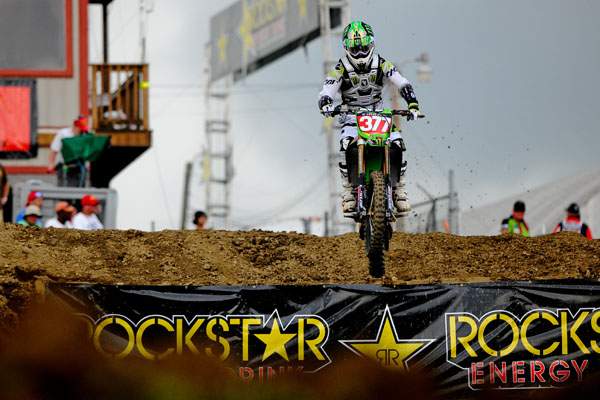 Christophe Pourcel hasn't shown a crack yet.
Photo: Steve Cox
That said, it is only a matter of time before Jake Weimer nails down an outdoor win. I don't think he has started in the top 15 so far, but once he gets a start, expect to see Jake put these guys to bed. The same can be said for Trey Canard. Canard had two dirty crashes at High Point, but rode his guts out. If someone other than a Monster Energy/Pro Circuit rider is going to win, Trey is the man.
It should be the same inconsistent hornet's nest with this group. Dean Wilson may be ready to win an O/A, Blake Wharton will carry momentum from High Point, and Blake Bagget will be riding every lap like he wants a factory ride. Then we have Justin Barcia, Broc Tickle, Wil Hahn, Tommy Searle, and Eli Tomac all vying for the podium.
I read in the "Notes and Stats" report on RacerXOnline.com that Christophe Pourcel has an average finish of 2.5. Unless that changes, the competition will be seeing red (number plate) all summer.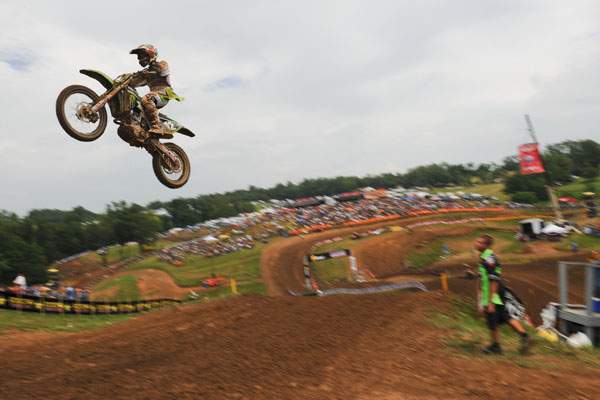 Jake Weimer is due, if he can get a start. He won Budds Creek in 2009.
Photo: Steve Cox
There is a lot going on in the sports world! We'll see round seven tonight between the Lakers and the Celtics, Pebble Beach is in full-swing, and if you listen carefully you can hear the vuvuzelas from the World Cup over in Johannesburg. Go Team USA! But, for us motocross faithful we know this weekend means Budds Creek! We always see some wild stuff at this place so let's get ready!
Thanks for reading, see you next week.