5 Minutes with... Dean Wilson
Monster Energy/Pro Circuit Kawasaki's Dean Wilson had the second-moto and overall wins in the bag last weekend in Texas when he literally gave them both away on the last lap. Now that he's had a few days to let it sink in, we caught up with him yesterday to find out what happened from his perspective.
Racer X:
The big news for you on the weekend is two-fold: First, you showed that you definitely do have the speed to win an AMA National, but second, something happened that cost you that win. Talk about the positives and negatives of both of those things...
Dean Wilson
: Yeah, well, the weekend went okay. The positive was that I showed that I had good speed and I could go at a pretty good pace for the whole 35 minutes, but the negative was probably just a lack of focus.
Yeah, but correct me if I'm wrong, but in talking to your team, the focus thing seems like it was a result of the heat making you a bit batty, wasn't it?
I think that's a plus for me. The whole race, I thought I had a huge lead – and I did – so the last two laps, I was just cruising. It was going to be my first win, and I didn't want to be leading and then crash out, so I'll just put it on cruise control the last two laps – and the last lap, I really put it on cruise control. I just thought I had a massive lead, and halfway into the last lap, I saw that Tyla was coming, and the thing that was hard for me was that I didn't see anybody behind me for the whole race. There was nobody. I looked back a couple of times and I didn't see anybody, so when I saw Tyla coming, I was like, "Oh, he must be a lap down or something. Why's he so close?" So, I wasn't going to let him by, but then I went ahead and let him by, and there went that.
The thing that makes me believe the idea of you losing your head in the heat was that you saw him pump his fist, and you were still so out of it that you threw your hands up before you hit the finish line, and that let Broc Tickle by, which is really what cost you the overall win...
Yeah, well I didn't even know that Tickle was that close behind him. I didn't know what was going on, but when he pumped his fist, and I was behind him, I was just so bummed out because I had just given him the lead, and I deserved to win that moto, but it was just a stupid mistake on my part. That's why I threw up my hands, because I was pissed. I was like, "There's no way I just did that!" But I did.
I'm not trying to make excuses for you, but when the heat gets to you, you don't think completely straight...
Yeah, I just don't like that people are writing crappy stuff about it when they don't even really know what happened. But whatever... All I had to do was keep going the speed I was going, and I would've won the race, but the fact that I slowed down so much... I just wish I had a remote so I could rewind my race and do it again.
We all wish we had a remote at some points in our lives...
[Laughs] Definitely.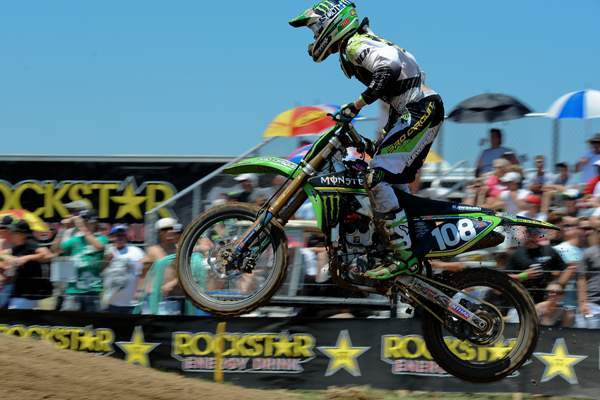 Dean Wilson dominated moto two, until the last lap...
Photo: Steve Cox
This is a year of heartbreakers for you. You crashed trying to grab second from Blake Baggett at Houston...
Yeah, that one wasn't so bad. It sucked, but I wasn't in the points chase, so I was just going for it. But Vegas kind of sucked...
Yeah, you ran second for that whole race and then finished fourth!
Yeah, and that last lap, those two sneaky guys...
It must've been hard for you, because on one hand, you want to celebrate because you're part of a top-four sweep...
But then, I'm the last guy in it! And the worst part about it is that all of these people are questioning my conditioning after that, like they think I'm out of shape because I got passed on the last lap. Dude, it's not that I'm out of shape, it's just that the Frenchman is so sneaky. He's so sneaky, that's what he'll do – he'll pass you on the last lap. That's just how he does stuff. It's not that I'm fading.
Yeah, the reality of it is that no matter how fast you are, or what kind of shape you're in, sometimes just having the experience that Christophe Pourcel has is enough. It's hard to replace experience.
Yeah, it could be a lot worse. There are a lot worse things that could happen.
But looking at Texas, it looks like you're destined this summer to become the first Canadian ever to win an AMA National...
Yeah, that would be cool, but I am Scottish as well, so we can't leave that out. Scotland and Canada are always trying to claim me. I feel like I'm being pulled by both arms.
Yeah, but Jeff Ward was born in Scotland, so it's not going to be a "first" for Scotland. But it will be a first for Canada.
Yeah, I hear you... When you're born there, you're kind of from there.
How old were you when you moved to Canada from Scotland?
I was eight or nine...
So you had a full-on Scottish accent, then, right? So, if you go back for any period of time, do you get it back?
Yeah, I had it last year, and when I talk to my parents I still have it... I just feel bad for my dad because it's not like I put on the accent – it's more like I kind of have two accents. And my dad, when he talks to people, people don't even understand him half the time, and it's super-annoying, so I don't bother with the accent.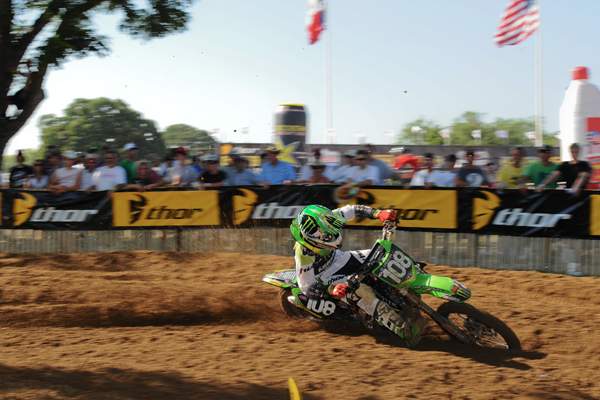 Wilson very likely will win at least one AMA National this summer.
Photo: Steve Cox
It definitely does seem like the farther you drive north out of London, the harder it is to understand folks sometimes. We're two people separated by a common language.
I know, I know...
You raced for Canada last year at the MXdN, but could you race for Great Britain if you wanted to?
Yeah, I think I could...
You could have a bidding war!
Yeah, let's get some money going!
The British pound has a much better exchange rate right now...
Yeah, I think so.
So, to wrap up, what lessons did you learn this past weekend that you're going to be able to apply in the final 20 motos of the season?
Well, if I'm in that position again, I'm definitely going to charge all the way to the finish line, and the other lesson is that I'm not going to be a nice guy ever again. Never again am I going to be a nice guy on the track.
Good, because you know what they say...
Nice guys finish last. Yup.
Well, as hollow as it may sound, congratulations on at least showing people you have the speed. You've got the pieces, you've just got to put them together now.
Exactly, and that's what I want to do. Thanks, man. Hey, are you guys going to do any more of those National Security things this year? Those things were so funny!
No, I think that got nixed this year...
Oh, that's too bad.
See you at High Point!
Yup!