5 Minutes with...Zach Osborne
BikeIt Yamaha's Zach Osborne was the top American at this past weekend's USGP with second overall coming with a 4-2 score, whereas Mike Alessi had a 2-4. For that, he was awarded the Marty Moates Top American award and $5000. We caught up with him after the race.


Racer X: It's been a long time since you've raced on this side of the ocean, hasn't it? This is a different you from the guy who was racing over here full-time way back when...

Zach Osborne: Yeah, I think, more than anything, it's kind of like a "coming of age" thing for me, you know? It's been a long road to dig back from where I was, but it's coming along good. I think my results in the GPs will eventually lead to a ride here, but I have a good life in Europe, and I enjoy it, and if it does, then that's fine, and if not... I'll be a little bit bummed! [
Laughs
] But it's good. I hope today shows some people who lost faith in me that I still do have it, and I can still ride my dirt bike pretty good.
Your main criticism before is that you were out of shape, but today it was hot, rough, beat-up... You had to be in shape to finish second overall on this track.

Yeah, I mean, like I said, more than anything, it's been like a "coming of age" kind of thing for me. It's been a long road from where I was in
Budds Creek
in 2006, when I led that moto and everything. But it's good. My fitness is good now. I believe in everything I do with my trainer Kenneth Gundersen and my doctor Jonathan Edwards. They have a good program, and I can't say enough about the team I have around me as well: I'm on good bikes, and that makes a difference, too.
You've ridden a fair amount here, back in the day...

Yeah, I mean, I've done quite a bit of testing here, but I've not done the amount of laps
Mike Alessi
's done around here! Or Doug Dubach! But yeah, I have done some laps here, and the last time I raced here was in '08 on [Yamaha of] Troy, and I broke my wrist, so coming in here, it was like, "
Glen Helen
. Woohoo." [Sarcasm] No, but I enjoyed the track today. I thought it was a good, physical track. It was a little bit fast in some places, but overall it's a good deal.

I hear you're talking about racing some supercrosses since the GPs aren't going to start until after the supercross series ends next year...
Yeah, the GPs are going to start later next year, so it gives us an opportunity to race supercross, and that's really the biggest thing I miss about this deal – supercross. So I think the team is pretty committed, and Cosworth has facilities here, and BikeIt.com is sort of the Parts Unlimited of England, but they have some distributors here, too. Also, the energy drink company we have behind us is really keen to come over and do some racing, so we'll just have to see how it pans out. I've just got to keep getting results like I've been doing, and I'm sure we can do whatever we want to.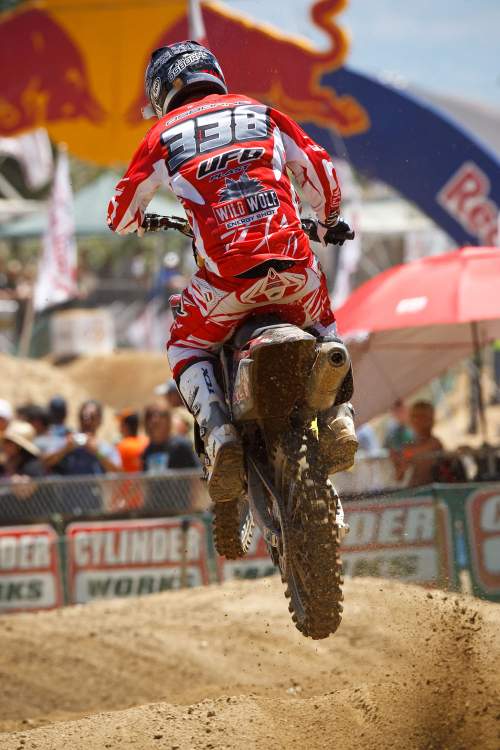 Does this performance here sort of give you a kick in the pants to improve when you head back to France next weekend?
Yeah, I've been so close to the podium like three times this year – even in Spain, I went 12-DNF, and I was one of the fastest guys there all weekend, so that was a heartbreaker. And the weekend before in Portugal, I missed the podium by one point, and then I was fourth somewhere else. It's been a long time coming, but I think now I'm kind of solidified as one of the guys to beat, and it's definitely a good step for me.

What about the black riding gear that second moto? It was hot out there! Why black?!
Yeah, I actually had some sweet red, white and blue gear to wear, but the pants were like retro pants, and they had no elastic whatsoever on them, and my legs are pretty big, so when I put them on, it looked like I had emo jeans on! No joke! I was like, "There is no way I'm wearing those!"

So, your only other choice was black?
Yeah, I was like, "It's black, or nut-showing pants." So I chose black over the nut-showing pants [laughs].

A couple of years ago, you raced a 450 in England at the MXoN for Team Costa Rica, so how much longer do you think you're going to hang around in MX2? Obviously, you can ride a 450 pretty well...
Yeah, my dad thinks the same. We work so hard, and I weigh like 170, and when I get much lower in weight than that, I don't feel so good, so the team works really hard to get a lot of power out of the bike, but when you've got kids like [Marvin] Musquin that weigh like 120 pounds, what do you do? So 450s are definitely in my future. I enjoy riding them, and I rode them a lot over the winter, but I enjoy the MX2 class, too. I don't think I'll max out the age limit [in the GPs, you can only race MX2 until you're 23], because I'm 20, and I definitely don't think it'll be three more years, but MX1 does interest me, for sure.

That's assuming you don't find a ride over here...
Yeah, yeah. Of course, if I had a good deal over here, I'd embrace it with open arms, but I think there are only a few top teams with top bikes. The bikes aren't all equal. In Europe, there are a lot of good bikes, but here I think there are three or four teams in the Lites class that have good stuff, so if you're not on one of those three or four teams, it's kind of a struggle. I have a good life and I have a good bike in Europe, so I definitely don't want to come back here and struggle again, you know? I'll just wait for the right opportunity and do my best in the meantime.