5 Minutes with... Christophe Pourcel
Last Sunday afternoon at the United States Grand Prix at Glen Helen Raceway, 2010 AMA Supercross Lites Champion Christophe Pourcel stood beneath the awning of the Kawasaki Racing Team for which his brother Sebastien competes in the MX1 World Championship Series. It was between motos and I asked the 2006 MX2 World Champion what he thought of race. Pourcel, in his own inimitable way, smirked and shrugged his shoulders. "I don't know," he said. "I'm thinking about our next race." Well, Pourcel, who arguably could have won the 2009 AMA 250 Motocross National Championship if not for a broken engine part and a 27th-place moto finish at Southwick last August, is now hell bent on winning the title in 2010 and his next race will take place this Saturday at round two of the 2010 Lucas Oil Pro Motocross Championship, the Flagstar Bank Freestone National outside of Dallas, Texas. Having placed 1-3 at the season-opening Hangtown Classic, the Monster Energy/Pro Circuit Kawasaki rider was feeling positive about things when he swung by this writer's office in Corona, California, before heading home to begin packing fro his trip to Texas tomorrow.

Racer X: Christophe, I just punched it up in my computer and the Weather.com is claiming it will be 101 degrees and pure humidity in Texas on Saturday. You okay with that?
Christophe Pourcel
: Thanks. Thanks for telling me that (laced with irony). Yeah, it should be all right. I live in Florida. It won't bother me.
I spoke with you at the USGP at Glen Helen last Sunday. You didn't sound too excited at the time. What did you think of the whole affair?
At the GP, it was dry and dusty and there were good riders there.
So, overall, did you like event?
Yeah, I liked when the Red Bull thing fell over (Pourcel is referring to the Red Bull arch that fell due to a gust of wind and brought the final MX2 moto to an abrupt end). That was pretty funny.
What did you think about the racing in the MX2 class, and particularly the performance of reigning World Champion Marvin Musquin?
It was boring. There was no racing. The KTM is way better than the other bikes so there was no race. Marvin is pretty good, but when you don't have anybody to ride with then it's pretty boring.
I certainly noticed that in both MX2 motos, once the riders fell into position at the start of the race, all of them pretty much held station and there was something close to nothing when it came to passing...
I don't know... They have 35-minute motos and I think not many of the riders are ready yet, so they are all tired after like a few laps. And it wasn't too hot.
A large number of them said it was hot!
Yeah, well this weekend is going to be really hot.
What did you think of the two highly regarded teenaged riders Jeffrey Herlings and Ken Roczen? Did you watch them much?
Just a little bit, but I wasn't really into the 250 class. I was more into the 450 class. Those guys are young so they have a lot to learn.
Did you talk with Musquin at all over the weekend?
Yeah, I did.
What did you see in the big bike class? What did you think of Antonio Cairoli and Mike Alessi and the others?
Cairoli is still the same. BT101 is pretty good and I'm really happy that he did good in the second moto. That's it.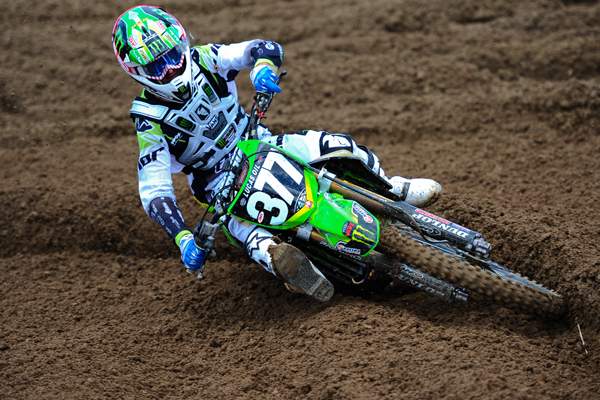 Christophe Pourcel showing proper cornering technique...
Steve Cox Photo
What did you think about how the Grand Prix was held. Did it come off like a National to you?
What I don't like about it is that it's too long. Two days is too long. I think it wasn't a good weekend to bring people out to the race. I think they're going to have to mix it up. If they want to make a race here next year I think they're going to have to have a race just on Saturday or they're going to be screwed up again. And it was too expensive, too. And with the 35-minute-plus-two-lap motos, it was so boring. I like motocross, but when I watch it, it sucks. I think it's too long.
So now that you've raced both the World and Championship and National Championship, after watching the race on Sunday, could you see a pronounced difference in the style of racing?
Yeah, everybody is smooth in Europe, and everybody in the U.S. is kind of crazy and aggressive. I think it's about the 35-minute moto in Europe, too. It depends on how the track is. We saw how the track was at Glen Helen. It was really dry so they couldn't even stay wide open everywhere like we usually do at the National.
Would you have liked to compete at the Grand Prix last Sunday?
No, not really.
From what you saw at Glen Helen, would Marvin Musquin be competitive this Saturday in Texas?
I think he would be top five, but it wouldn't be easy for him to be in the top five because everybody is good and I don't think the KTM is going to get the holeshot. When you don't get the holeshot and you have all the same riders in front of you and you can't go faster than them, then it's not the same deal. He's smart on the bike and I think he will do pretty good here next year.
How did it feel to wrap up your second AMA Regional Supercross Championship?
I'm still on the 250 because I wanted to get the National Championship. I didn't want to screw up the Supercross Championship, too. I won the Supercross Championship last year and for this year I was like, "Hey, gotta get it or you suck." I didn't get it when I raced against Cairoli in Europe (Note: Cairoli won the MX World Championship in 2007). I didn't win the second championship and I think it's never easy to get the second championship, so I am pretty happy about it. I think it's never easy to get a second championship because there is always someone who wants to beat you up.
How did you feel about your performance at the opening National?
I felt just okay. I think racing is racing, but I think the track wasn't good at all. It was just one line everywhere. Even if I finished in the top 10 or whatever on a good track I would be happy because I gave it my best, but when you follow someone the whole race and you cannot even pass him even when you're faster than him, it sucked. I mean, I had a big crash in the first moto and I won, but I wasn't happy about it. In the second moto I couldn't even pass and I finished third and second overall so I didn't even win the race, so that kind of sucked for me, but it could be worse.
What's your take on Eli Tomac winning the very first National he entered?
I think it's really good to be the new guy and win a race right away. He did it, so I have to say he was good at this race, but I don't think it's going to be easy to win a lot of races.
Do you feel good about the race this weekend?
Yes. I know the track. It's not going to be too good, but it should be all right. It should be better than last weekend.
When you first came to America, you seemed to mention the fact that you liked supercross better than motocross. However, recently, Mitch Payton told me that you seem to like motocross more than supercross now. What do you think?
I always said that I liked motocross better than supercross because I think supercross is just a show. In motocross you can just do whatever you want on the bike and there is nobody around you.
In the way you lost the National Championship last year, I'd assume this 2010 title means an awful lot to you...
(Laughter) That's funny.
There's already talk starting about who will be riding for who in 2011. Have you spoken with any of the teams yet?
No. We're still waiting for a little bit. I'm ready to go anywhere I've got to go.
Would you like to be teammates with Ryan Villopoto?
I don't want to say anything about it.
But you're friends, right?
Yeah, yeah.
Okay, Christophe. Thanks for your time and good luck in Texas.
Okay. Thank you.