Rev-Up: The Trial of Texas
Hello, everyone, and welcome to the Rev Up. We have a nasty one headed our way, folks. Round two of the 2010 Lucas Oil AMA Pro Motocross Championship heads to Freestone County Raceway for what could be – scratch that, WILL BE, the most grueling event of the series. Nothing spells "gnarly" like a rough, sandy track and 100+ temperatures. Last week's column touched on what riding in the heat is like, and the monster coming Saturday afternoon is going to be one of the hottest nationals we've seen in decades.

The "Trial of Texas" has a ton of uncertainty surrounding it, as the season opener at Hangtown shattered pre-season crystal balls. The opener produced four different moto winners, including the first ever pro-debut outdoor win, and the first win on a 350cc motorcycle. In fact, I can't remember being that far off trying to predict a race. Hangtown was weird, plain and simple. Now we're heading into a test of survival in Texas and the path to victory is as clouded as ever. Pretty awesome, huh?

Texas events are always a good time, what with the stellar contingent of female fans and strong arsenal of local boys stomping boot prints on the way to the starting line. Should be bikinis as far as the eye can see this weekend! Heck with that noise, let's cut some holes in the jersey and get revved up about the action taking to the track in both divisions

250

Where do you start with this group? All things considered, Monster Energy/Pro Circuit Kawasaki's Christophe Pourcel should have had an easy go of it in this division. He narrowly missed out on the title last year, and he has the most experience and arguably the best bike. He's probably mumbling something in French as he clicks over to weather.com, though. French motocrossers aren't typically regarded as fans of hot weather, but #377 is a lot tougher than most people think. It's a crap shoot to me. He could bounce his way through the rough track and fly away, or ride conservative to a good points day.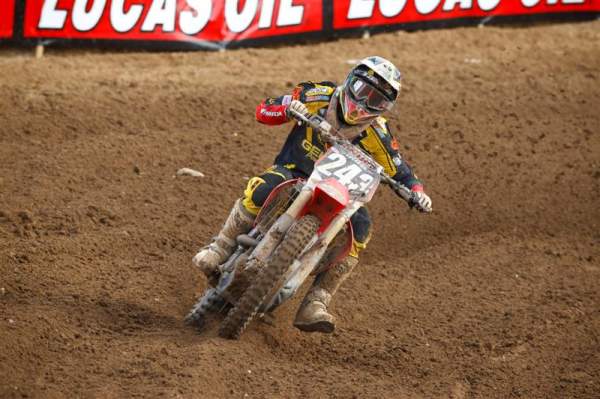 Can Eli Tomac back up his opening round win in Texas?
photo: Simon Cudby

Meanwhile, 17-year-old kids don't care how hot it is. GEICO Powersports Honda's Eli Tomac has ridden to championships at the hottest place on the planet (Loretta Lynn's) and has all of the confidence in the world after his jaw-dropping ride two weekends ago. However, his teammate, Trey Canard, is my pick as the man to beat. Freestone is his home national, and he's probably heard a bellyful about getting beaten by his new teammate. I'd look for Ice Trey to be a man among boys this time around and lay wood both motos.

The depth of this class is unreal, though: Dean Wilson, Tommy Searle, Blake Bagget, Broc Tickle, Justin Barcia, and Jake Weimer have the juice to win motos. I'd look for a holeshot and potential podium out of local boy Blake Wharton, too.

It's going to be tough for these guys as they get the roughest track of the day going after the 450s.

450

Who do you like here? Wow! No way I thought Reedy would holeshot and race off with the first moto win of the season. I was equally shocked when Mike Alessi dusted everyone on his new bike in the second moto. That said, the biggest kick in the teeth for me was, Where the hell was Ryan Dungey? Remember the Houston Supercross when he looked like he was riding with 90 pounds of air pressure in his tires? Well, he didn't look quite that bad, but he was mediocre at best. Something tells me the mega-fit Dungey will be salty this time. I'm actually going with him for the win for the second event in a row. It's a hard decision, though...

It's a tough gamble in American Motocross and Chad Reed continues to prove that you can never bet against him. It's been hot at his Florida home and he'll be as ready for the sweltering weather as anyone. He can breathe a little easier with the confidence of his victory at the opener, and if he doesn't feel comfortable he can points race his way to a podium. Beyond "Two-Two" it gets really tight between JGR's Josh Grant, Red Bull Honda's Andrew Short and Davi Millsaps, and TLD/Lucas Oil Honda's Ben Townley. Shorty won a moto here a couple seasons ago and needs to find a spark to get back into winning form. BT101 is fresh off a dominating win in the second moto of the GP last weekend and could be an outside threat for the O/A.

As we all know, a good start is paramount in today's furious paced racing. Two riders that know what to do with a holeshot are the aforementioned Grant, and the ever-controversial Mike Alessi. If either one of those guys bang the holy you can color them gone.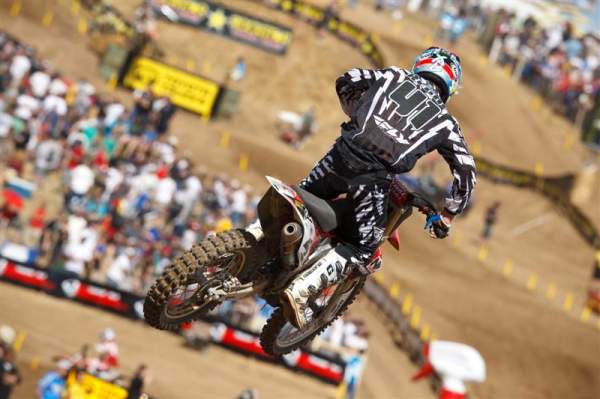 Keep your eyes on Kyle Regal this weekend.
photo: Simon Cudby

Keep a trained eye on Valli Motorsports Yamaha's Kyle Cunningham to be carrying the mail in front of his local fans, too. As well as Kyle Regal, who carded a solid ninth-place in the second 450 moto at Hangtown. There are a lot of spicy scenarios that build the hype headed to Freestone, but the heat is the real theme. No situation in professional sports measures up to the crucible of pain that a 30-minute moto in 100-degree (and humid) heat delivers. You fans need to keep a cold beer in one hand and the other waving your favorite rider on every single lap. The boys are going to be hurting. Bad. Their hands and feet will be melting and their eyes will be burning with sweat flying inside their goggles.

Who's going to be tough? What big name will be the first to gain or lose big points? Every lap of every moto counts! Time to do work!

Thanks for reading, see you next week.