Rippin' the "M" – Strider Sports staff do some product testing!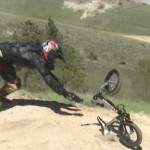 You knew it had to happen sooner or later. These bikes are just too cool to let the little kiddies have all the fun. This is the Strider Sports staff (adults!) aboard some mildly modified Strider PREbike balance bikes running some of the downhill mountain bike trails on M Hill in Rapid City, SD. We upgraded to the heavy duty wheels available in our online store and donned all of our motocross gear for a crazy run down the mountain. Definitely shows how durable our frame is when a bunch of grown men can come down through this rough terrain and even land some jumps on the footrests! If you're wondering what company is singularly devoted to building the best toddler balance bike on the planet, look no further. Changing the way the world learns to ride a bike is our mission and the Strider PREbike is our passion! Enjoy the video…
This was SO much fun that we decided to announce a race for the 2011 Black Hills Fat Tire Festival… the inaugural Strider Cup Downhill! Hold on to your helmets… $1,000 to Win … PLUS payout down through the field. This is sure to be a crazy event! Rules will be available in January 2011 on both the www.stridersports.com and on www.bhfattirefestival.com website. Oh, the fun we're gonna have!

When we announced this during this year's Festival, everybody was so excited that we threw together an impromptu Strider Downhill Exhibition…it was the talk of the festival! We'll have photos and video posted by the end of the week… check back later for some great stuff!