Welcome to ReduX presented by Renthal. A few questions answered, and many more to be asked.

And I'm just talking about the Lost finale!

The (deep breath) Rockstar Energy Drink Hangtown Classic, the opening round of the Lucas Oil AMA Pro Motocross Championship (breathe) answered and created a ton of questions, too, and that's the best way to get a series started—we learned a lot, but we're dying to find out more two weeks from now at the Freestone National. Coming into Hangtown, no one could definitively define the expectations for Chad Reed, Mike Alessi and Eli Tomac. They had credentials and potential, sure, but winning was far from a lock. Now they're the men (and boy) on top, while the sure-fire favorites like Dungey, Pourcel, Weimer and Barcia shot below par.

Take Reed, for starters. Lots of questions coming into this one—terrible supercross season, became a daddy, friend dies in a crash back in Australia, started going all vigilante justice for track safety, has tons of money in the bank and prospects for car-racing deals—so certainly there was a chance that Reed would sleepwalk through this summer and call it a career. We saw Reed going through the motions too often in supercross. Was he no longer willing to risk it all just to make another million?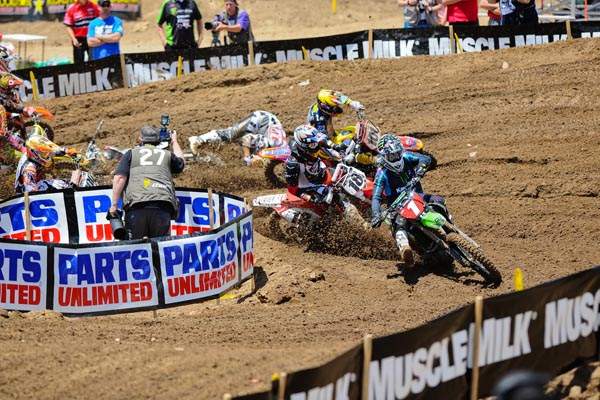 As always, Reed never doubted that this would happen.
Cox photo
Take Alessi: There are always doubts about the Alessi program (On Friday, the Vital MX board blew past its 1 millionth "Mike, you're ___ years old, dump your dad!" post). This year, that drama was mixed with an unproven brand (which has still never won a premier-class race in the U.S.) on a radical new bike, without any teammates to help test, without racing supercross, with management support coming from Europe... Not enough weirdness for you? Let's add some rumors that Mike/Tony clashed with KTM management and both sides were shopping for a way out.

And finally, take Tomac. Um, he's a darned rookie. 'Nuff said.

So, the smart money says a win was coming from Dungey and a Monster Energy/Pro Circuit Kawasaki. And that's why they run the races.

Now prepare for a few big declarative statements, and liberal use of the word "ever." I'm putting this down right now: Reed's first moto win was his best outdoor ride ever. Best. Ever. Even though he won the title last year, he had too many races where he struggled with bike setups and stomach issues. When he did win, it was just through sheer will. He'd be in a battle with Ivan Tedesco or Andrew Short and at the 20 minute mark say, "You know, if I dig deep for a few laps here I can grind this out." There were many wins akin to the way James Stewart won Anaheim 1 this year—he won without his best stuff. But in 24 motos, I never saw a definitive, dominant, destructive performance from Reed.

But he dominated the first moto. Got the holeshot and took off. The confidence was palpable. A year ago, things were much shakier.

So here's what we learned about Reed: First, for the 1,734th time, we learned he's one mentally tough SOB. How many drubbings would RC and Stewart hand out just for him to come back and be back in the hunt again? Reed either has the most inexhaustible belief in himself, or he's just too stubborn to believe he won't win, which ultimately gives him the confidence to actually do it. Stewart pulled over at Unadilla in 2002 to let Reed pass him, just so he could pass Reed back and show him up. After that race, people were saying that Reed would be mentally ruined. And here we are eight years later, and he's champion and he's winning.

Second, maybe after all the stuff Reed's been through for the last six months, racing the opener was actually easy for him. While everyone else is nervous about opening day, he's relaxed because he finally gets to just be a racer again. Years ago, the Yankees had this pitcher named El Duque who defected from Cuba to join the team. He was a good pitcher, but he would go to another level in the playoffs and World Series. He later said, "compared to floating on a raft from Cuba, afraid of being arrested or getting killed, the pressure in that stadium was nothing."

So here's Reed. He's been through the craziest on-track drama and battles ever. He just flew back from Australia so he could watch them bury his friend Andrew McFarlane. He was racing every weekend while waiting for Ellie to call saying "You gotta come home, I'm in labor." Compared to that, racing at Hangtown is simple. Opening-round jitters? Whatever.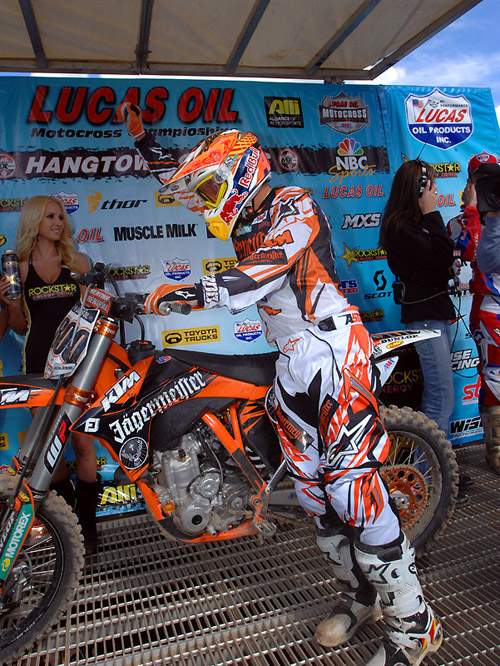 Mikee-boy went to the center of the podium after winning the second moto, but then had to come back down so Reed could celebrate the overall. Mike's always getting things started quickly!
Carl Stone photo
Meanwhile, you knew Alessi would be okay as soon as he started third in the first moto and battled with Millsaps and Grant. He's been battling those dudes his whole life and it was happening again, so the more things change... Second moto, he got the holeshot, ending all the "can he get starts on a 350?" speculation, and won.

Mike is riding a true 350. In a rule I like to call the "it is what it is" rule, bikes must have the same bore and stroke they come with in production. Also, I heard Mike's bike came through tech inspection weighing 230 pounds, so it's not really any lighter than the 450s (the class weight minimum is 220 pounds). Mike kept saying the bike is easier to ride because it's lighter, but my guess is that it's easier to ride because it has more controllable power delivery and less gyroscopic effect.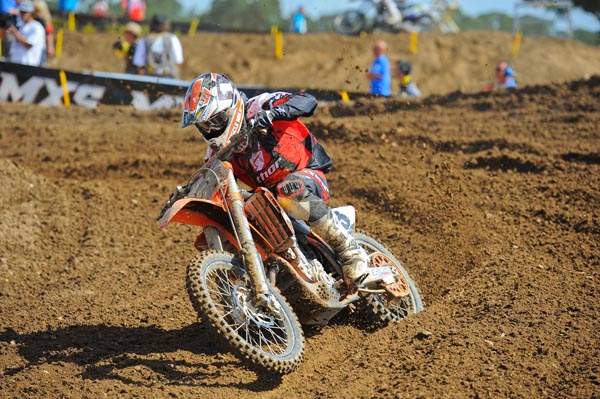 Mike Brown scored his customary national points with 14-13 scores. Number three? You ain't going nowhere.
Steve Cox photo
If you're KTM, you're super pumped. I'd rank this as the best new bike debut ever. Ever. Think of the revolutionary bikes that came along—Jeremy McGrath jumped ship before Honda's 1997 aluminum-framed CR250 got to Anaheim. Doug Henry hovered inside the top ten at Gainesville when he debuted the Yamaha 400 four-stroke—and that was a full-on works bike. Ernesto Fonseca won the first supercross ever for a YZ250F, but people were complaining that bike was an unfair advantage the day Yamaha unveiled it. No one doubted the concept.

So KTM comes in with a new production bike that not a lot of people are sure of and wins a moto. They should be making "ready to race" ads right now.

I was really hoping Alessi would take a swig of Jager on the podium. It would provide great comedy and also give Mike an excuse for losing control in the post-race press conference, where, unfortunately, he said, "I just demolished them. I wasn't tired, I feel like I can race a third moto. This is my helmet right here, and it's not even sweaty."

That led the overall race winner, Reed, to quickly joke: "Wait, I actually won the race? I won, right? Because listening to the guy who got second, it sounds like he demolished everyone. Maybe I can go and get my helmet from the first moto so you can see that I didn't sweat in it."

Ah yes, the Alessi team. One drama ends, and another begins!

As for Tomac, can we also say this is the best rookie debut ever? Ever. The facts get kind of murky when you try to determine who is a rookie, but when James Stewart won the first AMA Motocross National he ever entered at Glen Helen in 2002, with 1-2 scores, he had already been racing supercross for five months.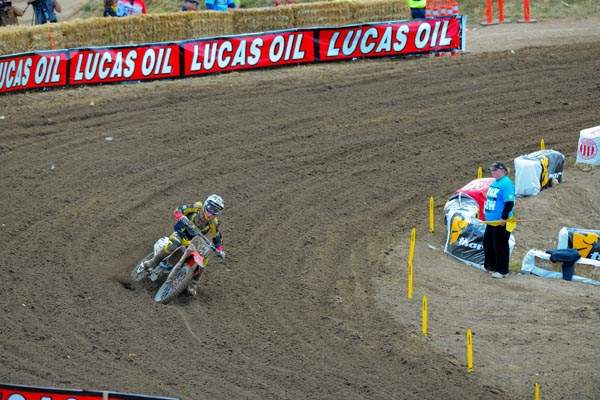 You know, technically, the other riders on the AMA Pro MX circuit still haven't seen much of Tomac.
Steve Cox photo
For those not familiar with Eli's deal, here it is, in brief: His dad is arguably the GOAT of American mountain biking. He's had Eli on a controlled program since day one, often keeping him off of the bike so he wouldn't get burned out. Dad only gave Eli the green light on an all-out riding and training program a year ago, and that's when the kid went from good to great.

Credit to my SPEED broadcast partner Jeff Emig. On Friday, he said we had to talk about Tomac in the 250 show intro, because he truly believed Eli would be right in the hunt. Good point, Jeff. And Tomac's riding is so smooth, so understated, that even with a win, he didn't create as much buzz as Justin Barcia's 9-3 debut last year at Glen Helen. While Bam Bam was revving and scrubbing and cutting people off in '09, Tomac was just motoring away in '10. It was remarkable for just how unremarkable he made it look.

And he's only going to get better! About halfway through each moto, the pace and distance kind of caught up to him, and he started getting sloppy both times. He crashed in moto one, but he held on in moto two—after the race he said he really wanted to see the checkered flag at about the 20-minute mark. Just wait until he gets used to racing 30-plus-two every weekend.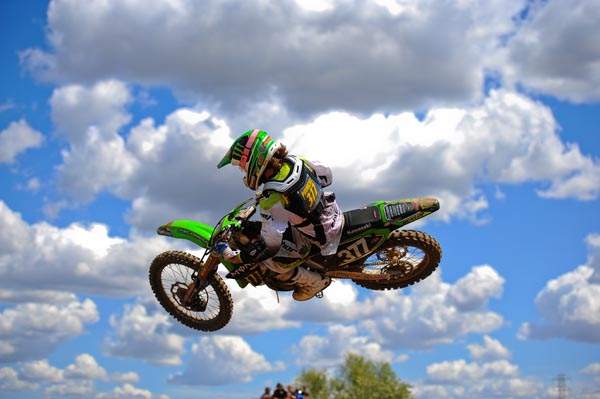 This is just an awesome picture.
Steve Cox photo
Pourcel rode well, but apparently the track was hard to pass on in the second motos (note that first-moto front-runners Reed, Grant, Pourcel and Searle couldn't come through very well in moto two). As the track got rougher, it became harder to pass—which I write here exclusively for those who think "the rougher the better" when it comes to good racing. Also, a few riders told me that Hangtown dirt is especially sticky on goggles, and I did hear a lot of "pulled all my tear offs" stories.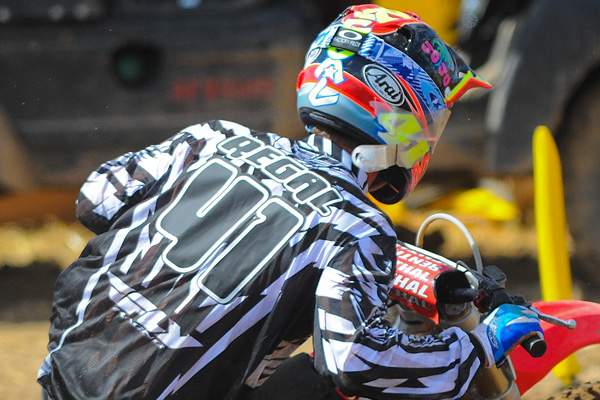 Apparenty a bunch of riders forgot how to pull or mount tear-offs properly over the winter. Here Kyle "on my own again" Regal demonstrates.
Steve Cox photo

Anyway, those who watched the SPEED broadcast on Sunday noted the idiot play-by-play announcer (me) got all confused when Pourcel moved into third on the last lap of the second moto. We had just wrapped up a 450 show where Reed needed to finish third to win the overall there, so even though Pourcel actually needed second, I pulled a brain fade. Thankfully, as soon as I said "Pourcel will win the overall!" producer Chris Bond was screaming in my headset "No he won't! No he won't!" to help save me. Then I made up a bunch of crap about how Pourcel would tie Tomac on points just to cover my ass. The reality was that I just screwed up.

Still, I love it when the crafty Frenchman lives up to his billing—everytime they have him, he escapes! Tommy Searle had that first moto after Pourcel and Tomac crashed—but on the last lap CP just found something and made a crazy pass for the win. And CP passed Tickle and Wilson on the last two laps of the second moto to salvage points.

Wilson rode really well, but he slid out while running fourth early in moto one. His speed is there, but he was once again overshadowed by a different rookie winning a race.

Justin Barcia didn't get good starts and wasn't quite quick enough to move into a podium position. He rode pretty well though and his biggest challenge this year will be taking points when that's all he can get like he did over the weekend. He was bailed out by the moto gods in the second 250 moto, when Erin Bates dropped some, um, let's say "magic dust" in front of Bam Bam's gate. He got a bad start, but the moto was red flagged anyway, so justice (and Justin) were served. Same for Wil Hahn, who pulled two holeshots!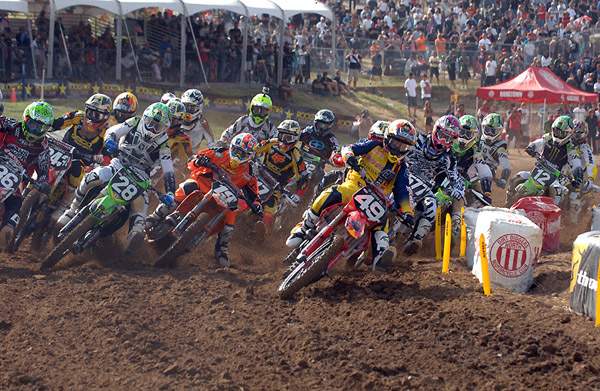 Wil Hahn nails the second moto start....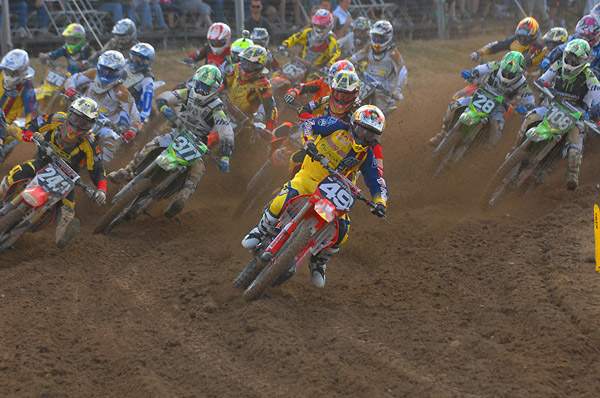 ...twice!
Carl Stone photos
Trey Canard went from first to seventh in moto one—not good. But he did basically the same thing at the opener last year, and by round three he was the only rider still challenging Pourcel and Dungey for wins. I think supercross comes a little easier to Trey than motocross, which leads me to the next topic:

Ryan Dungey went 10-6 for eighth overall? What's up with that? Well, I think the hard-to-pass/roost/vision situation was a factor. But mostly, I think we're seeing the result of guys like Dungey and Reed battling outdoors—supercross comes a little easier to them, so if their bike is a tad off, it shows. Outdoor monsters like Carmichael, Stewart and Villopoto are fast no matter what. But it took Reed about half the season last year to get comfortable, and it might be the same deal with Dungey this year. He's not out of it by any means.

We had a similar eye-brow-raiser in the Women's class. Jessica Patterson used to be the dominator, until Ashley Fiolek came along in '08. They were close on speed, but Patterson seemed to crash at the wrong times, while Fiolek won the title on consistency. JP$ felt she needed better fitness to iron out those mistakes, so she hooked up with Rynoland in '09—and still made too many mistakes. Then she realized she needed a faster bike to compete with Fiolek's factory Honda. GEICO Honda gave her Trey Canard's bike at the end of the season and JP won the last five motos. This year, she said she would retire if she didn't get good equipment. Star Racing stepped up to the plate, and now, armed with Ryno fitness and a fast Yamaha, Patterson was unstoppable at Hangtown. Will Fiolek be able to step up to the challenge? I've always gotten the feeling that Fiolek only rides as fast as she needs to, and she has more to give if it's needed. We're gonna' find out!

Davi Millsaps rode well for third overall. Lately, the term "it is what it is" is being bent into "Davi is Davi" by a lot of people, meaning that when he runs up front, it's not a surprise, and when he has a bad day, it's not a surprise, either. Implausibly, that means that no matter what Davi does, it's still what you expected him to do. Imagine setting odds on a horse like that! Also, Andrew Short went 15-5 after an early off-track excursion in moto one. At the '09 and '08 openers, he went 5-21 and 5-36. So he's off to a great start, based on that.

If you're Ben Townley and you hop in the Hot Tub Time Machine to May of 2009, and you're having a beer on the beach in New Zealand saying "I'm going to go 6-7 at Hangtown next year" you would be very happy. And he rode even better than that! Townley actually passed Millsaps for second at one point in the second moto, so he's already up to podium speed. His fitness will come back and he will be a genuine contender this season. Not bad for a guy who probably felt like he had his iPod stuck on replay saying, "don't crash, don't crash, don't crash" the whole day.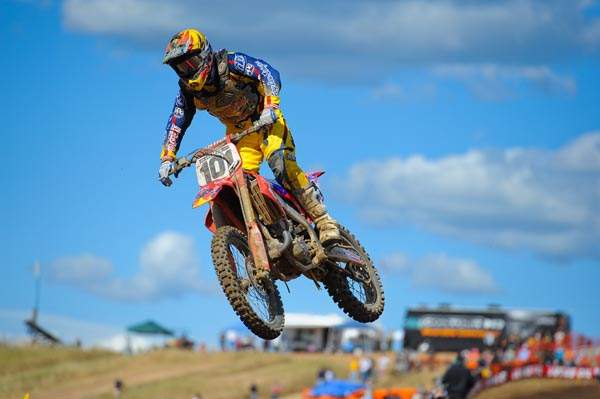 It will be really, really cool to have Ben Townley back up front at the races.
Steve Cox photo
Grant Langston's return didn't go as well. He went 21-16 for 20th overall. He also came to the gate like a minute late in moto two and had to forfeit his gate pick. Hopefully things get better for GL. I never even saw Langston on the track, just like I didn't see Tedesco at Glen Helen last year, and a few weeks later Tedesco was winning motos.

It seems like Yamaha has 10 decent guys this summer on 450s, like Langston, Sean Hamblin, Matt Georke, Ryan Sipes, Kyle Chisholm, Michael Byrne, Dan Reardon and Kyle Cunningham. Unfortunately, the only one who had a really solid performance was Sipes, who went 7-8 for seventh overall. A renaissance year for Sipes so far.

Oh, and Josh Grant is also on a Yamaha. He pulled all of his tear offs on the first lap of the first moto, so he had to wait until the last two laps to just pin it and go around Alessi and Millsaps. In moto two, he was just not able to move up, like everyone else save for Reed. He's going to be a contender, don't worry.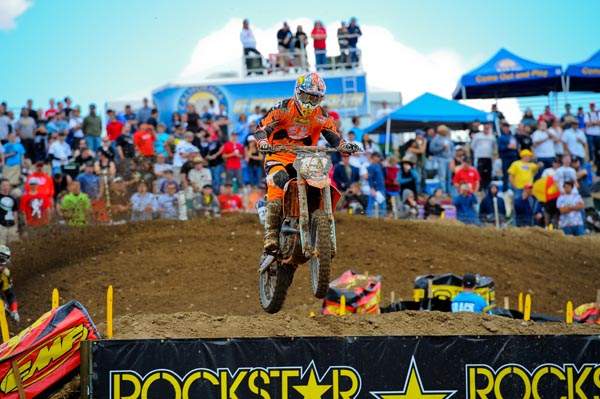 This is a make-it-or-break it summer for Tommy Searle, and he sure looked strong in the first moto. He used a ton of energy there, though, and then hurt his shoulder again in moto two. Hopefully he'll be okay for Texas. By the way, his '11 KTM is running a carb, but the production bike will have fuel injection. What is this, NASCAR?
Steve Cox photo
And that's what's so cool about this race: We now know for sure that Reed, Tomac, Alessi and Pourcel are going to be on it this summer, and we're also pretty sure that Grant, Townley, Dungey, Canard, Weimer, Wilson and tons of others will join them. This is going to be a great summer.

Email me your thoughts to jasonw@racerxonline.com The wife could be going into labor anyday now and I'll need some reading material when I'm sitting in the waiting room while she does all the work....