5 Minutes with... Michael Byrne
Michael Byrne, by mid-January, had literally raced all four Japanese 450s within a span of about four months. Toward the end of the supercross championship, though, he seemed to be really adjusting to the Yamaha, and that's just in time for him to lose his fill-in spot at JGR. But it looks like he's found another Yamaha ride for the outdoors now. We talked with him about SX, MX, Sharky, and family, on the phone yesterday.
Racer X: To start the season, you bought Kawasakis and set out to go racing, so talk about that.
Michael Byrne
: Yeah, I mean, I got back from Australia and I still didn't have anything – everything had kind of fallen through – and I wasn't going to sit on the couch. If you're fit and healthy, there's no reason why you should be on the couch, so that's where that started. But then JG [
Josh Grant
] got hurt, and that opportunity came up for me. It worked out okay; obviously, it would've been nice to have a contract, but it worked out pretty good.
I think you might be the only big-name professional racer in history who raced on all four brands within about four months, starting on the Suzuki at the US Open in October, then racing Hondas in Australia, then Kawasaki's at Anaheim 1 and Phoenix, and then Yamahas starting at Anaheim 2 in mid-January. That's kind of crazy...
[Laughs] I know, that was weird, because my contract was obviously still with Suzuki at the des Nations and the US Open, so after that, I had a deal done with Chad [Reed] and the promoters in Australia, and it wasn't really for any particular manufacturer, so I was trying to do a deal with Suzuki there, and it didn't quite work out, and at the last minute, I needed a bike, and one of my good friends still runs the Honda team, and I said, "Man, let's do this thing," and that was pretty much how the Honda thing came about. Then, I came back, and I'd ridden a couple production bikes, and I felt like the Kawasaki was a great production bike, so if I was going to have to go racing on my own, that would be a bike that didn't really need a lot of work to it to make it good. I was just going to go racing from there, and then obviously JGR came around on top of that, and that was nice.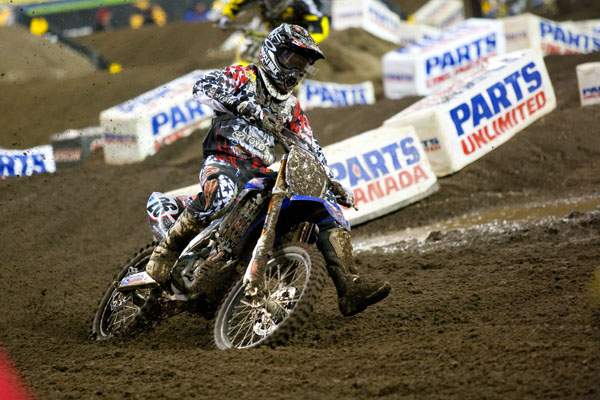 Photo: Fred
In the new era of 450s, the Honda and the Yamaha are both sort of odd ducks in their own ways, while the Suzuki and Kawasaki are probably much more similar, and you did it in the exact order that would make you constantly uncomfortable looking for a fit.
[Laughs] Yeah, it's tough any time, though. Sometimes, even getting off the practice bike and onto the race bike is tough, because they don't always feel the same. When you're used to riding the same thing all the time, and then you have to ride something that's totally different – the way they handle, the power delivery – it's not too easy. I'm sure people say, "Oh, yeah, it's just a bike, so ride it, because they're all good," and that's true to an extent. They're all good in their own way, but they all react differently to certain things, and if you're used to the bike kicking from hitting one bump, and then you get on this bike and it doesn't do that...
Or vice versa...
Exactly. It's a tough transition any time. I'm just happy to make it through healthy and hopefully I can get something going for motocross and go from there.
What do you have going for motocross?
I'm just finishing a deal right now with the Valli guys [Valli Motorsports Yamaha], so hopefully something comes of that and we can do a deal there and at least stay on Yamahas.
That would be good. Your speed the last four or five races was right there. It looked like a different Michael Byrne than from the first four or five races.
Exactly, and people forget, but I haven't raced supercross in two years. I've been hurt, and to have all of those different things thrown at me, it definitely took me a little bit to adapt and to get comfortable again. Definitely, the last few races, it was going in the right direction again, so I'm trying to carry that into motocross. At least this year I'll be healthy coming into motocross, and then I can go from there.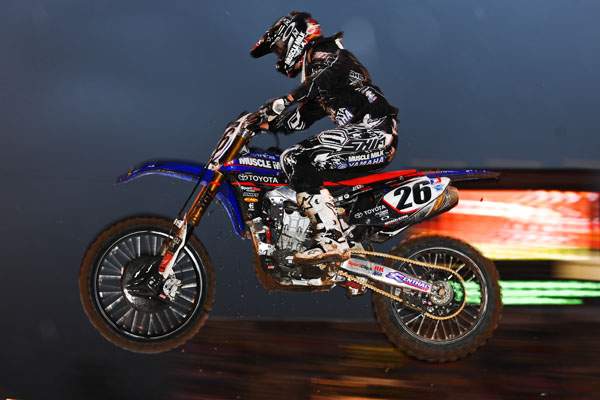 Photo: Cox
I know you're like 70 years old or whatever, but it does seem kind of weird that you didn't have a ride this year considering you were pretty consistently on the box outdoors the last two years. Did it seem weird to you?
Yeah, it definitely seems weird, but there are a lot of young kids coming in, and with the economy how it is, it's not about paying a guy what he's worth, it's about what you can afford, and what you're going to get with that money. Plus, the older you get, the harder it is to do it for free. People start families and have kids and a wife, and you can't do it for nothing. It makes it easier for the teams to take a young kid who doesn't have any of those things, and who will do it for free, and then hope that if you guide him he'll get you the results. It's just a tough market right now.
I know you were friends with Andrew McFarlane, and him dying on a dirt bike and leaving his family behind can't make it any easier for you to consider doing it for free, either, can it?
Definitely. We live in a bubble here. I've known Andrew since I was 10 years old, and we had a long, long friendship, and I had a brake problem at Salt Lake City when I was running third, and I felt like it cost me the podium – I was in third all by myself and only had five laps to go – and I came off the track, and I was all mad and stuff, but then they told me about Andrew, and I was just like, "Okay, what am I complaining about? I just got off the track, I'm healthy, I'm good, and I'm going to go home tonight." Like you said, you can't do it for free when you have that responsibility. Even just doing it for bonuses, if something were to happen to me, where does that leave my wife – my family and kids?
Obviously, no amount of money is going to make it okay for something to happen to you like that, but logically it makes more sense in terms of risk/reward that you should be paid to do it. You are a professional after all...
Yeah, it makes it harder to take the risk, that's for sure. We really love to race, and that's why we do it – and that's why some of us will do it for free, because we love racing – but the reality is that you could go and pack shelves at a grocery store and make more money than doing it for free, and there's no risk. But like I said, we live in a bubble sometimes in this industry, and we take things for granted in life, but losing Andrew definitely put me back into reality a little bit. It's devastating.
I've talked to some of his other friends, but I want to hear from you, too: Can you tell the public what kind of a guy Andrew McFarlane was?
He was a super genuine guy, and he would do anything for you. I owe him so much in my life and career. He was a little bit older than me and kind of took me under his wing when I was just 16. We went riding together every day. I learned so much about racing, as well as just being a person, just from being around him. The friendship got a little strained when we started racing each other, but it was only strained on the track. Once we got off the track, it was okay. There may be a couple of passes that he put on me that I'll have to hold off on returning until I get up there with him, but... I mean, he got away with a couple. But he was just so genuine. Him and his wife, Natalie, would do anything for you, no matter what it was.
When someone passes away, you always hear nice things about them, but it seems that in this case, it's completely true. I've never heard a coarse word about Andrew McFarlane from anyone.
Exactly. He wasn't just friendly at the races, or whatever, that was just how he was all the time. That's what makes it so, so hard to believe that he's gone. Some days I still think it's not true. It's just crazy.
Talk about that tattoo you and Chad got in Vegas...
Andrew was a huge part of my life, and Chad's life, and I said to Chad that we needed to get Andrew's logo and make stickers and stuff, so we put that together after I found the logo on his motorhome, and the guys at One Industries did us up some stickers, and AP Designs painted Chad's helmet for the race on the weekend. Andrew played a big role in Chad's racing career, too, in Australia, because all three of us were battling every single weekend, so whether we liked each other or not at that time [laughs], we were competitors and we respected each other. That's how he has affected us so much. We respected him as a racer and a person, and there are a lot of guys who don't like each other, but also don't respect each other, so to have that mutual respect, and eventual friendship, he was a huge part of our lives, and we wanted to make sure we remembered it forever, so the tattoos are a tribute to him.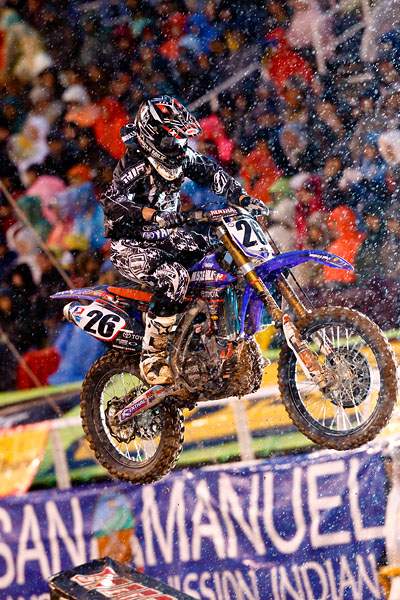 Photo: Cudby
I heard the story about how he got his nickname a long time ago, and I think it had something to do with how he would stalk whoever was in front of him for the whole race, and then just strike right at the end. Is that right? I think Andrew actually told me that once.
Yeah, exactly. He was like a Great White Shark; he was always in shape, always strong at the end of the race, and someone would be out front – sometimes it was me or Chad – and he was so solid and so consistent, and had such a swagger about him and believed in himself, and he would just hunt you down, and before you knew it, he was on you. That was how the whole "Sharky" thing came about.
Do you think your wife has noticed a difference in your behavior around your family since this has all gone down?
Yeah, for sure. She was worried about me, and stressed, because it had such a big impact on me, but you can't take little things for granted anymore, that's for sure. You've got to love every minute that you're with each other and be thankful for that because you never know when the big fella upstairs says it's time. It was definitely hard to go out and ride the first couple of times afterward, and even now it's hard to put yourself at risk. If you're out at
Glen Helen
and there are 100 people around, you don't want to do anything dumb. It's fair enough when it's a controlled environment and you're racing with people of similar speed, but you do think about it more. But it was hard to go out and practice at first.
Hopefully, this thing with Valli comes together and you'll be at the Nationals. However, you are 30 years old, and that's usually the ceiling for motocross racers, so how long do you think you'll be able and willing to do this for a living?
Hopefully, I'm getting better with age. I felt like my last two years of Nationals have been my strongest of my career, so while I definitely was not happy with the way supercross went this year – it's not where I should've been – but a little preparation coming in would've been nice! But hopefully for the nationals everything will work out and instead of finishing 18th at the first round and being on the podium at the last one, I can be up there at the start and get some good points and then try and build on it.
Thanks for your time, Michael.
No problem.