Vegas Track Photo and Pit Updates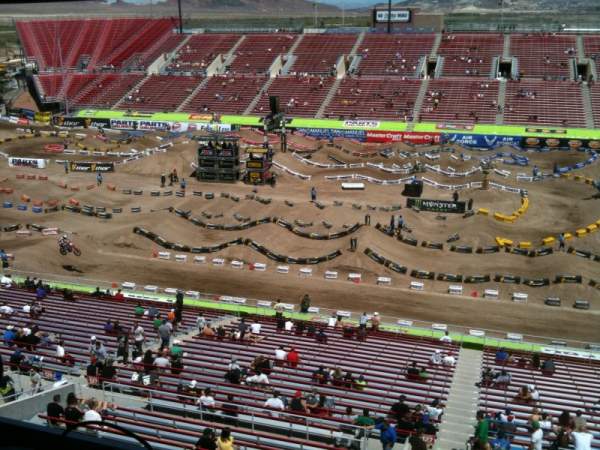 The Vegas track. The starting gate is outside the stadium on the left side, riders race into the stadium at outdoor MX speeds and hit the ski jump at the bottom of the photo.
Weege Photo
Vegas is a SX race unlike any other, with tons to see and do even at the track, let alone 20 minutes away on the strip. The pits are filled with special shows, interviews and events, and the track is much longer than a typical SX, since the starting gate is outside the stadium, and riders head back out there each lap to flat track through Monster Alley. As the riders race back into the stadium at high speed, they hit a ski jump with yard markers from the football field measuring the distance of their jump. Most riders are landing between 30 and 40 yards out, but Justin Barcia joked "why do they only have markers up to 50 yards?"
(And for those not so strong in math, 40 yards is 120 feet!)
The Vegas track normally features the toughest whoops of the year, but this year's course only features two short whoop sections. The whoops are really deep in each, though. And the dirt is the typical hard packed, dry, blue grooved stuff. Hey, it's the desert. There's also a very tough rhythm lane where riders could potentialy triple-triple-double over, but it's going to take a major commitment.
This is the home of the Dave Coombs Senior Lites East West Shootout, with the best of the West and the best of the East Lites battling it out for the only time this year. The divisions run seperate practice and heat races, so you'll only see them together in the LCQ and the main event. Christophe Pourcel won the race last year and just lit it up with a 1.04.996 lap time, which is over a second quicker than the next east rider, Justin Barcia, who logged a 1.06.474
Word from the pits is that Blake Wharton and Brett Metcalfe are out for the night, Metty is focused on riding a 450 outdoors, and Wharton has a bad shoulder from a crash last week. Ryan Morias crashed in the whoops in practice and got up slow, not sure of his status yet.
In 450s, timed practice is yet to begin, but Kevin Windham is going for his third-straight win. Word is he's already up a whopping $18 grand at the tables this weekend, so luck is definitely on his side. Ryan Dungey will obviously be a contender for a win, and Chad Reed is back after missing last week's race for the birth of his son. Reed has won a SX every year since he started in the big class in 2003. He's got one last chance to get one tonight.