5 Minutes with... Josh Hill
San Manuel Yamaha's Josh Hill started out the season surprising everyone with a bunch of podium finishes and left the west coast tied for the points lead with Ryan Dungey. But since then, things have come apart. Now, he's just trying to survive the coming weekend in order to hopefully hold onto a top-five finish in the championship. We talked to him on Sunday after the Salt Lake City round to find out what's going on with him.
Racer X:
You obviously started out the season on the gas. In the beginning of the year, you pulled off a bunch of podiums and you were tied for the points lead at one point. What has happened since then?
Josh Hill
: Everything was going good at the beginning of the season. I got a whole bunch of podiums in a row, and I was tied for the points lead going into the east, and then I had an off weekend in Indy. I wasn't hurt or anything there. I won my heat race, but in the main, I got a bad start and kept making a lot of mistakes and just got ninth. That was just a bad 20 laps. And then Atlanta came, and I was hoping to get some redemption on the weekend before. I was out in practice putting in a hot lap, I thought, and there was this triple-triple thing – the same thing [Ryan] Villopoto crashed on – before you come across the start, and I hit it and cased the second triple and rode a nose-wheelie almost to the mechanics' area. I had a big crash and broke my ribs and hit my head pretty hard, but I wanted to keep going. I didn't even know what I had done, I just knew I was messed up, but I wanted to go out and race anyway. I ended up getting sixth that night, and then it has just been a downward spiral from there. I think I just haven't let it heal yet, or it hasn't gotten fully recovered yet, and the more I ride, it's almost getting worse. Actually, it was getting better, and then I crashed and re-broke them again about three weeks ago, and it's been
really
bad since then.
How hard is it for you to go to the races every weekend knowing you have the speed – you're still fast in practice nearly every week – but you aren't going to be able to do much in the main events?
Yeah, I've been really fast, so it's almost harder because people are just like, "What's wrong with him? He's fast, but he just doesn't have the endurance." That's exactly what it is. I have broken ribs, and they say any time you break your ribs you bruise your lung, and I just don't have the breath to keep it going. This week [before Salt Lake City] was actually really good – I put in probably the best 20 laps at the test track since I got hurt, and I was really confident going in, and then the altitude really killed me. That was really hard to breathe for me. Then, the track got really gnarly, and I just couldn't put it together. It's been a struggle because I know my speed's there – I know I'm as fast as anybody there – but that doesn't mean anything when you can't put 20 laps together – or even eight, for that matter.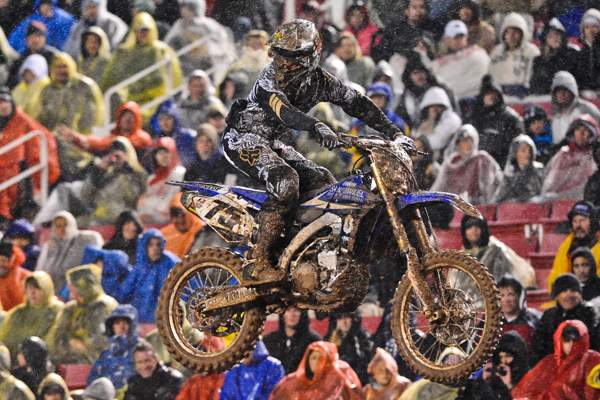 Steve Cox Photo
In the beginning, it seemed like you were good with being "the guy" at San Manuel Yamaha after James Stewart got hurt, but with how things are going now, does it make it harder on you because the whole team is relying on you and you alone?
Well, right now, it would really be cool if there was somebody else on the team that could ride and be there putting in good results, because the last seven or eight weeks, I haven't been able to do that. Physically, I just haven't been able to put in the motos I wanted. It's such a bummer to me, because it started out so promising, and I knew my speed was on point – and it still is – but I went into Atlanta feeling like the fittest guy on the track and then left Atlanta feeling like the least fit guy on the track just because of the injury I had. It's not like it's just a pain thing and I'm riding in so much pain that I can't ride, because I can ride fine. I mean, I'm in pain, but I can ride; but the breathing part is the biggest problem, and it sucks because the team puts so much effort into this whole program – Larry [Brooks] and everybody on the team – and for me to show up the last two weekends and get 18th place or whatever I got, it's heart-breaking to me. That team is pretty much the best team you can be on and I'm putting in the worst results possible.
What about the people who say that your results have suffered since you've started hanging around with Jason Lawrence again? What do you have to say about that?
Yeah, I guess people have said that, but I probably hung out with Jason the most the week he got out of jail. As soon as I found out he got out of jail, it was on Christmas Eve and I went straight to his house. He's one of my best friends. That has nothing to do with it. I was hanging out with Jason when I was vying for a championship, and actually I've probably hung out with him less in the last five weeks or so than I did in the beginning of the season.
Just because you have more crap to deal with?
Yeah, I have way more crap to deal with and I don't have time to go hang out. I'm going to physical therapy, to Doctor G, Brooks is having me train in front of him just to try to build my lungs and figure something out. It's definitely not from lack of trying or anything like that. Just because of my track record in '08, people are going to automatically assume that I'm screwing off, but that isn't the case at all. I'm trying as hard as I can even though resultswise it's gotten me nowhere.
Your ribs aren't going to heal by Las Vegas, either, so is there a small part of you that wishes your team was riding the Nationals so you can heal up some and then maybe go put in some results there?
I mean, it depends on what my team's doing, because that could still be an option. I've heard James wants to race a few nationals – I don't know what the deal is with that. I don't know the details, I just know the rumors. Basically, I know as much as you know. Here's the thing: I can go fast right now, and I have a few laps in me, so I'm going to show up this next weekend in Vegas and I'm going to try to get the best start that I can and ride as hard as I can and see where that puts me. I'm definitely not near 100 percent, or near where I was at the beginning of the year, so it's a huge chunk out of my pride to show up every weekend and do that. It bums me out. It almost depresses me when I go to the race and I'm racing and I'm getting lapped. That's not anything I ever wanted to do, but with me and everybody else on the team, none of us are quitters, and that's the one thing we talked about: No matter what I'm going through, we're not going to quit, and as long as I can ride my bike, we're going to be at the races.
I think it's pretty obvious that something's amiss when you go from podiums every week to finishing 19th like you did this last weekend, so I think it's valuable that the fans realize you're hurt because it stops the speculation.
It stops the speculation, but at the same time, people don't really understand what that entails with ribs. They think, "Oh, he's hurt, but he's been hurt for eight weeks," but I've been through a lot; I got hurt, and right when it started to heal, I got hurt again. It was like that set me back even farther because eventually you start to lose your [fitness] base that you got when you were healthy and able to train, and that's what I feel right now. It definitely sucks, but I've got one more race, and I'm going to try to hold on to the points I have and just try to finish in the championship top five. That's the goal right now. I went from trying to be first or second to trying to finish in the top five, but that's motocross.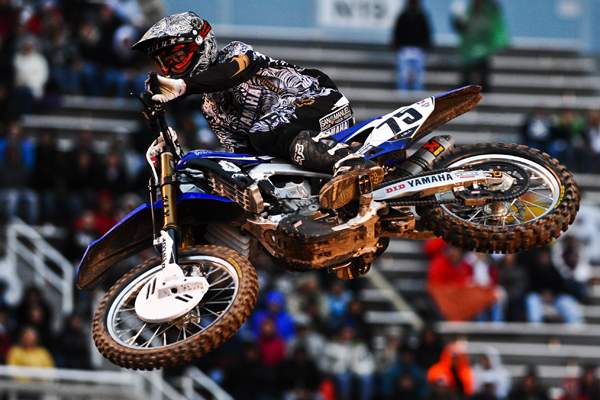 Steve Cox Photo
Yeah, that's the nature of the sport, for sure. Look at Villopoto: Everything changed for him in the snap of your fingers.
It's a bummer. The difference between him and me is that his injury, there's no way you can ride, and with mine, there's a slight chance I can try to ride, so I tried to do it just so I didn't have any regrets. In hindsight, though, maybe the best thing to do would've been to take some time off and try to figure it out, but I've got one more weekend left now, so I'm not going to quit. I say this every weekend, and the only reason I say it is because I know I have the speed, but I'm going to try to get on the box this weekend.
If James was still out there, presumably winning races, you probably would've felt better about taking a few weeks off to let your ribs heal, wouldn't you?
I guess I can't really say. I really don't know what I would do. Maybe I wouldn't even have been close to the front of the points in the first place if James was in there [laughs]. It's a whole different deal. But I've just got one more race. I feel like a dork because I always say, "I feel good. I feel like I can get on the box this weekend," and then I go out there and get 20th, and it sucks because I have the speed to do it, but I can't. It takes one hit to the chest with the bars to just ruin my night.
I had broken ribs before, and you can't even sleep well, much less ride for any period of time, so how do you recover if you can't sleep?
Yeah, you can't sleep at all. That's one of the biggest things. I feel like a retard because I'm walking through the airport trying to talk to people while carrying my bag and I can't even finish a sentence without breathing too hard. It just sucks.
Well, sometimes fans just need someone to talk crap about, too. You can't have the favorites if you don't have the ones that are hated.
Yeah, that's true, but for example, I think the Alessis are great for the sport. Some people say they're bad for the sport, but no way. They put everything into racing. Everything. How can that be bad? They get a bad rap, I think, but I do think the fans need someone to hate, just like they need someone to love, so that's okay.
In terms of your contract, do you have a clause that says if you finish in the top five, or the top 10, or anything like that, that you have a guaranteed contract for the next year?
I have no auto-renewals or anything that I know of in my contract, but to be honest I didn't even really look at my contract, I just signed it, because I was so happy to get a ride. I know Jimmy [Button, his agent] looked it over, and I don't think there's any auto-renewal. I think it's just at [the team's] discretion. Hopefully, Larry and Mike Kranyak and everybody on the team sees the effort I'm putting in and the struggle I'm going through and would like to re-hire me. That would be awesome. I guess I just hope some people have seen the effort I've put in. I'm sure not everybody's seen it, but I've put it in. This is just the beginning for me. This is the new me, and I'm trying to put everything I have into it and make this my life, not just a hobby.