5 Minutes With... Ryan Dungey
Rockstar/Makita Suzuki's Ryan Dungey just pulled off something that basically no one thought he would have been able to do leading into round one. There was a lot of talk about James Stewart and Chad Reed for obvious reasons, and even Ryan Villopoto, but not many people thought Dungey would be a threat to do more than win a few races, but he pulled off the AMA Supercross Championship in his rookie year, joining Jeremy McGrath as the only other rider to have ever pulled off the feat. It became official in Seattle, although it was guaranteed as soon as Villopoto dropped out of the championship. We talked to Dungey after the race.
Racer X:
We did an interview last week where we declared you the champion, because even if you didn't race any more in 2010, you had the championship won after St. Louis. But tonight it's "official" in the eyes of the AMA, so how does that feel?
Ryan Dungey
: Yeah, it wasn't official, but to actually get the plate – to walk away the champions – it's huge. Last weekend, [Ryan] Villopoto had a tough break, but I was happy to come out of that race safe and healthy, and I didn't really know where everything stood mathematically at all. Being that it's official now, it's an unbelievable feeling. You watch this as a kid growing up, and what you don't see then is what happens behind the scenes – what my family and parents and everyone went through. Getting out of bed and sacrificing, and leaving school, and leaving home at a young age to pursue your dreams. Things got tough there, but good, bad, and through it all, we stuck together, and to be the champion, and it's official and real, I really have to thank the man above for making it all possible. It's awesome.
A championship is one of those things that no one can ever take away, no matter what...
Right! It's pretty big.
How old are you? 21?
I'm 20. It's an awesome feeling. Tonight was a tough track, and that didn't make it easy at all, but to put it together and come out where we were, that's great. I wanted to win, which would've been great, but I knew what we were really going after, and that's the championship. It was an unbelievable season, and it's not over yet because there are two races left. I've just got to keep the momentum rolling. It's been an enjoyable experience, and I've got to thank everybody for making this possible, from my parents to my fans to my team... Everyone.
Talk about the race tonight, because Kevin Windham got out front, and you were behind him, but he was putting down some serious speed in these conditions...
Yeah, K-Dub really shined in this stuff tonight. I mean, I was behind him, and I was trying to pick up some lines, but I had a little tipover, and I had to regroup from that and he ended up pulling away and getting his first win of the year, which was great for him. That's awesome for the GEICO team and everybody over there. They work hard for that.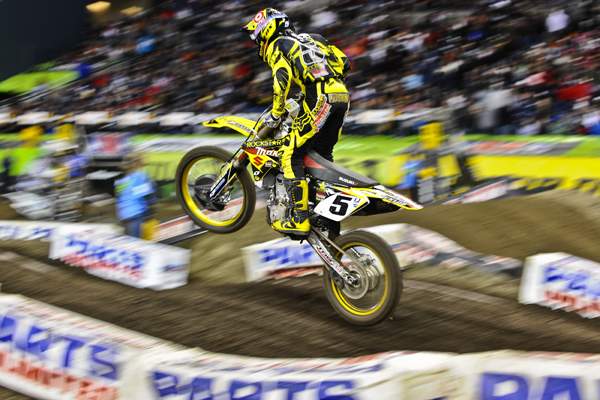 Steve Cox Photo
So, was part of you just trying to survive and get through it in these conditions?
Yes and no. I mean, I knew I had to keep the laptimes down, and I tried to push it as hard as I could, but the track was deteriorating a lot, so I just tried to keep my head down and keep it together. I didn't want to throw anything away, and I knew where I had to be, so to be able to do that was awesome.
Talk about those whoop sections on either side of the track.
The whoops weren't really whoops, you were just trying to get in a groove and keep it straight. At one point, I got a little sketched out and almost fell...
A normal guy who rides at local tracks, they wouldn't even ride through that stuff, so it was pretty amazing to watch you guys get through there at all, let alone as fast as you were...
Tonight, man, when you're riding in stuff like that, you're learning something, I don't care who you are. You're learning balance, and you really see the importance of looking ahead in those situations because there are so many ruts, and they're so long, that if you caught yourself looking at your front fender, you were going to start tipping over. You had to really be on the balance point, and Kevin Windham really showed us that tonight.
He's always good at that stuff. I asked you last week about time slots opening up for outdoor testing now that the championship is over, so is that the plan, to test for the outdoors now?
Yeah, we're going to get ready and do some outdoor testing this week to get ready for outdoors, because it's going to come fast, like I said before. I just want to finish these two rounds off strong and enjoy it and stick to the game plan.
The last question is that one thing I asked you about last week was about Jeremy McGrath and you joining his club as the only two guys to win a supercross championship in your rookie year, at least since after the very first year of supercross when everyone was a rookie by default. You're now in a very elite club, but McGrath was like 23 at the time! You're 20!
It was a lot of hard work. We worked so hard to get to this moment, but to be added to that list...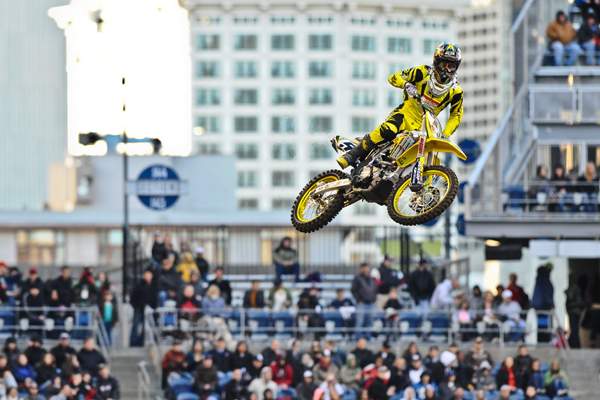 Steve Cox Photo
It wasn't a list before!
Yeah, you only have one shot at that, and we were able to accomplish it, and that's amazing. I've got a lot to be thankful for, and a lot of people behind me who were all in it with me and pushed with me. We were in it for the same goal, and it's awesome to celebrate together in the moment like that. It's a great feeling, and it's something you dream about.
Congratulations, Ryan.
Thanks, Steve.