5 Minutes with... Kevin Windham
GEICO Powersports Honda's Kevin Windham is defying logic at this point. At 32 years of age, he has just won yet another 450cc main event, and the way he's been riding lately, there's no real reason why he can't do the same this weekend or at the finale in Las Vegas. But in Seattle, it seemed like a foregone conclusion that Windham would win, considering the track conditions and the like. We talked to him after the main event.
Racer X:
I know I'm not the only one who was thinking it, but after practice, and seeing you smiling in the pits and stuff, a lot of us were thinking, "Windham's going to win tonight." Then, when the track developed like it did, it seemed even more certain.
Kevin Windham
: Well, I think today we had stories going back to the King Dome days, and all day people have been talking about my success here, like winning here in '08, and things have been progressing this season to a point where I feel like I could've won before this. I mean, it's easy to say we could've won before this, but we had the speed, just didn't have the starts or something was always missing. Today, everything clicked. It is ironic that a lot of people were saying that I was going to win tonight, but even going back to my week this last week, about how I felt and everything, it was incredible. The stars lined up, and the monkey's finally off my back because we got it won.
What is it about tracks like this that makes you shine?
Well, you know, there was no style and grace, and normally I'm a graceful rider. Tonight, there was no shame in dropping the ol' feet in the whoops and dragging them like skids through there, so...
But you had this rhythm section down here after the start, and you did it every lap when a lot of guys weren't able to do it at all, much less every lap.
I really just tried to not look at it – just go. That was kind of the goal, and I don't know what it is about it, to answer your question. A lot of people say, "Well, he's great on the hard-pack tracks, where it takes a lot of throttle control and finesse," but this really wasn't much of a finesse track. We got it done, though. It's just amazing. It's so special at this point in my career, and this age, to hear the crowd yelling all the way around, every lap, cheering me on. It was just amazing.
You do have a lot of success on very difficult tracks like this, though. Have you thought about trying Endurocross in your summer off?
I probably could...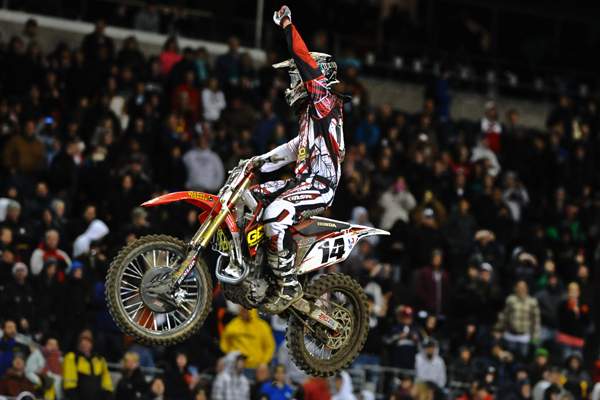 Steve Cox Photo
It's sponsored by GEICO!
[Laughs] I'll be honest right now, I'm really focused right now on doing some Planet Fitness gyms, so that's going to take up a lot of my time. It's been brought up to me, though... I mean, I might, but it's kind of like Supermoto, when it used to be fun because everybody just went out and winged it with no prep. Now, these Endurocross guys have their own test tracks and stuff like that. I kind of missed the curve on that deal, but we'll see...
You just have to ride over some logs and stuff. You probably do that for fun back in Centreville.
Yeah, I just want to focus on the next four years of supercross right now...
Yeah, four years, because you want to race until 2014!
That's the goal. There's a lot of cool stuff that has to happen with me between now and then, though, like I have to have no negative stuff happen. I can't bust my ass or anything.
Yeah, you're very old, so you're probably kind of brittle by now. But, hey, you'd be 36 or 37 at the end of 2014, and John Dowd got a podium at Southwick at like 42 or something...
I'm actually kind of bummed because I'm not the oldest guy to win a supercross, I just found out. John Dowd has me by like four months!
You just have to win another one next year!
That's definitely a goal...
Talk about these whoops, or whatever you want to call them.
Are you talking about the huge rut with no whoops that we rode sitting down the entire main event?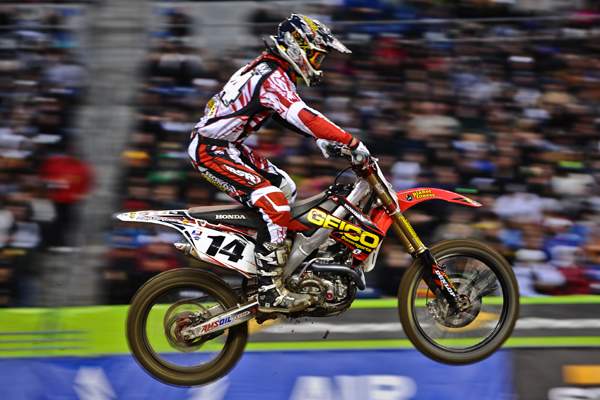 Steve Cox Photo
Yeah!
I did the hot lap, and I was like, "Man, this is going to be a loooong 20 laps." It was brutal. I actually felt kind of safe because there was no way I was going to fall with my feet out the entire time like skids. It was exciting, though. There wasn't a lot of finesse that went into it tonight.
Congratulations.
Thank you.