5 Minutes with....Justin Brayton
Muscle Milk/Toyota Yamaha's Justin Brayton finally broke through to grab his first-ever podium finish in the AMA Supercross class this past weekend in Seattle. We caught up to him after the race to get his take on the night.
Racer X: Hey, Justin, how's it going?

Justin Brayton
: It's going all right! I've got a bum ankle [motions to his unbuckled right boot], but it's all good!
Bum ankle from what? Today?

No, I hurt it in St. Louis last week. It's been a rough week; been a rough day. I crashed pretty hard in practice today, and I just knew I had to get good starts, and that's what I did in the heat – I got a great start – and the same thing in the main. That's what really helped out tonight.
I saw that crash in practice on the finish-line jump, and I didn't know about your ankle at the time, but knowing it now, that couldn't have helped because you basically faced the second jump...

No, it didn't help it at all, but the crash actually stemmed from messing up the right-hand turn before the jump, because I didn't want to dab it – it hurt so bad to dab it on the ground – and I cross-rutted and got all messed up, and I came up way short – not even close.
It's funny that you finally scored a podium finish, but you did it on a day after all of the troubles you've had in the past week, because we've all been waiting on this to happen for most of the year, and you were mostly healthy and you weren't making the podium.

Yeah, exactly; I've had a lot of ups and downs. I've had a lot of top-fives, and then last weekend in St. Louis, I really thought that was my night not just to get a podium but to win the race – I was fastest in practice and won my heat, and just felt great all day. I enjoyed the track, and it was very technical. The Dirt Wurx guys have caught a lot of grief, but I think just that one triple [where
Ryan Villopoto
and
Ivan Tedesco
got hurt] was pretty dangerous, but the track in general was good. It had big whoops and typical supercross stuff with big rhythm sections that not very many guys could jump and stuff. It's that style of track that suits me, and I've been working hard back in North Carolina with the guys, and it finally paid off.
Talk about those "whoops" tonight...

The whoops were crazy! I just took the team out there and checked them out. It's unbelievable; there are like knee-high ruts, and I would just get in a rut, look ahead, and go for it. That's about all you could do. And I just hoped to stay on two wheels.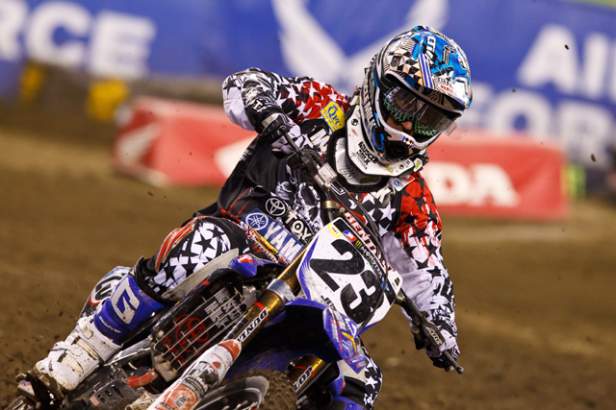 When Tommy Hahn passed you, you put on a fight for a minute, but it seemed like you just backed her down knowing that you were risking a crash. Is that right?

Yeah, we had a big lead on fourth, and he was riding good – he was going for it. Yeah, I put up a fight for a lap or two, and then I was like, "This is either going to take both of us out, or take one of us down for sure," so I just cruised it on in. I still laid down some okay laps, but I just wanted to get up there and stand on that podium for the first time. That was the plan.
With the last two races, do you think you can do this on a more standard track?

Yeah, I think I can do it on any track. I mean, it's weird that I got my first podium here, but I'm better on the more technical tracks like last weekend. This actually doesn't really suit my style at all, but that's usually the way it happens. I just think my starts did it, because I got great starts all night, and I've been focused on them all week. That's what I'm going to go into Salt Lake thinking about – just get a good start and don't even think about the race, because it'll come to me.