Racer X Podcast: The Art of Factory Testing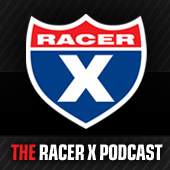 Episode 3 of the Racer X Podcast is up! This one's called:

The Art of Factory Testing Part 1

Factory tester extraordinaire Doug Dubach talks with Ping (who's done plenty of high-level testing himself) and Jason Weigandt about the subtle art of testing the best motocross bikes in the world. We learned some cool stuff in this one.

Next week: The Art of Factory Testing Part 2, featuring one of the most legendary racers to ever throw a leg over a bike. We'll let that be a surprise though.

If you subscribed to our old podcasts via iTunes, you should automatically receive the new ones. If you're having trouble, you can manually subscribe to the new podcast via your favorite RSS reader, or through iTunes.

If you have iTunes and want to subscribe, click the following link here:

http://itunes.apple.com/us/podcast/the-racer-x-podcast/id303804276

To manually subscribe in iTunes: Open iTunes, choose the Advanced option in the top toolbar, and choose Subscribe to podcast...

Then paste this feed URL into the box:

http://racerx.vo.llnwd.net/o15/podcast/podcast2.xml

If you don't use iTunes, no problem, just paste the feed URL in your favorite podcast reader.

Or, here's the direct link to this episode:

http://racerx.vo.llnwd.net/o15/podcast/FinalDubachTesting4-21.mp3

Have show ideas? Send them Jason Weigandt's way: jasonw@racerxonline.com. If we use your idea, we'll give you full props during the show, and we'll give you a free digital subscription to boot.