5 Minutes with... Kevin Windham
GEICO Powersports Honda's Kevin Windham landed his second runner-up finish in a row last weekend in St. Louis, and with the unfortunate injury of Ryan Villopoto, he has a very real chance of grabbing second in the supercross championship yet again. We talked to him after the race to get his take on it all.
Racer X: On the way into the stadium today, I asked you if you had it in you to put in a ride like you did last weekend in Houston, and you said yes and smiled. And you did, but you did it coming from behind this time and had to pass a lot of guys today.
Kevin Windham
: I definitely didn't give myself the best opportunity to start with, for sure. And I got some help, too, but I feel like I rode a great race. I had a chance to get up there in the front, and I got really close to
Ryan Dungey
, but unfortunately I dropped the ball in this rhythm section over here coming out of what would be turn seven on the track map.
Yeah, I saw that on like lap 18...
It's down to concrete over there, so that made it easy to screw up.
It's down to concrete on the other side, where Ryan Villopoto and Ivan Tedesco crashed, too...
Yeah, I think that's how a lot of people end up crashing and getting hurt. Our tires don't like to hook up on that slick concrete. But back to the race, I felt really good, and I didn't give myself the best opportunity, but with the crashes in front of me with Dungey and Villopoto, and that triple at the end of the rhythm section before the whoops claimed a lot of people, unfortunately, so it was a crazy race, and I heard the crowd, so I knew there was some exciting stuff going on. I feel good about where we got to...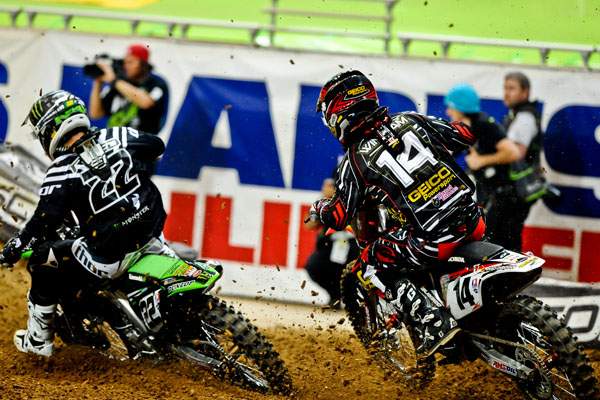 Windham (14) works his way around Chad Reed (22) in the St. Louis main event.
Steve Cox Photo
You're pretty old, so...
Yeah, old like you, right?
Well, I turn a year older than you tomorrow, so I'm not your age anymore as of midnight...
You old bastard! [Laughs]
I know! But what I'm asking is that with all the carnage over there on that triple, what were you thinking? I mean, you're not 18 anymore, and you have a family back home that relies on you, so does that enter your head as a racer when you're going for an obstacle that has such a penalty for a mistake?
Oh yeah, sure. You obviously take note when there are guys down, because there's a reason why they went down. I mean, we're riding with the best in the world, and you want to be cautious, but you still have a job to do. I mean, it's tough, because it's not really time to start thinking about the wife and kids at home, because that's obviously not a way to be overly successful in an extreme sport, but you do take note, and you realize that what we're doing has a calculated risk. We're all susceptible to crashes, and it can happen at any time when we're pushing the limits. So, to answer your question, yeah I think about it, but I didn't let it take me out of my game.
Has it changed at all, the way you think about that, though?
No, not at all. Last year, I was a little bit more timid, but I think that was due to not being completely comfortable with our bike. But right now, I really feel like my GEICO Powersports Honda is the best bike on the track, and you can see that by watching me blitz the whoops, and I feel really strong right now. When you have a lot of confidence in the machine beneath you, you do the training, you do the workout, you do the practice routines, and you realize that you've done everything you can do to be safe out here on the track. That's about all you can do. With that done, you go out there and give it your all.
Did you almost go on your head doing your nose-wheelie in opening ceremonies?
It got sideways, but I didn't almost go on my head or anything... I was actually pretty nervous about the berm transfer I did [he jumped from one berm over the start straightaway and onto another berm – a big transfer – in the dark, with a spotlight on him]. I was kind of nervous about that, and we got that done, but then I was like, "All right, the nose-wheelie is old hat." But I like putting on a show. I try to do my best for opening ceremonies, and I try to find something to do a little different than the other guys are going to be doing.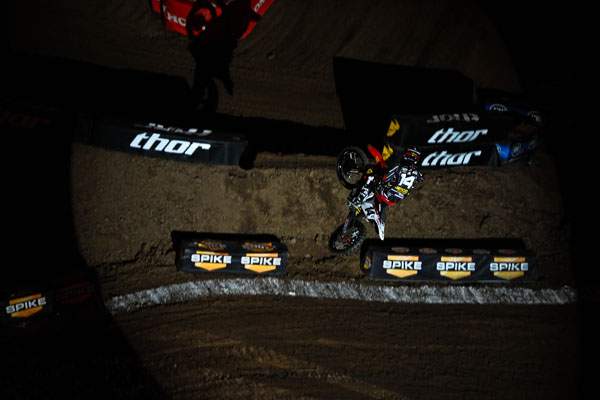 Windham jumped over the first turn in this technical leap between Tuff Blocks. Of course, it looked easy...
Steve Cox Photo
There was a crazy number of people in and around your pits today. What does it mean to you to have such a massive fan base like this?
Oh, man, it feels great! And to be honest with you, that's kind of what you do it for, right? I mean, I would certainly wish that I had more trophies in my career, but at this point, a few more isn't going to make a whole bunch of difference...
Not to your fans...
Not to me, either! I mean, sure, I'd love to win a championship, and there are some things I left on the table, and I wish I would've done better – and I think probably everybody has that – but right now, just to come out and hear the crowd and be a part of that moment, that's really special for me right now. My career has gone through so many different fazes, and now I'm here just for the pure love of the sport. I've certainly made enough money by this point in my life, and it's just about being here and not having anything else to do! But the other side of that is the fact that I'm starting to affect multiple generations. It's like, you've got the grandparents, and their kids, and the grandkids, and some are like, "We remember you back in 1994!" And others are like, "I remember you back in 2001 and 2002!" And now, they're talking about what I've done in 2010. You get a lot of, "Man, my dad loves you," or, "My mom thinks you're the best," or whatever, so yeah, I'm an old guy, but I'm pumped to still be out here.
It used to be, when you were a teenager or in your early 20s, you'd pull the hot college-age chicks...
Yeah, and now it's, "My mom thinks you're hot." I'm like, "Yeah, how old's your mom?" "42." And, hey, that's not old either, but it did change. I don't want to get hate-mail from anybody that's 42 out there, but it's changed, for sure. But I'm embracing it. Ever since Fro [Jeff Emig] made the comment at like round one or two, I've just been running with it, and it's been fun.