St. Louis Practice Report
Practice is complete here at the Edward Jones Dome, and Monster Energy SX points leader
Ryan Dungey
looks to be back to his old ways. After a tough week last time out in Houston, he rebounded to log the second fastest lap of session one, and the fastest in session two. Granted, Dungey was fast on individual laps last week, too, but this time he seemed to be fastest more consistently throughout each session.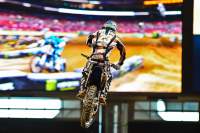 Justin Brayton
was fastest in 450cc practice.
Steve Cox Photo
Dungey's best session two time was a 51.142, but his title rival looked a lot better in practice than he did last week, too, as
Ryan Villopoto
logged a 51.578 for second overall. Last week RV wasn't even in the top five.
Justin Brayton
continues to show good speed early, throwing out his fast laps as soon as they turn on the transponders for the first practice. He had the fastest time in session one, and was third fastest in session two with a 51.636. That's the second-straight week that Brayton's #23 stood on top of the board after the first session, and he backed it up well in the second.
Davi Millsaps
(51.903) and
Kevin Windham
(52.166) were next.
Where was
Chad Reed
? Just inside the top ten in both sessions, and his #22 never popped up on the top-five leader board.
Similarly, in the Lites class the new (and old) East Lites Champion,
Christophe Pourcel
, couldn't get going either. A few attempts at a fast lap in the first session were slowed by others, so he didn't get in a good lap until the very last moments of practice, where he ended up third.
Ryan Sipes
and
Martin Davalos
led that group.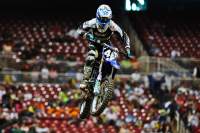 Ryan Sipes
was fastest in Lites practice.
Steve Cox Photo
In session two, Pourcel struggled even more and was only 16th fastest! Don't expect that to matter when the races start tonight, though.
The man on fire right now is Sipes, who was fastest in both sessions, and his 52.350 in session two makes him first overall. This is the final east round of the season and Sipes has to feel that he is owed a win.
Dean Wilson
was second with a 53.492, followed by Davalos with a 53.752.
Kyle Cunningham
was fourth in the second session with a 54.075 and
Matt Lemoine
had a 54.411.
Pourcel's 53.994 from session one did hold up for fourth overall, but he only logged a 58.339 in session two. That pushes Cunningham and Lemoine back to fifth and sixth on the overall chart. Honda boys Barcia and Metcalfe were next on the list.
The track is very technical here in St. Louis. A though rhythm lane runs the entire length of the floor, and only a few 450 riders have been able to stretch it into a triple-triple-triple combination. Brayton, Dungey and Windham were pulling it in the first practice session, but don't be surprised if the line is gone by the time the main events roll around.
Also some really big whoops here, Lites riders are really having to hustle to keep on the top and blitz through. Then comes a hard right turn and a big triple with very little run—many of the Lites riders are having a tough time getting over that cleanly, as well.
There are also two sand sections, one a set of rolling whoops, and the other in a split corner, where riders can go inside through the sand or outside on the regular dirt. And that dirt is loved by the riders.
Stage is set for great action tonight, Dungey is trying to rebound while Villopoto tries to keep clicking off wins. Should be a good one.