Thursday Rev Up: St. Louis Fire
Hello, everyone, and welcome to the Rev Up. As they say, "It's on!" Many of you will recall that saying was on the cover of the very first glossy version of Racer X. In what has remained the most steadfast season of supercross in the decade, the 2010 Monster Energy Supercross circus has now gone nuclear. I say steadfast because the tour has risen above losing its two biggest superstars and continued to bring the heat each and every weekend. Now she arrives at a thorn in the rose bush in the St Louis Supercross. What comes to mind when you think about the Midwest? A bunch of Budweiser-swilling, pasture-plowing, tornado-dodging hicks, perhaps? In my 33 years, I have been lucky enough to see virtually the entire country. I've held driver's licenses in four different states and encountered every version of human these United States offer. Take my word for it, the real crazies of America call the Midwest home. What effect the indigenous have had on the St. Louis Supercross is a mystery, but history doesn't lie. The St. Louis Supercross is where madness happens.
Four races remain. Time to charge. The final push for the title belt is setting itself up to grant all of our wishes we made back in January. We all want it to come down to the last drop of the gate at Vegas. The only thing wrong with this year's situation is there are only two riders still in the hunt. The wolf pack has shrunk down to a "two men enter, one man leaves" scenario. The battle of the Ryans is on. Who's it going to be? Put yourself inside the stadium for opening ceremonies. Close your eyes and smell the sulfur and feel the music pounding your heart. Open them and watch the lasers dance through the smoke and get ready to pump your fist as the boys wheelie out for their parade lap. Every word I write on Thursday is about that moment at the supercross races. It's that time of the week again. Let's get revved up for some more fire at St. Louis!
Lites
I don't know about you guys, but it's been a while since I've seen so many takeouts! The one
Tevin Tapia
pulled in the LCQ last week definitely ranks on the podium on my recent hit list. Such a footpeg-beeline, seek-and-destroy mission! Maybe the savageness of
Justin Barcia
has had an osmosis effect on his competition, because the fork-tube jousting has been stronger than ever. I love it. I don't want to see anyone get hurt, but I do love the show.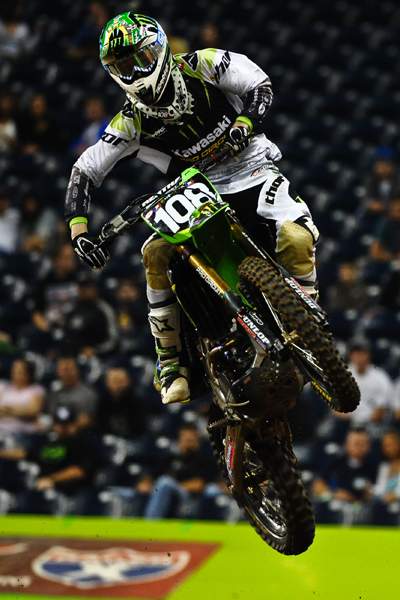 Crazy stuff happens in St. Louis. Will it be Dean Wilson's night in the Lites?
Steve Cox Photo
Christophe Pourcel
is now a two-time Lites Supercross Champion, and at this point it looks like the sky is the limit. It's hard to say how he'll ride this weekend, but I suspect he has grown fond of those first-place bonus checks. But St. Louis favors the underdog and a fight. In 2007, a snarling pack of riders went to war for 15 laps in one of the gnarliest main events I've ever watched. It was Dungey's rookie year and just when he had it, he stalled. Then, on the last lap, Darcy Lange put on the charge and went full whisky throttle over a nasty dragon-back section going for the win. He flipped about 18 times before running back to his bike.
These guys have been throwing down heavy lately. Between Barcia, Metcalfe, Sipes, Baggett, Wilson, and Pourcel we should all be ready to see some sparks and fork guards fly.
Supercross
I'm not sure why those with red hair are so tough, but clearly the ginger breed has a chromosome or two that makes them nails. Did you see how hard RV Park went down in the hoops in practice last weekend? When he got up, he held the posture that only motocrossers who have been punished know. It's the crunched over, limping, shoulders down "I've had the piss beaten out of me, sore all over" posture that sends most to the couch for a couple weeks. Not
Ryan Villopoto
. That mean bastard goes out, bangs the holey, and puts a gap on them. That's badass among beasts right there. Like a lot of the boys, Ryan is hurt all over. But he will still hunt you down. The scoreboard reads round 14 and pretty much every rider strapping his helmet this weekend has something wrong with them.
I'm not sure what was wrong with RD5 last week, but he needs get his flow back.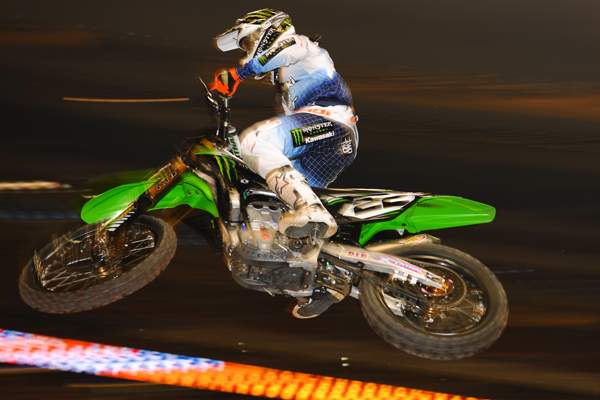 Chad Reed may be a wrench in the race of the Ryans.
Steve Cox Photo
It's along this mindset that along comes a spider (hopefully).
Chad Reed
is back in action (unless baby
Reedy
arrives) and although he is rusty, he is somewhat fresh and has nothing to lose. RV can win every race from here on out and win the title in Sin City, or it can get a lot trickier. If
Reedy
wins and RV2 and RV5 go 2-3, then Villopoto only gains two points instead of three. Be that as it may, 'tis not the season for simple math. The McGrath, Carmichael, Stewart days of 10+ win season are gone, unless RV wins out. This is the season of aggression. The rider that has attacked the most has enjoyed the most in 2010. Now it's time to throw it out there and capture the championship. If Dungey or Villopoto try to point race, they're done. Time to attack! There is still a lot of racing to come, and with a possible mud race on the horizon in Seattle, every single lap counts.
Here's a funny little story before I leave you. I got to meet Super Bowl-winning coach John Gruden at the Tampa airport on my way down to Cancun a few weeks ago. He was staring at our plane and all of our group with a raised eyebrow before asking us, "Where are you guys from?" We just answered, "We're Chiefs fans." He laughed and said, "Man I hated playing in Arrowhead. Bunch of loonies in that place. I mean, they were playing Twisted Sister during pre-game." St. Louis isn't Arrowhead and Missouri and Kansas actually hate each other, but we share the Midwest moniker, and things don't mellow out through Missouri and Iowa. Ever heard of Slipknot?
There will be a big turnout for this one. I've had friends from four different states tell me they're making long drives to watch it all go down inside the house of fire. Ask Jeff Emig what it felt like to beat McGrath in 1996. St. Louis was the site of
Ricky Carmichael
's last supercross win. There is something in the St. Louis dirt that makes things go off big. Who's ready for this one?! Stand up and scream with me, folks! Get ready to feel the heat of St. Louis fire.
Thanks for reading, see you next week.