5 Minutes with... Kevin Windham
GEICO Powersports Honda's Kevin Windham landed his best finish of the season in Houston, which is as close to a hometown race as he has on this year's schedule. In attendance were his wife and all of his kids, and he rode an inspired race. It was his fourth podium of the season, but his best result so far, as the other three were third-place finishes. We talked to him after the race.
Racer X: The last time I came to talk to you after the race, you had disappeared before I got there...
Kevin Windham
: Oh, you mean in Jacksonville?
Yeah. I showed up to the truck and you bailed. The way Jacksonville ended for you (with Trey Canard passing him in the last turn for third place), that's kind of a sour note to lead into the weekend off, isn't it? Did you dwell on it at all? Did it piss you off?
Oh, yeah, it pissed me off bad! But it was nothing to do with [Trey] Canard or anything like that, it's just you hate going through that much work – that much of a race – and then down to that last corner... Yeah, I was bummed, really bad, for a long time, and I thought about it a lot when I worked out this week, and I thought about it a lot when I rode, but I also didn't want to take myself out of my program. I feel like the GEICO Powersports Honda team has been going in the right direction, and my hat's off to MSR, DVS, Shoei and Spy, and all the guys for being here to support me. I feel great, and to have it come together in Houston was really good. Things have been going really good for the last 10 rounds or so, but I just haven't, for whatever reason, been putting together good starts and good main-event performances, so for me, right now, I'd just love to get a win before the end of the season, and I don't think I'm too far out from [Davi] Millsaps and [Josh] Hill. There are four rounds to go, and a lot of things can happen, so I want to keep charging after them. You know how the year was for me last year, so this has been a successful year [in comparison] by itself, but you find yourself through the season finding new goals and new challenges throughout, and I've got a couple ahead of me right now.
I remember talking to you after you got the podium at Anaheim 1, and you made it sound like it was going to be hard for you to keep landing on the podium...
Well, we've lost some good competitors, but I'm not going to take anything away from what I've been doing. I'm really proud of what I'm doing out here, and at this age, everybody keeps calling me the old guy, and I'm going to carry that around for the rest of my career. There's no way of getting away from it...
Yeah, well, every day, you're older than the day before, right?
Yeah, and I think at the moment I'm the oldest guy on the track, so it's a big deal for me to be riding at this level, and I take pride in my work, and it feels good being where I'm at right now.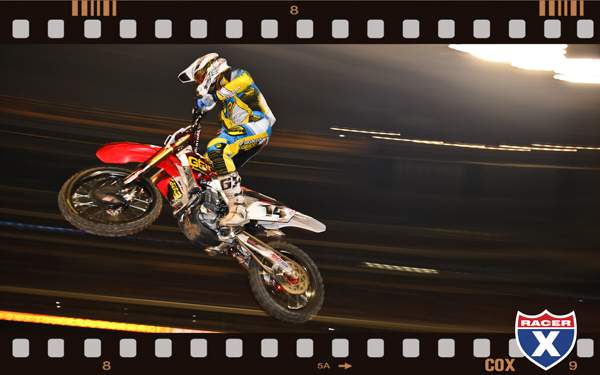 Click this photo to get this photo as a wallpaper, and view the other wallpapers from Houston.
Photo: Cox
Coming into this race specifically, you've had a lot of success here. I think you've won here four times – including two on 125s...
This has been a great town for me, and I think you find that any time you get close to home. I've had a lot of success in New Orleans, and that's my home race, and I've had a lot of success here. I like the dirt, and all night tonight, I was just really stoked to be riding, and every time I went out, I gave it my all.
Talk about what it's like to have a first turn (or "turns") like that, where it bends one way, then hairpins the other way...
Yeah, man, you rule somebody in the first part of the dogleg, and then you're like, "Aw, damn, I'm about to have it turn the opposite direction, and they're going to be on the inside of me now!" It was tricky, but I came out pretty good on both of my starts. It definitely wasn't the deciding factor on the night for me. I dropped my front end in the whoops and got swapping side-to-side on like lap eight, nine and 10, and that kind of took the wind out of my sails – and I think that was one of the areas where I was really excelling. So when I lost the confidence to drive through those, that really affected the ultimate outcome.
Do you think that otherwise you could've possibly chased down Ryan Villopoto out front?
Well, it would be pretty dumb and cocky to say that at this point...
Well, you could've given it a shot, though, right?
Hell yeah, I was trying the whole time, but I lost my strong point there. Villopoto, man, I had him in the heat race, and he just found another gear in the main and put it to us. I was amazed at how fast we opened up a lead over third, and I felt like I was riding respectably, but when he whipped it out there, I couldn't do anything with it.
So, you have four more races, then it's back to the couch, right?
Party barge, yeah! Wakeboarding... I'll start working on my wakeboarding, but I definitely want to have a better showing this year at the X Games because last year I sat on the couch a little bit too long. It's really hard to go from racing to not racing and back and forth. You've got guys like [Andrew] Short who came back, and [Chad] Reed, and they're really fast and always will be, but there's nothing like racing week-in and week-out. You've got to race a little bit to keep on it. It's a lot different than riding your practice track. And that's what happened with me at the X Games, I just didn't ride enough, and I lost the racing edge, so I couldn't hang for the whole race with the other guys.