5 Minutes With... Trey Canard
Honda Red Bull Racing/GEICO Powersports Honda's Trey Canard has been having a heck of a run on the 450 since he stepped up to fill in on the team for injured Andrew Short starting back in Indianapolis. Canard has raced five races, and after a DNF in his first attempt, he has strung together four-consecutive podium finishes. Having ridden only five of the 11 rounds run in the 450cc series, Canard has managed to land 12th in points right now with one race left in his 450cc excursion. We caught up with him after the race to find out what it was like to come through the pack for third instead of do it from the front of the field off the start.
Racer X: You've been nailing the starts for the last few weeks, but you didn't do that this week. However, the end result was the same.
Trey Canard
: Yeah, I think it was good for me, really. I thought the experience of starting kind of far in the back was good, and I actually had a decent start from where I was at – it wasn't a very fair start.
Yeah, you had a bad gate pick because your heat race didn't go very well...
Yeah, my heat race was kind of scarey and I kind of had some issues, but the whole race in the main event was really kind of a blur up until I got behind Davi [Millsaps], so it was a good night.
Were you being a little extra-nice to Millsaps out there? I've seen you ride pretty aggressively in the past, and you weren't being that aggressive once you were behind him...
I wasn't being extra-nice, I was trying hard, but at the same time, I wasn't going to do anything stupid to ruin anyone's time. We were a similar speed, so it's not like I could just drive by him. I was going to have to work for it, and I wasn't going to do anything stupid. I respect Davi and hopefully I can be good about how I'm racing these guys and still let them race for their championship, but I'm racing too, so it's been good. That was my favorite main event so far. I felt like I rode hard the whole time, and I'm stoked on that.
It seemed like when there was like two or three laps to go you really put your head down and charged, which wasn't like the past few weeks...
Yeah, you know, the 450 has been kind of tough just handling the thing – the thing's a handful – and this week I was really rested, and being home was good for me. So, when I saw that there were three laps left, I figured I would pour it on, and I did, but unfortunately I didn't get him. But like I said, that was my favorite main event so far.
How much of a difference does that make when the last few laps of the race you know you can charge instead of just trying to survive?
That makes a huge difference. I mean, last week I was struggling because of the travel and I wasn't rested coming in, but this week, I was at home, and that was such a relief on my mind to just be away from California...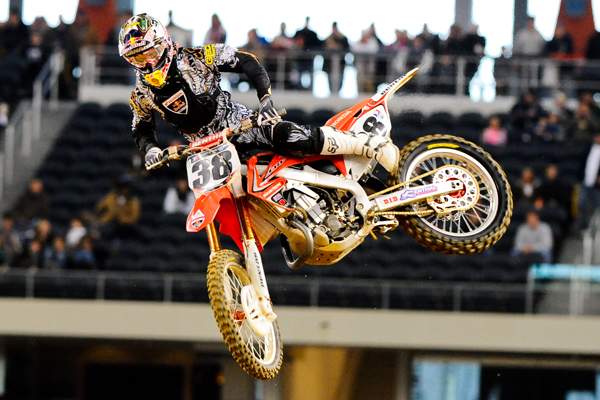 Photo: Cox
You hate us Californians...
I don't hate Californians, I just hate where you live!
Oh, admit it...
I love Californians! I love you, Cox! You know, in a non-gay way...
In as non-gay of a way as you can love someone named Cox...
Exactly! And by the way, I didn't even know the end of that joke I told last week [in his 5 Minutes With conversation
here
].
Which one?
There once was a man from Nantucket...
You didn't know it?!
No! Someone told me how it ended that week, and I was like, "Dude!"
That's really funny! You're such an incredible goody-two-shoes that you weren't even making a joke about a dirty joke, but you actually didn't know it was a dirty joke!
I didn't know! Sorry!
So, are we looking at one more race? Is that it?
Yeah! It's another race in Jacksonville, and right now, I've definitely exceeded my expectations for this, and it has been a really good experience for me.
To get four podiums in five races, are you a little paranoid you might let yourself down in the last one on the 450?
No, I just don't want to set myself up for failure. I think that my normal humble approach is good, and I'm not going to go in and say I'm going to do something. That's not how I work. That's not how I approach things.
I'm betting you go in and probably make the main event...
That would be a good goal. First, make it out of practice, make the night show, make it out of the heat race, and then make five laps, 10 laps, 15 laps...
I think you can pull those off...
I hope so!