5 Minutes with... Ryan Dungey
Rockstar/Makita Suzuki's Ryan Dungey hasn't exactly struggled the last few weeks, but he has had trouble beating title rival Ryan Villopoto. This weekend in Dallas, though, he got a start, and that made all the difference, as he ended up with his fourth win of the season and extended his points lead to 24 with only six rounds remaining.
Racer X: You seemed to be on top all night tonight. What was the story?
Ryan Dungey
: Things definitely went good tonight. I got off to good starts and practice went great. Rockstar/Makita Suzuki made some great changes with the bike, and we had a really good bike from the get-go, and that's always the plan. I was able to get good laps in in practice, and then I was able to win the Heat, and then get a holeshot in the main and lead smart, consistent laps. But I've got to give it up for the team because if it wasn't for them, I wouldn't be here.
What do you think of this stadium?
This place is amazing. From the time I got here and I drove by, seeing it on the outside, it was big, but then coming inside, it is just so cool. Everyone even says how good the food was, and then those big flat-screens... Those things are pretty amazing. They have that saying that everything's bigger in Texas, and they ain't kidding.
In opening ceremonies your head was like 100 feet wide...
(Laughs) Yeah! I was a giant. It's really cool, though. I've got to give it up to them because two years ago it was an open stadium and today it was pretty nasty outside, so I'm really thankful to have something like that.
What does it mean to you in this championship to know how good Ryan Villopoto has been in the last few races, and that you've been trying unsuccessfully to chase him down, and to come away with a win like this?
I was just trying to stay calm. Ryan's a good rider, and he's not going to make it easy. He's really got some good speed, and at the same time I've got to worry about myself and do my thing and race my laps. Obviously, the goal is to win every single race from here on out, but mainly I've got to get the holeshots. I've been lacking those lately, and I was able to do it tonight. When you get a start, if the track is tough to pass on, you're in a good position.
The opposite is obviously also true, that when you don't get a good start and the track is tough to pass on, you're in a bad spot...
Exactly, so the start was key tonight, so I really focused on that, and then it was just about putting in solid laps.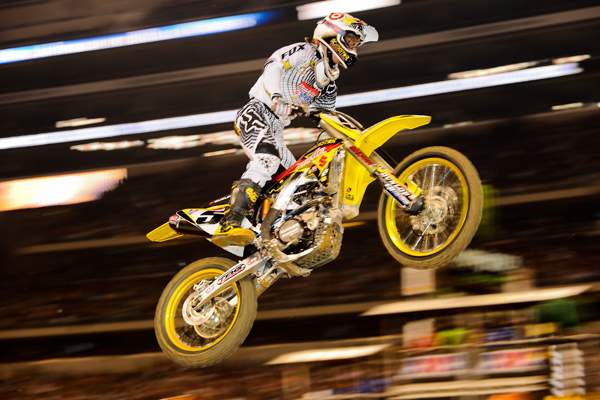 Ryan Dungey grabbed his fourth win of the season.
Photo: Cox
Are you going to get Wes Nobles, the guy who makes the opening-ceremonies videos, to come down to RC's place and re-shoot the part of the video that shows you wearing Gaerne boots?
That was a tough deal. We were in the process of getting the boot done, and we wanted it to be a secret and come out with a big bang at Anaheim I, but I haven't ever had a video before, so I can't complain. He does a great job, and I'm sure it isn't easy doing that.
[Blake Baggett walks up to congratulate Ryan Dungey, and Dungey says, "Great job! Now you know!"] That's a good point about him, because you were another rookie who won in supercross right away. That has to change how you look at the races once you win, right?
Yeah, at Atlanta in 2007, that was my first one on the east coast, and I was able to leave with a win, so I have to give it up to Baggett. It's his first year and it all worked out for him. That just goes to show that you've really got to believe. Right when you don't think you have it, something will smack you in the face and say, "You'd better believe in yourself because you do have it." You know what I'm saying? So that was cool to see Baggett win. He's a young kid and I know he rides a lot and works hard. His family is really cool, too.
He's a pretty funny kid, too.
Yeah, for sure. He and Blake [Dungey, Ryan's brother] grew up racing against each other in amateurs, so I did know him a little bit, but he comes from a good family.
This new points lead is a big deal with only six round left, isn't it?
Yeah, it definitely a step in the right direction, but it's just one race at a time, keep carrying the momentum, and doing our deal – and having fun and enjoying it. But there are a lot of races left to be worrying about points and stuff like that.
But the goal is the championship, right?
Yeah, for sure, that's the goal, but there is still a long way to go, and I've got to keep digging deep, you know what I mean?