AURORA, Ill. – Tomorrow night Toronto's Rogers Centre will play host to the 10th stop of the 2010 Monster Energy AMA Supercross, an FIM World Championship, season. While the premier AMA Supercross class championship points lead is controlled by Rockstar/Makita/Suzuki's Ryan Dungey, all eyes will be on Canada's own Dean Wilson, who will be racing in the Eastern Regional AMA Supercross Lites class championship.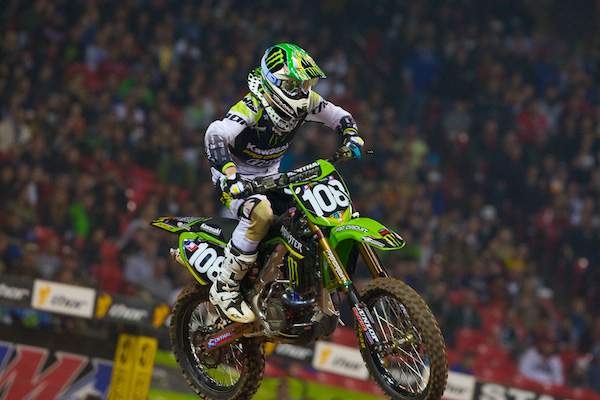 Canada's Own Dean Wilson Makes his Toronto Debut Tomorrow Night
photo: Brian Robinette

Wilson, 18, grew up racing in Alberta where he racked up several amateur national championships in both Canada and the U.S. Before making the transition to his professional career, Wilson was named the outstanding rider of the year at the amateur national championships. With his professional license in hand, Wilson transplanted in Southern California to chase his childhood dream of winning an AMA Supercross/Motocross Championship.

On February 20th this year, Wilson made his professional debut at Indianapolis' Lucas Oil Stadium, finishing an impressive sixth place against the world's top AMA Supercross Lites class riders. The following week at Atlanta's Georgia Dome he crossed the finishing in fourth place before nearly 70,000 fans. Wilson reached a milestone last weekend at the legendary Daytona International Speedway when he earned the first podium finish of his career, finishing third.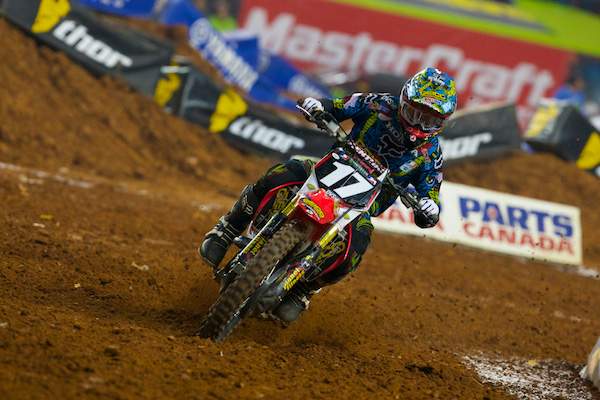 GEICO Powersports Honda's Justin Barcia Also Makes his Canadian Debut Tomorrow Night
photo: Brian Robinette
"This is going to be a great race," said Wilson. "There will be a lot of fans cheering for me and I hope I give them something to cheer about. Getting on the podium was good last week, and that's where I want to be every week."

His efforts moved him into third place in the Eastern Regional AMA Supercross Lites class points standings with 53 points. Each weekend, Wilson has improved his results, using each race as a stepping stone to stay on the podium.

"I learned a lot and I'm taking what I learned and I'm going to work hard during the week to correct some mistakes."

Wilson's teammate Christophe Pourcel has won three consecutive Eastern Regional AMA Supercross Lites class main events and has a nine-point lead over Rockstar/Makita/Suzuki's Austin Stroupe heading into Toronto.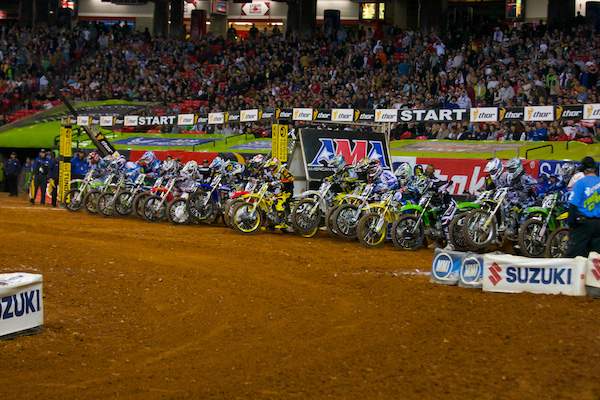 Monster Energy Supercross Returns to Rogers Centre
photo: Brian Robinette

"Toronto should be a good event for me," said Pourcel. "It is the biggest stadium floor we race on so there are a lot of obstacles which usually means a technical track. I think the more technical track the better so I can keep riding well and keep getting on the podium."

Pourcel and Stroupe have finished first and second respectively at every race this season.

"Being consistent is building my confidence as we head into Toronto," said Stroupe. "It's getting a little old (finished second), but I'd rather be here than DNFing. I'm building on a lot of things I've lacked the last two years, so the team is helping me and we're working together. I'm ready to race every weekend."

GEICO Powersports Honda racers Justin Barcia and Brett Metcalfe are going strong aboard their Honda CRF250Rs in the Eastern Regional AMA Supercross Lites class, and week after week are continue to be in the thick of the racing action.

"I definitely have the speed to be up front and I have shown that at every race this season," said Barcia. "I just have to put it all together come race day. Mike LaRocco works really hard to help me get accustomed to the whole pro racing scene and I know it's only a matter of time before I get that win. We are quietly confident it will happen; it's just a matter of me piecing everything both on and off track together and finding what works for me."

In the AMA Supercross class, Dungey, who has three wins and three additional podium finishes, has a 20-point lead over Monster Energy Kawasaki's Ryan Villopoto. Villopoto has four wins on the season but a 19th-place finish in Atlanta hindered his overall position in point standings. Last weekend in Daytona, Villopoto scored the fourth win of the season.
"The championship is still in reach," said Villopoto. "I just need to keep getting good starts and riding strong throughout the race. You never know what is going to happen so I have to put myself in position to capitalize on my competitors mistakes."

Dungey's consistency has helped keep him head of the pack. Through the first nine races of the season, he has finished inside the top 10.

"I feel confident going into Toronto," said Dungey. "I think we just have to keep racing one race at a time and just enjoy the season."

Dungey's Rockstar/Makita/Suzuki teammate Matt Moss remains on the injured reserve list, creating an opportunity for Western Regional AMA Supercross Lites class rider Ryan Morais to fill in for the open position. In his first AMA Supercross class race of his career, Morais finished 10th.

"I feel like I could've done better in Daytona, but I'll build off of it and get better," said Morais. "I think now that my first-race jitters are gone, I can relax a little going into Toronto."

Tickets are available at the Rogers Centre Box Office, all Ticketmaster locations, by phone at 416-870-8000 and at participating Ticketmaster.ca (no Yamaha dealers in Toronto). Gold Circle tickets $40.00; Extreme seats $25 and Treadhead seats $15. Pizza Pizza kids seats are $15.

A season-long subscription to the official webcast of Monster Energy Supercross, Supercross LIVE®, is available for $39.99: http://www.supercrossonline.com/supercrosslive. Supercross LIVE® is the only weekly live Monster Energy Supercross race call, and features long time voices of supercross, Jason Weigandt and Jim Holley.

For more information on the Monster Energy AMA Supercross, an FIM World Championship, please log on to www.SupercrossOnline.com. For all media requests, please contact Denny Hartwig dhartwig@feldinc.com or 630-566-6305.