5 Minutes with... Zach Osborne
(Courtesy of Geoff Meyer/MX Large)
Zach Osborne has been putting in the hours during the winter and looking to come back from what was a mixed 2009 season. After winning the Grand Prix of Turkey, the American racer picked up an injury and never came close to that early-season form once he returned. Now 100-percent fit and ready to rumble, Osborne showed a glimpse of his speed yesterday at the opening round of the Maxxis British Motocross Championship. Here's a quick interview with the MX2 class winner.
Racer X: Zach, congratulations on yesterday. Well done. Did you like the new format of three 20-minute motos?
Zach Osborne: I think the format is good. I enjoyed the 20-minute motos all day long. I think it's really good for the crowd. I mean, they get to see six motos in a day. Maybe if I had a bad third moto, I wouldn't have been very pumped about it, but it all went okay. It's a good change and will liven up the middle of the season. It won't get boring.
Can you explain your three motos for me?
The first race, I had a decent start and was right in there, but I got really bad arm-pump from not racing in a while, and I haven't been on the bike for a while. I went backward a little bit in that race. The second race, I had a better start and I was in there and I took my time and made some passes and got into the lead and won it. The third race, I had a really bad start and was 15th or 20th and worked my way up to 8th or 10th on the first lap and picked guys off every lap until I got into the lead. Then I pulled a gap and just held it.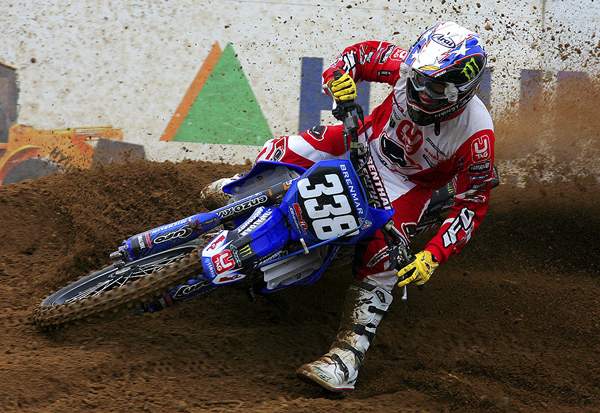 You are a two-time Grand Prix winner and obviously have an advantage over your competition in the British series, wouldn't you say?
I wouldn't say that. It's early in the season and everyone's way off their best form, but so am I; I am way away from my best. I feel good in the championship and want to be in contention for winning it. Having a crappy end of the season last year, everyone was counting me out, but I have been doing my thing in the winter with Kenneth Gundersen and we are working on the same goal.
What disappointed you about yesterday?
My starts weren't that good. I am normally a good starter and I had pole from Superpole, but I never got a holeshot. That was my biggest disappointment. I didn't expect to win. I thought I would get in there and get some good points. At the start of the day, I didn't think I would win it. For the results I had, I am happy with that.
So what do you have coming up before Bulgaria?
I am going to Belgium and France to do some riding, and then I will do the second round of the British Championship and then the first Grand Prix. I'm not doing any internationals, just using the British as a warm-up. I haven't done too many motos and I've mainly been doing physical training, so I want some time on the bike, and you can't do that at the races. I will do my riding during the week and have the weekend off.
Do you like Bulgaria or not?
I did okay in Bulgaria last year. It's hard-packed, so that's good for me. I look forward to Bulgaria.
How is it going training with Kenneth Gundersen?
Kenneth isn't with me all the time, but he's with me most of the time. We worked out a good partnership and we train with a young rider, and also Jason Dougan rides with us a lot. It puts us in a great place mentally and physically to do the job.