Townley, Phillips Take Kiwi Crown
by Andy McGechan
It was an evening of firsts at the final round of the New Zealand Supercross Championships in Manukau City, Auckland, on Saturday.
Tauranga's Ben Townley and Mount Maunganui's Mason Phillips, both riding Kawasaki bikes, won their respective senior categories in the championship, this fourth round event staged on an outdoor circuit next to the TelstraEvents Centre, all within sight of the Manukau City motorway off-ramp.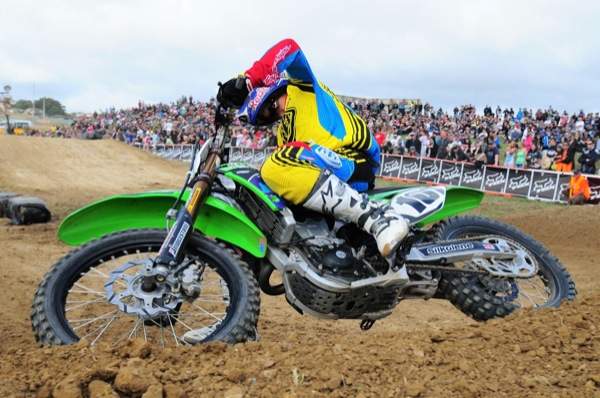 Photo by Andy McGechan,
BikesportNZ.com
Remarkably for such well-travelled and highly-regarded Kiwi internationals, it was a first for both of them, neither men having previously won a national senior motocross or supercross title in New Zealand.
But they each wrapped it up in style on Saturday evening – Townley taking the open class crown ahead of Mount Maunganui's Cody Cooper (Suzuki), while Phillips broke through to take the Lites (250cc) title from defending champion Scott Columb (Suzuki).
The firsts didn't end their either -- both Townley and Phillips were unbeaten on Saturday, the Kawasaki pair scoring hat-tricks on their way to sealing the titles.
It was a significant milestone for Townley, the former world motocross and United States supercross champion using the series as a build-up tool in his comeback from serious shoulder injury.
"My recovery has come a long way since I started riding again in October," said the 25-year-old Townley. "I'm still not as fast as when I was at my best, not yet … but I soon will be," he said, sounding a warning for his American rivals as he soon heads back to the US to prepare for the national motocross series there.
As the only rider to campaign two classes, the evening was doubly significant for Phillips -- he also finished third in the open class.
He actually finished equal on points with Cooper but lost out on the count-back rule with Cooper clocking a greater number of higher placings throughout the series.
"Winning the Lites title has not really sunk in yet," said Phillips. "On the first lap of that last race, I saw Scotty (Columb) was way back and so the pressure came off for me. I wasn't pushing too hard in that last race because I didn't want to throw it all away with a mistake."
In the two junior classes it was a brother act, with Rangiora siblings Isaiah and Micah McGoldrick riding their KTM bikes to titles in the junior 250cc and junior Lites (85cc) classes respectively.
For 15-year-old Isaiah, it was his second national supercross title, having won the junior 11-12 years' 85cc title in 2007, but for 13-year-old Micah it was his first.
"Tom Managh (Wanganui) and Dylan Long (Australia) both pushed me hard early in the series but I held strong. I bombed out a bit and lost some ground on Tom at round two in Motueka but it all worked out for me in the end."
With Long not contesting rounds three or four and Managh crashing to the sidelines at round three, the way was clear for Auckland's Brandon Tipene (KTM) to take runner-up spot in the junior 250cc class, ahead of the injured and absent Managh.
Feilding's Haki Waller took the No.2 spot in the 85cc class, ahead of fellow Kawasaki rider Scott Sowry, of Pahiatua.
Final leading overall standings after the fourth and final round of the New Zealand Supercross Championships in Manukau City, Auckland, on Saturday night:
Senior open class:
1. Ben Townley (Tauranga) 222 points;
2. Cody Cooper (Mount Maunganui) 182;
3. Mason Phillips (Mount Maunganui) 182.
Seniors Lites (250cc):
1. Mason Phillips (Mount Maunganui) 216 points;
2. Scott Columb (Queenstown) 204;
3. Brad Groombridge (Taupo) 179.
Junior 250cc:
1. Isaiah McGoldrick (Rangiora) 212 points;
2. Brandon Tipene (Auckland) 172;
3. Tom Managh (Wanganui) 141.
Juniors Lites (85cc):
1. Micah McGoldrick (Rangiora) 229 points;
2. Haki Waller (Feilding) 205;
3. Scott Sowry (Pahiatua) 175.