Airing Friday, January 15 at 9:00 pm Eastern Time (6:00 pm Pacific Time) and telecast three additional times, Kyle Loza and musical guest Vampire Weekend will appear on "The Daily Habit."
Today, the FMX innovator of tricks like the Volt and Electric Doom, Kyle Loza is back on The Habit. Also, Brian Deegan, Twitch and tons of FMX superstars give correspondent Jordan Morris a sneak peak at the moto-spectacle; the Nuclear Cowboyz Tour. Plus, this week's Daily Habit house band, Vampire Weekend, gives their final studio performance on the Stride Sound Stage.
Kyle Loza's sponsors include: Etnies, Monster Energy, Verizon Wireless, Alpinstars, CTI, ProTaper and Dunlop.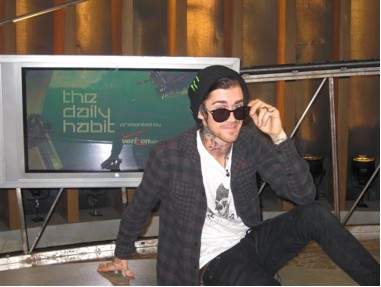 Kyle Loza
"The Daily Habit" is FUEL TV's first original daily series, telecast weeknights at 9:00pm ET (6:00pm PT) while re-airing later in the evening at 12:00am ET (9:00pm PT), and the following weekday at 2:30pm ET (11:30am PT) and 5:30pm ET (2:30 pm PT). "The Daily Habit" encompasses the world of the action sports enthusiast, mixing the best in pop culture with today's top action sports personalities, cutting-edge music, product reviews, and comedy.
About FUEL TV
FUEL TV is the action sports lifestyle network for skateboarding, snowboarding, surfing, BMX, freestyle-motocross, and wakeboarding. A unit of Fox Cable Networks, FUEL TV was launched July 1, 2003 and is seen in 30-million U.S. homes. To subscribe to FUEL TV, call 877-4-FUEL-TV. For program times and other information, visit www.fuel.tv.