Washougal
, Washington, for round eight of the series. The scenic track that greeted the riders is actually a devil in disguise, as behind those evergreen trees, rolling hills, and little coffee huts that serve the most delicious beverages that come from heaven is a slippery, hard-to-judge, shadowy circuit that gives the riders fits. At the last round,
Chad Reed
gained some control of the series after his win and
Christophe Pourcel
lost some after not being able to beat hometown hero
Ryan Dungey
.
Oh yeah, and Denny "Moons Over My Hammy" Stephenson, the 1990 125 East Region Supercross Champion, wrote this column last week, and he did a great job. Actually, he did so good that I'll probably never let him do it again!
The
Washougal
track has always been a place of surprises for me since my first one in 1995. Who can forget Honda of Troy's
Mike Brown
winning his first national ever in '95? What about Jeremy McGrath pulling off the track in '96 while in seventh with an ankle injury he suffered at the previous round? Those points cost him the MX title that year, and he told me that was one of the biggest regrets of his career. Remember when Doug Henry won a moto in '96, announcing to everyone that he was all the way back from his back injury suffered the year before? What about
Mike Brown
plowing into a flagman in '03, then Ryan Hughes plowing into him? Rich Taylor holeshotting and leading for a bit? Moto XXX and the paint-flake bikes? Jason McCormick beating everyone for a moto win in '99? You could go on and on…
The track is always a goggle or tire guy's nightmare. The riders are used to perfect vision and traction all summer, and then they show up and struggle with both. The dirt looks good, seems good, but after the practice sessions, the track is down to its base: very hard and slippery. No one is ever fully happy with their tires at
Washougal
; it's about compromise and throttle control. I did think that throttle monkey Justin "Wonder" Barcia was going to struggle and I was right.
If you want to review the action on film, here's the short four-minute Monster Energy Highlight Video for your perusal.

Well, if it wasn't "Bad" Chad Reed's championship to lose before this weekend, it certainly is now. Reedy rode what may have been his best national ever to 1-1 scores. Combined with Team Honda's disastrous day, the Thunder from Down Under now has a massive 65-point lead with only four races left. Reed was hounded by a surprising and impressive Tommy "The Texan" Hahn in the first moto, but you never got the sense that Reed was in trouble. He was going just as fast as he needed to go to keep the Kawasaki back there.

In the second moto, it was amazing how he didn't go down in the first turn, and he came from seventh to grab the lead and motor away. It was a statement race, and the statement said, "I'm motherflippin' Chad Reed and you're not!" to the rest of the field. He asked me a few weeks ago to use the word dominant in describing his win, but I couldn't do it. Now I can. It was a dominant win.

A few interesting comments from Reedy in the press conference was that he had a couple of "big surprises" for his upcoming Australian SX series and that he's not "going to race for free" next year. When I asked him for clarification on the big-name riders for down under (since I wrote this, we found out James Stewart's coming), he said he couldn't tell me and my other sources say that he is indeed talking about racing Australian V-8 Supercars next year if he can't get what he wants in the dirt bike world. I think he should have rephrased that "racing for free" quote to something like "I'm not going to race for the combined incomes of everyone in this press tent" to make us feel even smaller than we already feel.


RedBud
, where he got some luck when he had a bad moto, it was the same at 'Shougal when Pourcel got a bad start and a fall in his first moto. The two riders are tied in the points with four rounds left. Couldn't get any better!
Had to be a bummer for Dungey that he couldn't put it together for moto two and sweep the race again. Neither him nor Pourcel can just put an exclamation point on the series. One guy has some bad luck, the other follows suit in the next moto. Good for us, not good for the heart rates of the people around those two. Now we'll have two guys wearing red plates at
Unadilla
as we start the stretch run of four straight nationals to end this tour.
Speaking of Pourcel, he got a terrible start in moto one and then fell once. The best he could do was an eighth. In the press conference he said his clutch caused his start, the other week it was a tire, then suspension a few weeks ago. Lately it seems like Christophe has a hard time pointing to himself as the reason why a moto didn't go his way. Look, I'm not doubting that his clutch was jacked up or his tire selection was no good; I'm just saying that when you're in the press conference, maybe just swallow some pride once and say it was you. After a while, your team starts to hear what you're saying as well as maybe think you're crying wolf when something really is the matter….
MXA
will jump on this and offer an expose on how Pro Circuit is screwing his career up, or maybe blame it on Erik Kehoe or John Ayers.
Whatever was the matter was obviously fixed second time out as he got out to the lead and checked out to complete his 8-1 for third O/A. He was my pick for the win because of his throttle precision and control, but those damm PC mechanics and their clutches….
When I was over to watch the German GP a month or so ago, I really noticed a guy by the name of "My Darling" Clement Desalle and this is what I wrote about him: "Desalle has the most American style in the MX1 class. He's scrubbing hard and really working the bike around the track. He's on a small Honda team and is doing better than what anyone expected this season. He is going to race
Washougal
this year, just doing it out of his van and will do well I think."
This was the weekend that he showed up and like I predicted, he did well. Even better than I thought, really, as Desalle went out and finished third in the first moto! Yes, Team Honda was on the ground in the first turn along with
Michael Byrne
, but it was still a great ride.
Second moto he was way in the back off the start and was picking guys off pretty good (24th to 13th in two laps!) when he ate poop and finished way back. Desalle looked like any other American out there scrubbing his way around the track, and remember, he didn't even have his full race bike. Great ride for the guy nicknamed "The MX Panda." Who gave him that moniker? His worst enemy? Next thing you know we'll have Chad "Starfish" Reed and Andrew "Butterfly" Short racing with Josh "Koala Bear" Grant and Ivan "Baby Seal" Tedesco for the 450 championship.
And props to
Ryan Clark
's team and shop Dirt Lab for working to get the visitor from Belgium a solid, if mostly stock, motorcycle.
And then there's Jared Browne, who was this week's
Kyle Regal
. Browne is a full privateer who blasted his way to fifth in the second moto, and I hope it's enough to get him some more support moving forward and into next season. Fifth in the second moto was almost as impressive as Desalle's third, but it was largely overshadowed because of the whole AMA-vs.-GP guys thing on the message boards.
Tommy Hahn
"Solo" in the first moto to get second behind
Reedy
. That's a career best for him, but unfortunately, a first-turn pile-up in the second one hurt him. He was unable to race the moto, but last I heard he was doing fine. His 2-38 got him eighth O/A. Crazy day for scores as a 15-4 got Byrne fifth, 8-10 got
Jimmy Albertson
a sixth, a 10-2 got
Jake Weimer
fifth, and a 10-3 got
Jason Lawrence
a third.
I remember the craziest score I've ever seen was Donny Schmit winning the Anderson, South Carolina, national with a 7-1 finish. What's the nuttiest score you can remember? Email me at
matthes@racerxonline.com
and tell me about it.
GEICO Honda's Blake "Purple Rain" Wharton has been a bit overshadowed this year with his rookie teammate
Justin Barcia
grabbing the headlines, but let's not forget that this is Blake's first full year. In fact, until a recent string of bad luck, Blake was ahead of the heralded rookie and fifth in the points. Some bad races happened since then, but in Washington, Blake went 3-3 for his career-best finish and really stood out for the great starts and sprinting speed he showed.
Team Honda Red Bull Racing may as well have not even showed up. It was a horrible day as Ivan "Turn Two" Tedesco and Davi "Saw" Millsaps went down in the second turn in the first moto and were way back. Second moto it was "Turn One" Tedesco again down, this time with Hahn and
Justin Brayton
and
Andrew Short
and they started a minute behind everyone else. Their bad luck enabled Reed to pull the huge points lead and allowed
Josh Grant
to move into second in the points.
Washougal
. Fly, Thor, and One also had new stuff. Answer and MSR sponsor this column, and even though I have nothing to say about them, I should probably throw their name in here as they have their 2010 gear out as well.
Andrew "Get" Short-"y" stopped me before the day started and said that he read my Racerhead piece about him not being able to grab that brass ring in front of him and win this title. As a matter of fact, he has regressed the last few weeks, and I speculated that maybe he had been overtraining. Well, Shorty wanted to let me know that he wasn't overtraining and that he has something wrong with him that he's trying to figure out. He gets really tired really fast and can't go out there and push it to where he needs to be. He said he should know more before the next race and that he's been getting lucky so far because he hasn't been able to practice during the week. It's caught up to him the last few, and here's hoping he figures it out and gets his first win in 2009, as the championship is all but lost.
I write about him when he does dumb stuff, so it's only fair to make note that Jason "Phil" Lawrence rode a great race to get third overall. Yes, it was a 10-3, but hey, at this point he (and his embattled team manager Chris MacAvoy) will take it. Jason got out front in the second moto and rode behind Josh "Land" Grant for a while in second.
Washougal
is a hard track to pass on and it's easy to sprint away from people in the opening laps, and that's what he did. You knew he didn't have the stamina to get Grant (or hold off Reed), but baby steps it is for Jason. His smooth-yet-ragged riding style was in full effect out there and his "Whatever" podium and press-conference speeches just endear him to his fans even more. I hope he keeps it up and we have another new player in the mix.
Want to hear what
J-Law
had to say after the race? Check out his in-depth conversation with Steve Cox
right here
.
I was looking at Kyle "Richie" Cunningham's points from last year and noted that he really turned it on at the end of the year. This got him a Canidae Kawasaki ride, and as I've noted more than once this year, he's been really fast but finds himself on the ground more often than not. Well, what's new is old again as KC is coming on strong late in the season. Coming into this race, his last four motos have been his best, and he kept that rolling with a first-moto second behind The Dunge. He came from around eighth to get that second, by the way. Second moto the old crashing gremlins got him and he DNF'd but the second was great and an indicator of how fast Kyle can go.
Heartbreak of the day goes to Antonio "Banderas" Balbi, who was having his best race of the season in seventh place when his CRF450R motor let go. He had scored a 12th in the opening moto and was on pace and looking good when bad luck struck.
Good to see hometown hero Ryan "Burger" Villopoto there and hanging out with the fans. He looks to be in riding shape and has definitely not packed on the pounds in any way, shape, or form. He mentioned that he could probably go out there and do pretty good just sitting down the whole time.
Speaking of Kawasaki, they and factory Yamaha did a pretty cool thing this weekend when they recruited a couple of privateer riders to ride for them. Ryan Beat "It" (a test rider for Kawi) filled in for Ricky "Bobby" Dietrich, and Scott "We Are The" Champion rode for Josh "Notting" Hill. Champion went from a Honda 250 to a factory Yamaha 450, so that isn't the easiest adjustment to make. Neither guy is going to join the "Sean Hamblin Story" anytime soon, as the best either rider could do was Champion's 19th in the second moto.
It was cool of these teams to do that, and I wish it would happen more in the future. I used to ask the Yamaha guys about this when we were going to the races with just DV but was usually met with a laugh. Glad the attitudes have changed.
Timmy "Harper's" Ferry was in the house this weekend being the good teammate and signing autographs for anyone and everyone. He's hoping to come back for
Unadilla
(makes sense, he's already retro) and is always giving me fantasy moto advice, so I let him pick my team for this week. He waffled between Lawrence and
Kyle Summers
but ultimately went with Summers. His guys were Pourcel, Vince "Deep" Freise,
Max Anstie
, and
PJ Larsen
in the 250s. He went with Summers, Bobby Fitch ("'cause he's from here" but I later found out is from Colorado),
Jimmy Albertson
and Desalle. Remember there are all these double points and handicaps that I don't fully understand, so you want to stay away from the normal guys. All in all,
Red Dog
got me an 11th place finish this week (beating Keith Burgie and David Izer), which is better than my usual 429th place. Maybe when he retires he can be Timmy "The Greek" Ferry and dispense fantasy moto advice.
Chad Reed
? His wife, Ellie "McPherson" Reed, that's who. And I say this because I was talking to her and noticed a brand new big-ass tattoo on the top of her foot. That's one of the most painful places to get inked, and I would have been crying like a baby. She did admit it hurt but apparently it was all worth it.
She also filled me all in on the
Twilight
phenomenon that has been sweeping the nation. I don't know anything about these weirdos but found out that Port Angeles, Washington, is a big part of the backstory of these vampires. That and The Forks, which is a small town outside of Port Angeles. I've spent a lot of time in both towns and really didn't understand what the big deal was. Ellie is a big fan and has gone on Twilight Tours of these places that are in the books. Great, I'm set. Now I know about
Twilight
, if I could get someone to explain the Jonas Brothers and why I should care about their virginity, I'd be set.
And to hear more from the talented Mr. Reed, check out
this 5 Minutes With
….
I noticed this little Pro Circuit and Vans banner off behind the Pro Circuit truck and asked one of the guys about it. It seems that this is Pourcel's little area that he wants for himself to collect his thoughts and whatnot. The PC guys were calling it "The French Quarter" and like one guy said, there's just
Jake Weimer
in the truck, so who's he trying to get away from?
Justin Brayton
-to-JGR is a real solid rumor that could happen as Ping reported.
Went by the TLD truck a couple of times to find Ol' Ping but he was nowhere to be found. One time a mechanic there told me that he had a plate of food and was in the woods eating. His riders,
Chris Blose
and
Jake Moss
, were impressive when we last saw them in Colorado and Moss was again very quick with a sixth in the first moto. Just like Lakewood, he wasn't able to finish the second moto when he collided with
Kyle Summers
in an ugly crash. For an update on Summers from Valli Motorsports Yamaha's Charles Halcomb,
go here
.
Not sure if Tommy "Gun" Searle started reading all his press clippings or what, but that's two mediocre races in a row for the three-podiums-in-a-row English lad. And I say that a 6-6 is mediocre because we all saw what he could do a little while back. The 250 class is just crazy as we have new guys every week getting up there but in my opinion, Searle, Metcalfe, Weimer and Barcia are just a smidge behind the top two and a bit better than everyone else.
Thanks to Big B at Kawasaki for the delicious ribs, burgers, and pasta this weekend. I had my buddy Fireman Ron with me and they fed him as well. There were also two contest winners there that got to spend the day with Factory Kawi and those guys got to witness everyone making fun of me for the full factory experience.
There's been a couple of Kiwis racing over here by the names of Luke Burkhart and Justin McDonald "Drive-Thru" and their journey has now ended as they are headed home. "Rocket" Rob Buydos kept Justin busy by hiring him to redo his kitchen cabinets during the break. They are selling their van that they bought beforehand as well as their CRF450Rs. The two riders adapted pretty well to our racing, considering that no one had ever heard of them before they got here. McDonald ended up with 16 points in the seven races he did.
That's it from
Washougal
. Stay tuned next week for a full column from the Canadian Nationals held in Moncton, New Brunswick. Do you have something on your mind that you have to let go? Email me at
matthes@racerxonline.com
and we can chat.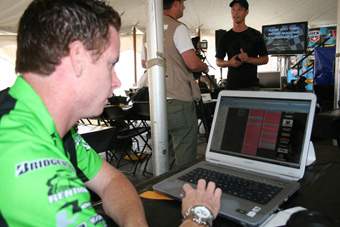 Tim Ferry picks Matthes's team" />