Stewart vs. Reed vs. History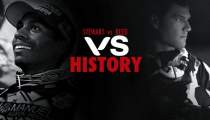 A cool feature story from our friends at Vurbmoto:
"Throughout the history of sports, competition has always been the fuel that feeds the fire.
But rivalries are the wood that makes the fire burn.
Rivalries make the greatest athletes in the world exceed the even highest expectations and far surpass feats of normal human beings.
It pushes them to the limit and beyond.
It's the fuel that feeds their inner desire to not only win, but to demolish that inner demon that is their rival.
Since the inception of sports into the mainstream there has never been a shortage of great rivalries."
To check out the rest of the story, head over to
Vurbmoto.com
.