James Stewart
missed another gear and took a digger, handing three points back to
Chad Reed
.
Grant Langston
confirms he'll be racing this summer, and
Ben Townley
appears to not be racing this summer. And good luck to our friends in Europe as the GPs start:
Zach Osborne, David Vuillemin, Josh Coppins
and more.
But first, the lead law. It was another long week of driving back and forth across Interstates 68 and 70 to Washington, D.C., taking this youth motorcycle and ATV ban straight into the halls of Congress. This time we were joined by
RedBud
's
Amy Ritchie
and Cobra's
Sean Hilbert
, both of whom hail from Michigan and visited their representatives, and the AMA President
Rob Dingman
and his government relations team of
Ed Moreland
,
Rick Podliska
and
Sheila Andrews
. I really think progress was made, as we met with representatives from several states, including CPSC Senate Chair
Jay Rockefeller
(Dem. WV).
Two different bills were introduced by members of congress under pressure from their constituency over the drastic effects the lead law is having. The MIC and SVIA and the AMA are all encouraged by these letters and proposed overturns, but we need to keep the pressure on by continuing to write our senators and congressmen. I know
Matt Tedder
wrote a really timely letter to his California representative,
Henry Waxman
, detailing how he and his wife raised their five sons in motorcycling, and how important motorcycling has been in shaping who they are.
But the day proved to be a tough one for motorcycling, as the ridiculous "omnibus" bill
finally passed
, closing 2.1 million acres of public land to off-highway vehicles, disguised as the "Reclamation of the War of 1812" bill.
Okay, enough about politics—for now. Remember last week when I opined that
James Stewart
's crash in the first turn at Daytona just might have been caused by the fact that he basically rode a one-inch wheelie all the way to the point where he put the wheel down on the wet grass, starting apparatus still engaged because he had yet to bounce his front wheel off of anything, and when he did touch the wheel down, it was a little cockeyed and went right out from under him? That was just a bench-racing guess, but the post grabbed some attention over at Hammerhead Designs. The main man there,
John Clark
, responded:
Whoah there, Nellie! That's a Hammerhead starting device on that #7. The same one that has led to more holeshots and race victories in the Supercross class than any other this year and last. Actually, this is our all-new, totally redesigned part that is light years ahead of anything else on the market. No BS—actually, you can read about it in
Racer X
!
We have carefully dissected what happened to James in that first corner. His front was off the ground all the way to the beginning of the first turn, but just as he began to let off the front end started moving out to the side where it landed well off his line. When his wheel touched he was already in washout position and the minute he turned the wheel it slid on the wet grass. There was never enough pressure applied to the front wheel to get any bite, much less release the start device. The device does not release to allow bite, but the other way around, it is the wheel making solid contact with the ground that releases the device.
This weekend marks the one trip out of the country for Monster Energy AMA Supercross, an FIM Championship. It's in Toronto, easily the most underrated city in North America. This time, the trip counts in both classes, which means not only will fans in the Rogers Centre get to see the next round of this remarkable Reed-vs.-Stewart title bout, but
Pourcel, Stroupe, Izzi, Wharton, Jesseman
and the rest of the East Region Lites.
Christophe Pourcel is riding into Toronto with a 25 point lead over Stroupe, 29 over Izzi, and and even 40 over fourth place Blake Wharton. If Pourcel can leave with the same lead, it's over folks; Christophe Pourcel will clinch the championship.

The AMA Supercross class is on Sunday at 12:00 p.m. ET on CBS; AMA Supercross Lites on SPEED at 3:00 p.m. ET. As always, check your local listings.

Of course you can listen to the soothing tones of Jason Weigandt and Jim Holley as they call the race on Supercross Live! over at www.supercrossonline.com. And the laps will be counting down at www.amasupercross.com.


Broc Glover
is the host of what's quickly becoming an industry tradition, and to celebrate, Highway 12 Vineyards and Winery, in association with Vintage 54, have released a 2006 Carneros Chardonnay commemorating Glover's storied career—six AMA Motocross Championships—and his commitment to help find a cure for Cystic Fibrosis. The unveiling will take place at the start of the ride.
According to the press release, the "Breathe Easy Ride Against Cystic Fibrosis was founded in 2008 by American Motorcycle Association Hall-of-Fame motocross champion, Broc Glover, shortly after his 6-year-old son, Dayne, was diagnosed with the cruel and life-shortening disease. The Golden Boy Chardonnay retails for $28 a bottle (plus tax) and shipping and is available direct from the winery via their on line store or by phone. Only 1,200 (twelve hundred) bottles will be released. To purchase, visit www.goldenboywine.com or call 707-939-1047 to place an order. Orders may also be faxed to 707-939-1070."
Here are some related sites:
www.BreathEasyRide.com
,
www.goldenboywine.com
, and
www.highway12winery.com
.
A big story taking place away the stadiums and the halls of congress is
Grant Langston
's proposed comeback. The 2007 AMA Motocross Champ was on DMXS Radio this week and had plenty of fans reacting to the likelihood of the Zulu Warrior on the gate at
Glen Helen
and racing the Lucas Oil AMA Pro Motocross Championship. After a successful round of treatment for a melanoma tumor in his eye, the latest news from the doctors was not only encouraging, but damn near miraculous and gave Grant the option to return.
Glen Helen
…. I'm doing everything I can on my end which is riding, training, and having fun. I've realized how much I've missed it and how much I love racing and being a professional racer so I'm motivated."
Grant would love to stay at Yamaha, but unfortunately, he is not under contract and has yet to secure a ride for his comeback. Although it would be tough for a team to create a spot for him in these trying economic times, he is optimistic that there will be a spot somewhere (and Yamaha is certainly a candidate to keep him). If the huge amount of positive feedback after his interview was any indication, the fans would love to see the popular former champion finally get the chance to defend what he earned.
Thursday was Press Day in Toronto, with Rockstar/Makita Suzuki represented by series points leader
Chad Reed
,
Mike Alessi
, and
Nico Izzi
. The top MX for Children fundraisers were able to meet and greet the riders at the Rogers Centre.
Chase Langille
was the top fundraiser again this year, bringing in over $6,000 for Toronto's Sick Kids Hospital. Second was
Alexandre Petroski
, who raised over $4,000 for this MX for Children event. It should be noted that Alexandre has raised over $34,000 for Sick Kids over the past few years!
MX for Children 2009 SX activities will conclude at the Seattle SX race. The annual Silent Auction the day of the Seattle SX race will showcase a 661 donated "Three Champions Helmet," a signed-helmet supplied by
Eddie Cole
and crew at 661. The three champions?
Bob Hannah
,
Jeremy McGrath
and
James Stewart
! People can follow MX for Children activities at
www.mxforchildren.org
and Twitter.com/MXforChildren.
Eric Johnson
sent this shot over—it's where
Ricky Carmichael
races on Saturday in his truck. The Martinsville track is only .526 of a mile, banked at just 12 degrees. It's the oldest and smallest track in NASCAR. They call it the "Paperclip," and it eats up brakes. Look for RC to get into some banging whether he wants to or not!
The Grand Prix season kicks off over in Europe, and you can watch all of the action live and for free on the internet through
www.freecaster.tv
American fans will no doubt be keeping an eye on
Zach Osbourne
as he goes after what would be the first world title by a U.S.-born rider since
Bob Moore
's triumph some 15 years ago. With top MX2 riders
Chris Pourcel
, defending champ
Tyla Rattray
, and last year's runner-up
Tommy Searle
all on the AMA circuit now, and Italian superstar
Tony Cairoli
having moved up to a 450, Zach has a clear shot at the title. He's late arrival on last year's GP circuit with
Steve Dixon
's England-based Yamaha team proved to pay immediate dividends, so good luck to #338 from everyone here at MX Sports and
Racer X
!
U.S. fans will also be watching
David Vuillemin
's progress in the MX1 class. DV12 spent ten solid years racing here in America, and now the Frenchman is home for the summer to go after the world championship with Bud Racing Kawasaki. That class is packed with talent:
Cairoli
, defending champ
David Philippaerts
, longtime contender
Josh Coppins
, former champ
Steve Ramon
,
Billy MacKenzie
,
Ken De Dycker
,
Kevin Strijbos
,
Max Nagle
…. That class is completely up in the air!
The qualification races for the 2009 AMA/Air Nautiques Amateur National Motocross Championship are off and running, and former amateur champion
Matt Walker
sent us a note telling us he plans on returning to the Ranch this summer, going after the Plus 25 title. "In addition to racing, I'm going to be preparing at least one rider in every division for LL's," said Walker, who now runs his own motocross school in Georgia. "We're going to try to win every division at LL's this year. For example, one 50cc rider, one 65cc rider, one 85cc rider, etc. I think we have a great shot at winning every division. I will release the riders' names next week!"
Steve Cox
:
San Manuel Yamaha's
James Stewart
and St. Louis obviously don't get along. Stewart had never won there in the big-bike class coming into last Saturday night, and he managed to keep that streak alive despite being plenty fast enough to win, and leading the main event – before he hit neutral and went over the bars. He also crashed twice in his heat and narrowly made the main event, finishing ninth.
"It was just tough going through those whoops, and I went into neutral that last time, and unfortunately it cost me," Stewart said. "Then I crashed over on that dragon's back [in the Heat], and I just had an off night. To come out of here safe.… I've never won this class. I've always had problems. The first year, I DNF'd, and the second year Chad took me out, and last time I took myself out. Honestly, once that happened [his main-event crash], it was just one of those things. This is how my night's been going. It's very frustrating because I've been riding really good and leading some laps, and then throwing them away. But again, my hat's off to Chad. He's always there to pick up the pieces when it counts. Unfortunately, I wasn't able to do it tonight."
Last Saturday night also marked the first time Stewart lost a heat race since 2005.
"It's one of those things, and I barely made the main event," Stewart said. "And if it wasn't for my teammate blocking somebody else and getting caught up with him, I probably would've been in the Last Chance, and who knows what would've happened there. It's just a hard night for me, but I never give up, and I know for a fact that the crashes I've had, and in practice, they would hurt another person, but I never stop fighting. I'll try to take it to Vegas. Win or lose, I'll give it everything I've got."
As has already been pointed out, if Stewart wins the rest of the races and Reed finishes second (which he has yet to fail to do when Stewart wins this year), Stewart will win the title by 4 points—he trails by 11 right now. However, if one of those races has Reed win and Stewart finish second, but the rest remain the same, Reed will win the title by two points. What may have been a runaway season is actually pretty awesome. If Stewart wins the next four races, the winner in Las Vegas will decide the championship.
Cycle News
,
Transworld
,
Motocross Action
, and more make the trek, but so did Kal-Gard's
Kyle Lewis
, Honda test rider
Jeremy McGrath
,
Broc Tickle
,
Matt Lemoine
,
Michael LaPaglia, Jessica Patterson
, and full-time freestyler/part-time racer
Nate Adams
, among others. The track Ryno provided was a cool mix of off-road-style sections, motocross sections, and even a few jumps thrown in for good measure. However, Ryno didn't suit up himself.
Also, anyone who was home sick from work on Monday and watched
The Price Is Right
– because that's what you do when you're home sick from work – saw
Kyle Chisholm
's girlfriend
Britney
win something like 27 grand worth of cash and prizes on the show, beating out a lady that looked like a giant compared to the five-foot Britney in the Showcase Showdown.
Afterward, Chisholm came up on stage along with
Broc Tickle
and his girlfriend
Jess
. Too bad they didn't let the motocrossers get Britney's new Chevy Cobalt started and take it for a spin…
It's
Steve Matthes
Time!
The people are going to be in for another barnburner, as Cox has broken down the various scenarios about what James and Chad have to do if they want to win the title. Reed's in the driver's seat … barely. No matter who wins, the old saying that the fans are the real winners applies here, except for the fact that none of us get to keep the money these guys will win. So maybe we're actually losers. I dunno!
This weekend, the dirt is more of the same that we saw in the past - it'll be rutty and resemble a slot-car track out there. Things that were meant to be jumped on the
Jeff Stanton
-designed track won't be, and obstacles that would prove to be no challenge will be. There's not much that Dirt Wurx can do with it; we're here in Canada where it snows for five months and the dirt gets moist. It's not ideal, but last year, watching the riders make mistake after mistake on the treacherous track was kind of fun. From the press box that is.
I kind of miss the fact that the 250 main is all legit and will not feature mostly Canadians like in the past. Yes, the guys were a little slower than the riders you're going to see tomorrow, but it was uniquely Canadian and gave the country's heroes a chance to show what they have. As it is now, there are only three Canadian riders trying it out.
Tyler Medaglia
, a regional 2009 arenacross champ,
Kyle Keast
, Canadian national #5, and
Brady Sheren
, who is a regular in the West 250s, will all be lining up. So if you see any riders with polar bear skin gear, chances are it'll be one of those guys.
I gave the Canadian fans a primer on why they should (and shouldn't) cheer for the guys
right here
.
Also, the opening GP in Italy is this weekend and I'm cheering for
Josh Coppins
and our own (he's ours, I don't care what anyone says) DV12.com. I notice David got to keep the #12; I think that's pretty cool, and my prediction for Le Cobra is a solid 6-7 while The Lizard goes 2-2 behind the defending champion (and Italian)
David Philippaerts
.
If you want to hear Josh's take on everything,
here's the podcast
I did with Coppins earlier this week.
Also, check out
www.pulpmx.com
if you want.
Here's some words from
David Pingree
Travis Pastrana
's attendance. Sure, there was a great race in the big class and a new winner in the 250 main (Best. Podium. Hair. Ever.), but all that seemed overshadowed by the presence of Mr. Nitro Circus. It was too bad he didn't make the main, because he definitely has the speed to be there. From what I hear, we might just see Travis again before this series gets to Las Vegas. According to someone in his camp, Travis was pretty unhappy with the way things went down and he doesn't want to "go out like that." A big part of the Nitro Circus crew is based in Salt Lake City, and that happens to be a stop on the tour this year. No guarantees here, but don't be surprised….
The Supermoto series kicked off last weekend in Fontana, California. With The XTRM Network taking control of the series, many are hoping the sport will return to where it was in its first couple years of existence. Since that time it has steadily decreased in rider count, and the quality of venues has followed that decline as well. The track in Fontana was small and simple, but the racing turned out to be pretty entertaining.
Jeff Ward
pulled the holeshot in the main event and it was just like old times …
really
old times. Wardy rode a typically flawless race and logged the billionth win of his career.
Mark Burkhart
actually passed him in the opening laps but crashed just after and spent the rest of the main event working his way back up to third position. Frenchman
Sylvain Bidart
made the trip over for the race and stole a second-place finish.
Kurt Nicoll
kept the ball rolling for the old guys by making a late-race pass on
Steve Drew
to take the win in the Unlimited Division, while
Matt Burton
got his first career win in the 250 class. It was a good start for the XTRM folks, but there is certainly a lot of ground to made up to get Supermoto healthy again. The next round is in May at Infineon Raceway in Sonoma, California.
It was an emotional week for some people in the industry.
Chris and Michael Blose
lost their grandfather to cancer on Sunday night. He was the patriarch of the family and a huge supporter of his grandson's motocross careers. He also supported his son,
Chappy Blose
, during his career and watched him earn a factory Kawasaki ride decades ago. Despite his condition, he made it to every one of the West Coast rounds this year to watch his Chris and Michael race. Our condolences go out to the Blose family.
On the other end of the spectrum,
Mitch Payton
became a father on Monday … to twin boys!
Ty and Tanner
are doing well, along with Mom and Dad. The circle of life, I guess. I just heard a song about that in a
Lion King
DVD my little girls have. It shouldn't be long before we see shirts that read "2026 Supercross Champion" on his little guys. Congratulations to the Paytons.
Danny Brault
weighs in from North of the Border:
James Stewart
-
Chad Reed
saga continue in TO, we're also very proud to see homegrown talent
Brady Sheren
,
Tyler Medaglia
, and
Kyle Keast
to compete in the Lites class.
If you're in town early, be sure to stop by The Moose Tap & Grill on Front Street, across from the Rogers Centre tonight. Our gang at DMX (DirectMotocross.com) is going to have everyone going "up in here" from 9 PM to 2 AM for a little Pre-Race Social. TLD, Roost Clothing, Ignition Racing, Podium Grafix, KTM, and ourselves are giving away some cool swag, and we also have an iPod Shuffle to get rid of. Everyone likes free stuff!
Go here
for complete Party details.
Here's some Women's Motocross info from the WMA's own
Miki Keller
….
It's good to be talking about women's racing again. Although the women's pro season doesn't get going until May at
Glen Helen
, the WMA pros have been showing up at off-road races, Texas races, and soon the FIM Women's World Cup in Bulgaria.
Jessica Patterson
, who has been living in California and has been training with none other than
Ryan Hughes
, has dabbled in some WORCS races lately. She showed up at Adelanto and, according to onlookers, she was very fast. She had a pretty good lead in the Women's Pro class before her bike ran out of gas. Another WMA racer,
Penni Cyrus
took the lead and her first WORCS win.
Sarah Whitmore
, who is now in California preparing for the Nationals, got her feet wet racing off-road and took a second on borrowed KTM. Check out her last two
Sarah Smile blogs
about off-road racing, they are pretty entertaining.
Tarah Gieger
raced and won the River Ranch GNCC when she was back in the states for a few weeks.
JP$ went out for the Spring Classic at Lake Whitney in Texas. She finished a predictable 1-1 in the Women's A class, before heading back to Lake Havasu for the next WORCS race. Also at Whitney was her teammate
Jacqueline Strong
, from Arizona, who was running a pretty close 2nd to Jessica in the second moto. Strong has always been fast but we haven't had a chance to see her really race in the WMA Pro class. She crashed at the season opener at
Hangtown
last year, breaking both wrists, and has had a lengthy healing period. It'll be good to see her in the mix this summer.
The following weekend at Oak Hill, in Texas, Team Green Kawasaki rider
Sara Price
got her first women's A-class win after a good battle with
Jacqueline Strong
in the second moto. Back at the WORCS race at Havasu, JP worked out her fueling issues and got her first Worcs win. Sarah Whitmore was also racing there again and took second.
That wraps it up for women's racing in the States. As for racing overseas, today
Ashley Fiolek
was headed for the airport. She is preparing for the WMA season by returning to Europe to race the opening round of the FIM Women's World Cup in Bulgaria. She got some assistance from American Honda Red Bull Racing as well as L&S Honda who helped her out when she raced the GP's last year. Speaking of Ashley check
this
out on Zappos.com.
Tarah Gieger
will also be warming up at the GPs. She has spent most of the winter overseas training with
David Knight
. Gieger will be under the Utag Yamaha awning.
Jolene Van Vugt
wrote me to say that she will do four to eight of the WMA Nationals this year. She has been a top-ten finisher in the WMA in the past and certainly has been representing the women well on MTV's
Nitro Circus
. On the show two weeks ago,
Jo
had
Sherri Cruse
,
Tatum Sik
, and
Jackie Ives
out at Elsinore jumping the freestyle ramp as well.
That's it from the WMA. And finally,
Scott Wallenberg
shared this loss with us:
In memory of Cycle Bob
(1929 – 2009)
Bob Widstrand's ride ended on March 24, 2009. His passion for motorcycles led him to start Bob's Cycle Supply in 1971. It all began in the basement of his house where Bob supplied his friends with parts. The local District 23 motocross races are where he hit it big, when he brought a van full of merchandise to sell. In 1973, Bob moved the business into a small store; he filled it wall-to-wall and floor to ceiling with motorcycle parts and accessories. Progressing into the mail-order business in the early 80's, he supplied riders from coast-to-coast with great products at the best prices. And the rest is history. Bob loved motorcycles as much as all the friends he made along his journey.
When asked why he got into the motorcycle industry, Bob always replied, "It was a hobby that went amuck." Bob has left many lasting impressions in the motorcycle industry. He would consider all of you his friends and we would love to list you all, but the list would be long and some would be missed.
Bob will be remembered as a jolly, feisty, generous guy and an overall fun person to be around. After his retirement in 1998 he loved to travel across the U.S. in his motor home with his dog, Dino, at his side. While traveling, he visited many acquired friends from the motorcycle industry and reminisced about past times.
There is a guestbook with people's thoughts about Bob
here
.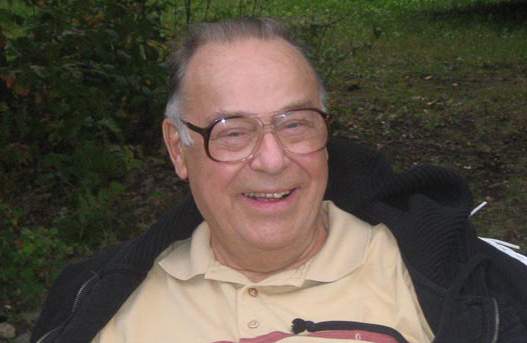 Godspeed, Bob. We hope you're rippin' it up on that Honda 305 Scrambler!

Thank you for reading Racerhead. See you at the races.