This Week in Supercross: St. Louis
AURORA, Ill. – Not since 2006 has Travis Pastrana raced on an AMA Supercross track but that will all-change this weekend at Monster Energy® AMA Supercross at St. Louis' Edward Jones Dome as the former Eastern Regional AMA Supercross Lites class champion takes to the track he helped design. Pastrana jumps into the Monster Energy® Supercross championship at a time when one of the greatest points races in history is unfolding between Rockstar/Makita Suzuki's Chad Reed and Team San Manuel Yamaha's James Stewart. Just eight points separate the two racers and this weekend will be yet another epic chapter in this story.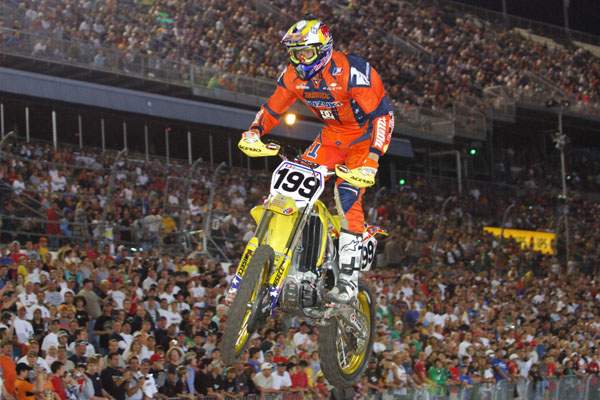 Pastrana Jumps out of Retirement and Into Monster Energy® Supercross
Photo Credit: Steve Cox
Interestingly enough, Pastrana assisted in the design process of this weekend's Monster Energy® Supercross track. "I want to have fun this weekend and mix it up on the track," said Pastrana.
"I'm looking forward to St. Louis," said Reed. "Travis Pastrana, who does freestyle on Suzuki's, is going to be there and the racing is always entertaining when he's around. Travis is designing the track and building it, and I think we'll have some fun things, some new ideas from a rider's point of view. I'm just looking forward to it."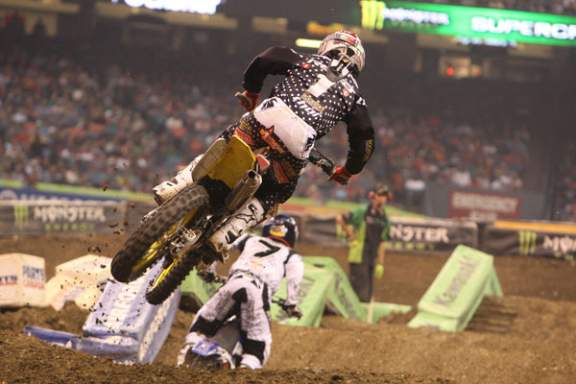 Chad Reed looks forward to racing on the Pastrana-inspired track
Photo Credit: Steve Giberson
Seventh overall in AMA Supercross class standings is Mike Alessi. Alessi picked up his best result of the 2009 season at the recent Indianapolis race, finishing third. A late-race crash in New Orleans kept him off the podium last weekend.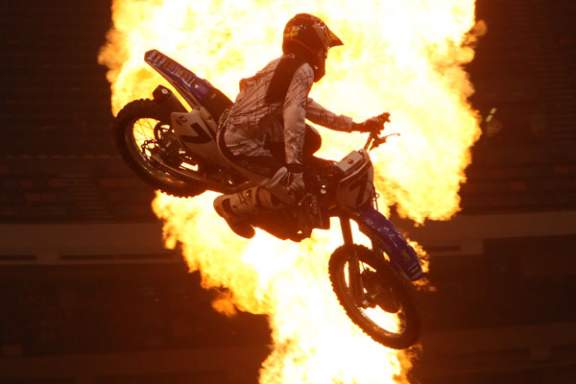 Stewart lit up New Orleans with his eighth win of '09
Photo Credit: Steve Giberson
"We have the St. Louis race coming up and it's been a tough season so far," said Alessi. "And it's still not over, so we need to work hard. The goal is for us to get top five - that would be huge for me. We just need to keep putting our heads down and charging hard. I'm happy with my conditioning, it's good and I felt that I was a little bit stronger at the middle and the end of the race at New Orleans, unfortunately, I just fell. So I'll keep working hard and training on my Rockstar Makita Suzuki RM-Z450 and come back strong at St. Louis."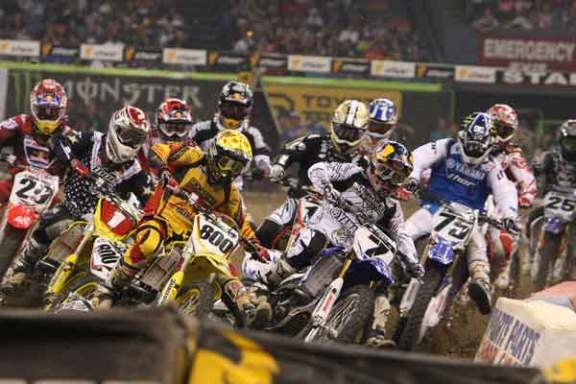 Alessi (800) is a consistent front runner
Photo Credit: Steve Giberson
It was a weekend of hard luck for Rockstar/Makita Suzuki's Nico Izzi at New Orleans. The sophomore Lites class rider crashed in his heat race and the LCQ, which eliminated him from the main event. He still sits in third place overall.
"Last week at New Orleans was a real bummer because I'd been riding well all day and my Rockstar Makita Suzuki RM-Z250 was working good," said Izzi. "But this week, I'm just trying to regroup and get ready for the St. Louis race."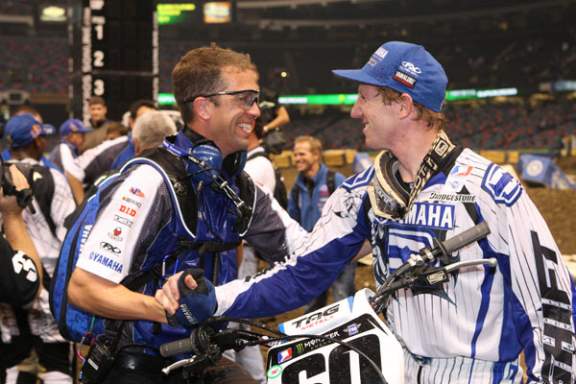 Broc Hepler missed the first six races of the season but found his way to the podium in New Orleans
Photo Credit: Steve Giberson
Despite Yamaha's Broc Hepler missing from six races of the 2009 season, he climbed atop the podium for the first time in his AMA Supercross class career in New Orleans, finishing third.
"I think that the entire team was happy to see Hepler's podium finish and hopefully he will be a contender for many more in the last six races," said Team Manager Jim Perry. "He has a good work ethic and he has been in Florida at James Stewart's place. He has always been fast he just needs a little luck, not bad luck."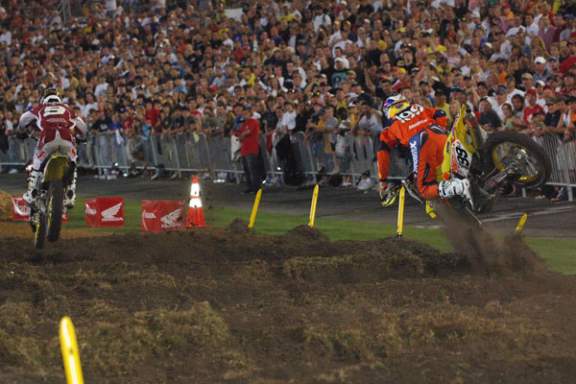 Pastrana said he wants to keep it on two wheels this weekend
Photo Credit: Steve Cox
With six races remaining, Hepler sits in 16th place. "Broc needs to put himself in contention to get as many points as possible each week and stay healthy the rest will take care of itself," said Perry.
In 2008 Yamaha's Josh Hill won the Minneapolis main event as a rookie, and this year he's struggled to find the ingredients to put together a solid night of racing. He finished a season-nest seventh at San Francisco and finished 11th at the last two races.
"His results are a little disappointing but, he is improving each week in different areas," said Perry. "Like I said a couple weeks ago, he is just missing the main event results. He is working hard Monday through Friday. In practice he has been in the top five, and he won a heat race over Reed in Daytona. This weekend he was in fourth place and was riding well, but he crashed with Alessi. Josh is also staying with Stewart in Florida, and I think that has to help."
The Muscle Milk/MDK/KTM Factory Team had a decent weekend at the New Orleans supercross with the exception of Martin Davalos who did not qualify due to a couple crashes in both his heat and the last chance qualifier.
"Unfortunately, I have been crashing a lot this year," said Davalos. "Some have been my fault but others I could not avoid. I am looking forward to St. Louis to hopefully repeat what I did in Daytona and land on the podium again. I want to put the New Orleans race behind me," commented Davalos.
His teammate Wil Hahn, has finished fifth the past two weekends in a row and looks to improve at St. Louis. "I have been happy with my results so far this year but I know that I can get on the podium. My goal in the remaining rounds will be to place on the podium. I have been training every day I can and hope that my hard work will pay off before the season ends," stated Hahn.
Justin Brayton and Ryan Sipes will fly to St. Louis to compete in the AMA Supercross class aboard their KTM 450 SX-F machines. Both riders have already raced at least one AMA Supercross race this season, both earning finishes inside the top ten. "I was really excited to lead some laps in my heat race last weekend but wish I would have had more for them in the main," said Brayton. "I am excited with my eighth-place finish but know that I can do better. My goal would be to improve upon that finish."
With two podium finishes in 2009, Honda Red Bull Racing's Andrew Short is third overall. He finished on the podium last year in St. Louis and needs a good start to get on the box again this year.
"I finished third on the St. Louis podium last year and I'm feeling good heading there again this week," said Short. "I really need to work on getting better starts because the last couple of races that has probably been my biggest challenge. I've got the speed – that's definitely not an issue, but I have had to fight my way through a bunch of riders in order to get up with the lead riders and by then, they have been able to pull a big lead. The racing is so close that you just can't afford to give the opposition valuable time at the start of each race."
New Orleans' hometown favorite Kevin Windham brought home the second best finish of his season last weekend, finishing fourth after working his way through the field. Windham is the defending winner of the St. Louis race.
"It was great to race in front of my home crowd again in New Orleans," said Windham. "I finished just shy of the podium in fourth in what was a good race right down to the checkered flag. Heading to St. Louis, I'm excited because I won this race last year. The team is working well and we continued to make good progress testing and developing the new Honda CRF450R. I expect a good race this week"
A dream came true last weekend in New Orleans for GEICO Powersports' Blake Wharton. Wharton, a rookie this year, finished a career-best third place in New Orleans and is sixth overall in Eastern Regional AMA Supercross Lites class competition, two points behind fifth-place rider Wil Hahn.
"I am really happy for the team and myself to have finished on the podium in New Orleans last week," said Wharton. "As an amateur you always dream of one day making it onto the supercross podium in front of a big crowd and I did it. The GEICO Powersports Honda team has been so supportive and helped me out a lot this year which is awesome. It's great to be able to give them this reward in return and it gives me even more confidence for St. Louis this weekend."
Tickets are available at www.SupercrossOnline.com, by phone at 314-241-1888 or 618-222-2900, the Edward Jones box office, Ticketmaster, Ticketmaster outlets, www.ticketmaster.com, and participating Yamaha dealerships. Club Level seats are $45; Goldcircle seats are $30; Mid-Level seats are $25 for adults and $10 for children; Extreme seats are $20 for adults and $10 for children; Treadhead seats are $10. Practice and qualifying begin at 12:30 and racing begins at 7:00 p.m.
This weekend's AMA Supercross Lites class race will air on SPEED Sunday, March 22 at 5:00 p.m. EST and the AMA Supercross class race will also air on SPEED on Sunday, March 22 at 6:00 p.m. EST.