Lucas Oil Sponsors AMA Pro Motocross Championship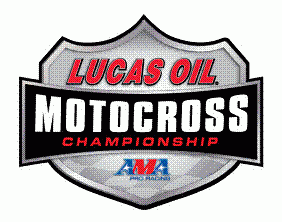 INDIANAPOLIS, Ind. – As the new era of professional motocross in America continues to take shape, a large piece of the puzzle was revealed this morning when Lucas Oil announced it will serve as the AMA Pro Motocross Championship title sponsor for the next three years. This announcement comes on the heels of the groundbreaking marketing and media partnership formed between MX Sports and Alli, the Alliance of Action Sports, around what will now be known as the Lucas Oil AMA Pro Motocross Championship.
No stranger to motorsports, Lucas Oil will continue to broaden its exposure by joining one of the most historic racing series in the country. In turn, the AMA Pro Motocross Championship will achieve new levels of publicity, reaching a much broader fan base throughout the motor racing and action sports communities.
"Lucas Oil is the perfect partner to help us fulfill our promise to our athletes and teams, our fans and the entire motorcycle industry that we would take this series unprecedented levels of television coverage and exposure," said MX Sports Vice President Davey Coombs. "MX Sports could not be prouder to work with Forrest (Lucas) and his company; their commitment to the quality of their products, as well as to motorsports racing at all levels, is remarkable."
"We're thrilled that the Lucas Oil AMA Pro Motocross Championship is a part of the Alliance", said Alli president Wade Martin. Lucas Oil is a perfect compliment to the series. We look forward to working with both of these great companies in elevating the Lucas Oil Pro Motocross Championship through the wide range of media and marketing platforms Alli will provide."
Now an official series sponsor for nine racing properties from off-road, to drag boat, and even AMA EnduroCross, Lucas Oil gladly welcomes AMA Pro Motocross into its diverse racing family. Officially titled the Lucas Oil AMA Pro Motocross Championship, Lucas Oil's involvement subsequently thrusts the series into the national spotlight with live television coverage on both NBC and SPEED, as well as same-day tape-delayed coverage. MX Sports will also be announcing a comprehensive international television package that allows fans all over the world to follow the Lucas Oil AMA Pro Motocross Championship.
"Lucas Oil is excited to be a part of the revitalization of motocross," explained Lucas Oil Executive Vice President Bob Patison. "This is an opportunity to bring motocross to a large worldwide audience that wouldn't otherwise have the opportunity to experience the excitement and tremendous skill involved in this sport.
"On our behalf, this is not only a commitment to sales and marketing, but truly bringing the AMA Pro Motocross Championship into the upper echelon of motorsports. We are putting our best resources from Lucas Oil into our involvement with the series and we will do everything in our power to help the sport grow. We are dedicated to making American motocross as good as we possibly can."
"(MX Sports) is also proud to announce that longtime series sponsor Toyota will continue its involvement as the Official Truck of the Lucas Oil AMA Pro Motocross Championship," stated MX Sports Director of Operations John Ayers. "Their support is invaluable to the sport and without their involvement motocross would not be where it is today."
For more information, please contact Lucas Oil AMA Pro Motocross Championship media coordinator Brandon Short via email at brandon@nextlevelsportsinc.com or by telephone at (949) 365-5752.
About MX Sports
MX Sports, LLC, owns, manages and produces the two most prestigious and world-leading motocross
championships – the Lucas Oil AMA Pro Motocross Championship and the Air Nautiques AMA Amateur
National Motocross Championship.
MX Sports is a second generation family owned business that has been in operation for well over 26 years and is an industry leader in the segment of off road/action sports race promotion in the United States.
Through its various racing properties, partnerships and affiliates, MX Sports fields more than 60,000 action sports athletes each year and attracts millions of active fans, spectators and enthusiasts. For more information on MX Sports, please visit www.mxsports.com.
Alli, the Alliance of Action Sports
Alli, the Alliance of Action Sports, is a global business that encompasses national and international action sports tours and events, multimedia production, and a consumer facing lifestyle brand. The Alliance includes: the Dew Tour, Winter Dew Tour, China Invitational, Maloof Money Cup, Lucas Oil AMA Pro Motocross Championship, King of Wake series, and the Free Flow Tour; Alli Productions, which creates original content, produces and presents content with partners, and distributes Alli content through a variety of channels. Alli is owned by NBC Sports and MTV Networks and represents a network of athletes, fans, brands and properties. Its mission is to facilitate the momentous growth of action sports, through competition and lifestyle, for a new generation of fans and athletes. The Alli properties are home to more than 550,000 spectators each year and broadcasts more than 150 hours of original content in 100 countries and 280 million homes worldwide. More information can be found at www.allisports.com.
Lucas Oil Products
Lucas Oil is a worldwide leader in the production of oils, greases, and additives. Based in Corona, Calif., Lucas Oil Products is one of the fastest-growing additive lines in the consumer automotive industry, featuring a premium line of oils, greases, and problem-solving additives. Through innovative product research and development, along with aggressive marketing programs, Lucas Oil Products has established itself as the top-selling additive line in the American truck-stop industry.
Forrest Lucas and his wife, Charlotte, founded Lucas Oil Products in 1989 after he spent 20 years as a truck driver and owner of a nationwide long-haul trucking fleet. They experienced firsthand the need for better lubricants and fuel treatments to maintain their equipment.
Lucas Oil is involved in an array of motorsports sponsorships, including the "Official Motor Oil of the AMA Pro Motocross Championship." For more information on Lucas Oil, please visit www.LucasOil.com.