This Week in Supercross: San Francisco
AURORA, Ill. – It has been three races of playing catch up for Team San Manuel Yamaha's James Stewart after starting the season 18 points behind arch rival Chad Reed of the Rockstar/Makita Suzuki team. Stewart, of Haines City Fla., has won the last three consecutive AMA Supercross class races and has his sites set on four tomorrow night as Monster Energy® AMA Supercross, an FIM World Championship, rolls into San Francisco's AT&T Park. Current Western Regional AMA Supercross Lites class points leader Ryan Dungey, who rides for the Rockstar/Makita Suzuki team, carries a two-race win streak into AT&T Park.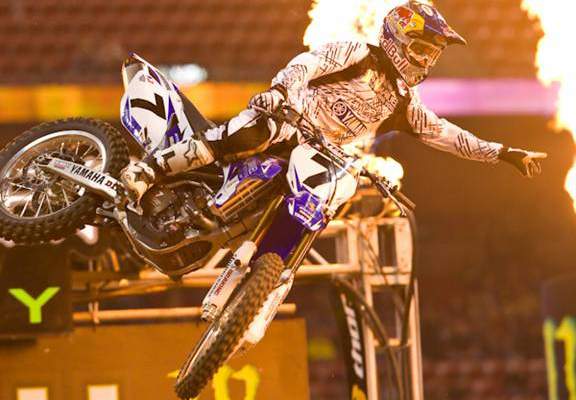 Stewart won the AMA Supercross Class main event in San Francisco During the 2006 Season
Photo: Simon Cudby
The AMA Supercross class will air on CBS Sports on Sunday, February 1 at Noon EST and the Western Regional AMA Supercross Lites class race will also air on SPEED on Sunday, February 1 at Noon EST.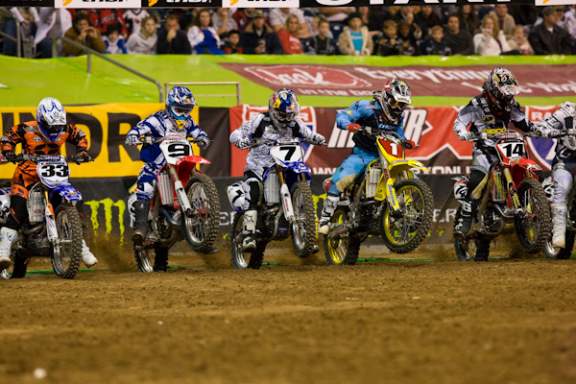 Chad Reed Needs a Good Start in San Francisco
Photo Credit: Simon Cudby
Defending, two-time AMA Supercross champion Reed currently leads the overall AMA Supercross class championship points lead and is the only rider to be on the podium every race of the 2009 season showing his consistent ways.
"San Francisco is always a good race for me. I've always had good, strong rides there and I'm looking forward to racing the Rockstar Makita Suzuki RM-Z450 there," said Reed. "We all know San Francisco has the potential to be muddy, so who knows what we'll get? But I'm looking forward to it."
Reed's AMA Supercross class teammate Mike Alessi keeps getting stronger with each AMA Supercross class race. The Californian is currently in ninth place overall, having picked up his best results of the 2009 season at last week's Houston race.
"My goal is to keep riding hard on my Rockstar Makita Suzuki RM-Z450 and training hard during the week," said Alessi. "I want to go to San Francisco with a positive outlook, and I want to keep improving and try to be a little faster in practice. I want to try and be, again, top four or five in my heat race, and get another top-10 in the main, for sure. I want to try to better my result next weekend and get sixth."
After taking a weekend off when the Eastern Regional AMA Supercross Lites class championship started last weekend in Houston, Rockstar Makita Suzuki's Ryan Dungey is looking forward to racing again at San Francisco.
"We had two weeks off between races and I headed back to Florida to ride back there on that type of soil," said Dungey. "We've done some testing with the Rockstar Makita Suzuki RM-Z250, and I've had a little bit of fun and now I'm ready to show up at San Francisco 100 percent ready."
Defending Eastern Regional AMA Supercross Lites class champion Trey Canard, of the GEICO Powersports Honda team, returns to action after suffering an injury during the Phoenix stop of this year's tour.
"It was disappointing to miss out on racing Anaheim two but I am back and feeling great heading into this weekend," said Canard. "I'm told it rained a lot at this race last year and was really muddy. As far as I'm concerned, it can't get any muddier than the Daytona race last year where my bike was submerged in the mud. I went the distance then, so I know it can go the distance with whatever the San Francisco weather brings."
Muscle Milk/MDK/KTM rider Wil Hahn was the surprise of the night when he finished 6th in the main event in Houston last weekend. It was Hahn's first race back since breaking his sternum.
"I was pretty happy with my result," said Hahn. "Of course, I would have liked to be on the podium, but I was glad to finish inside the top ten and gauge where my speed is since returning from my injury." Hahn's teammate, Martin Davalos, finished 7th at Houston and was not as impressed with his result, "I really expected to come out better for the first round. I struggled to relax the whole day and I rode tight in both my heat and the main event."
Davalos will now head out West to train with his teammates in California in preparation for the Atlanta supercross.
"We think it will be best for Davalos to train in California over the next month. Allowing him the opportunity to ride with fast riders in California is better than him riding alone back east," responded KTM Director of Racing, Kurt Nicoll.
West Lites rider, Ryan Sipes, will return to the KTM 250 SX-F machine for this week's San Francisco Supercross after riding the KTM 450 SX-F in Houston last weekend. "It was fun to ride the 450 SX-F in Houston, but some bad luck in my heat and an even worse start in the LCQ kept me from qualifying for the main event," reported Sipes. "I intend to race the 450 at another East round and hope the result will be much improved."
Justin Brayton was the only Muscle Milk/MDK/KTM rider that stayed back last week to put in laps on his Lites bike. "I currently sit fourth in points and I hope to move into the top three after San Francisco. I've been training hard and I feel confident about the next round," stated Brayton.
Monster Energy Kawasaki comes to AT&T Park with momentum in their favor as Ryan Villopoto looks to capitalized on his podium finish last weekend in Houston. The AMA Supercross class rookie led the main event for the first time in his career last weekend. Despite a bobble that cost him the runner-up spot, he rode a strong race to get on the box.
"We are just looking to make progress every week," said Villopoto. "We've gone from fourth to third so that just leaves second and our course a win. I'm even ready to skip second this week and get the win if I can. It is still a long season and I'm going to just keep working on getting better each race."
Villopoto's Monster Energy Kawasaki stable mate Timmy Ferry scored a second straight eighth-place finish last week after losing the rhythm of the track during the main event. After a month away from his Florida home, Ferry stayed on the East Coast this week to recharge before the San Francisco event.
"I got the best night sleep I've had in a month on Sunday night," said Ferry. "Being in my own bed in my house has been great for me this week. I just had my supercross track redone so I'm still getting in some quality riding and also getting to spend some time with my family."
After a one-week break both Ryan Morais and Jake Weimer are ready to continue their drive towards the Western Regional AMA Supercross Lites class title. The Monster Energy/Pro Circuit/Kawasaki Lites riders are currently second and third respectively in the standings and both are ready to stay on the podium.
"So far this season has been a dream," said Morais. "This is kind of my home race, since I grew up in Turlock, California. I really want to get my first win and there is no better place than San Francisco to get it. Because I was sick, I didn't get to ride at all before the second Anaheim race and I got second so with two weeks of practice behind me, I'm ready to have a great race."
Weimer is looking forward to not having to prepare for a mud race in the Bay Area.
"San Francisco is always a good event," said Weimer. "This year it should be even better since it looks like it will be dry and we won't have a mud race. I know we'll be prepared for rain if it comes, but it will be awesome to give the fans a great show without all the mud."
Honda Red Bull Racing's Andrew Short, who struggled in the rain at last year's race is ready to turn in a podium finish at A&T Park.
"Last year at San Francisco I didn't have a great race so I am looking to make amends this weekend," said Short. "It's usually rains or ends up being a pretty messed up race so it is important I get a good start to give myself the best possible chance; staying clear of any unnecessary hassles. My bike is running great and I know the Honda Red Bull Racing team will again have it dialed in to deal with the tough conditions."
Last year Honda Red Bull Racing's Davi Millsaps earned the first podium of his 2008 campaign and went on to pick up three consecutive podium finishes. Millsaps looks to get things going tomorrow night in what is expected to be a dry evening.
"I finished third at San Francisco last year at what was a tough–muddy race," said Millsaps. "That podium result started my run of podium finishes and I am hoping to replicate that run again this weekend."
AMA Supercross class veteran Kevin Windham, who rides for the GEICO Powersports team, finished second in San Francisco last year.
"I finished second on the podium at San Francisco last year and it was a good race for me," said Windham. "Consistency is the key to staying in the championship point's race and that's my goal right now. I really want to get on that podium this weekend and continue doing so."
Fans can take advantage of several discounts that are now available, including a $10-off coupon from participating Big O Tire locations, $40 off with purchase of the Fan Four Pack at participating Jack in the Box locations and free Extreme Value ticket vouchers are available at OTD Cycle Sports.
For more information on the Monster Energy® AMA Supercross, an FIM World Championship, please log on to www.SupercrossOnline.com. For all media requests, please contact Denny Hartwig dhartwig@feldinc.com or 630-566-6305.
About Feld Motor Sports
Feld Motor Sports, Inc. is the world leader in specialized arena and stadium-based motor sports entertainment. Feld Motor Sports, Inc. productions include Monster Jam®, Monster Energy® Supercross, AMA Arenacross Series, Freestyle Motocross, and IHRA® Nitro Jam®. Feld Motor Sports, Inc. is a division of Feld Entertainment, the world's largest producer of live family entertainment. For more information on Feld Entertainment, visit www.feldentertainment.com.