Xmas Countdown: Day 26+2
November 28, 2008 10:44am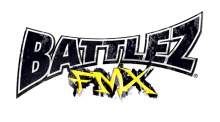 Day 26+2


Playing Battlez FMX Edition is fun, fast and action packed. It takes a combination of skills, luck and strategy to win. The object of the game is to play out a Freestyle MX show, scoring or subtracting points by matching the dice combinations shown on the cards. First player to 100 points wins. Battlez FMX features Freestyle MX stars and Metal Mulisha team members Brian Deegan, Todd Potter and Jeremy Lusk. Each two-player kit features either Deegan vs. Lusk or Deegan vs. Potter. For Christmas, whether you buy online or through a retail store, you will get a set of limited-edition booster packs to expand game play for free. The cost is $12.95 for a two-player kit.
For more info, check out
www.BattlezFMX.com
.
For retail locations, click
here
.
How to play video, click
here
.