2009 FastDates.com Motorcycle PinUp Calendars
The Mikuni, Performance Machine and SBK World Superbike sponsored 2009 FastDates.com Calendars
Fast Dates, Iron & Lace, Garage Girls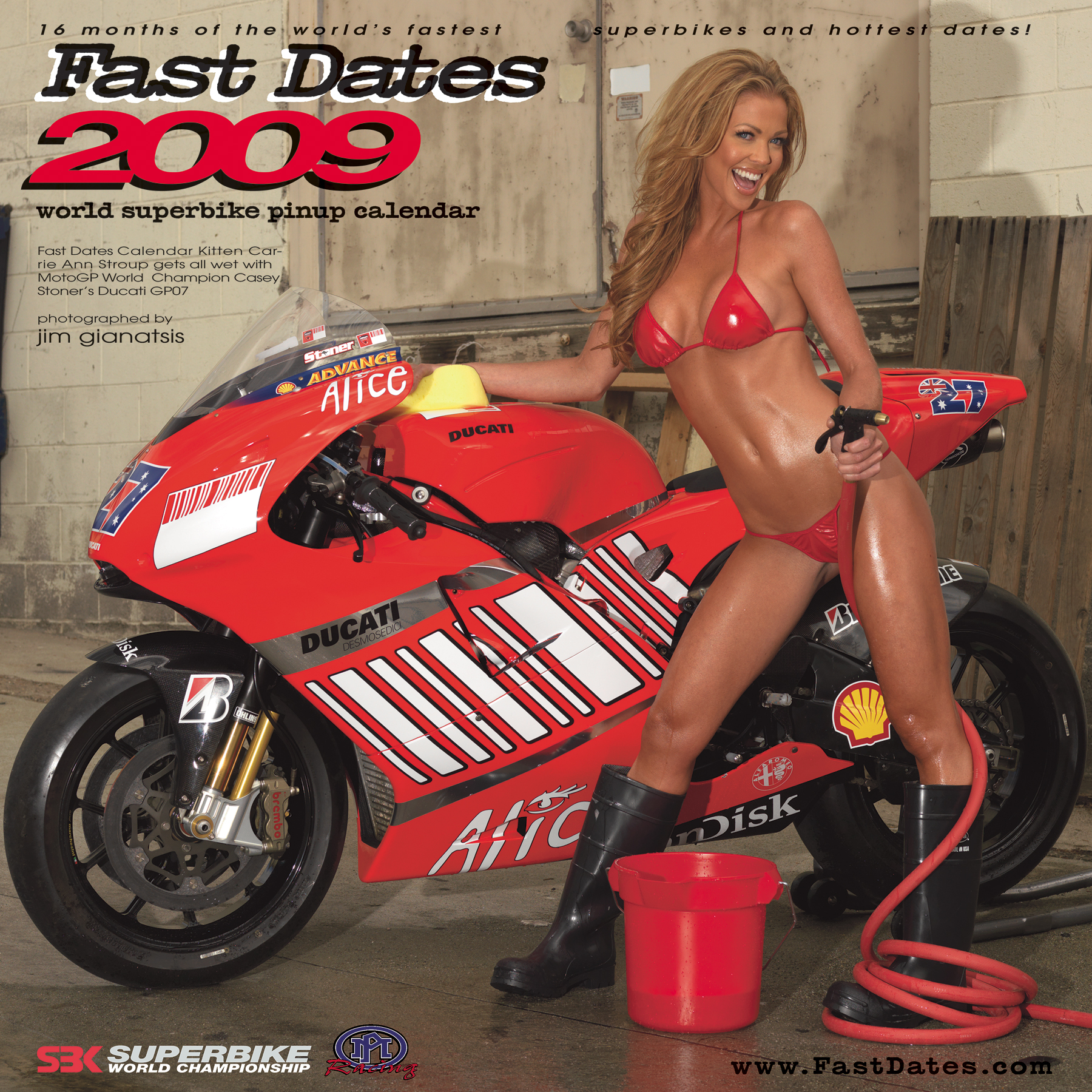 2009 Iron & Lace Custom Motorcycle PinUp Calendar
The 2009 Iron & Lace Custom Bike and Centerfold Model Calendar sponsored by Mikuni Carburetors and Performance Machine features the world's top custom bikes together with sexy centerfold models in revealing lingerie. Photographed by Jim Gianatsis, Iron & Lace offers a month by month look at the top winning bikes from the 2007 LA Calendar Motorcycle Show's Calendar Bike Building Championship including the Best of Show winner from Greg Westbury of WestburyHotRods.com Also featured are incredible customs from former Best of Show winner the legendary Japanese builder Shinya Kimura of Zero and Chabbot Engineering fame, plus Joe Takai of Mercury Customs, Yasuyoshi Chikawaza , Hiroyuki Hirato, Kevin Brooks of Thunder Mountain Motorsports, Ron Simms, Barry LaCour of Top Shelf Customs, Jesse Rooke and Todd Silicatio. And just to keep things in perspective, Ron Simms also brought us his beautiful 1919 Harley-Davidson factory board track racer.
This year's Iron & Lace Calendar Kittens photographed with the bikes are as beautiful as ever with Playboy models Tamara Witmer and Tiffany Toth, Miss Hooters National Swimsuit Pageant finalist Cora Skinner, Katerina van DeerHan and sexy cover model Carrie Ann Stroup.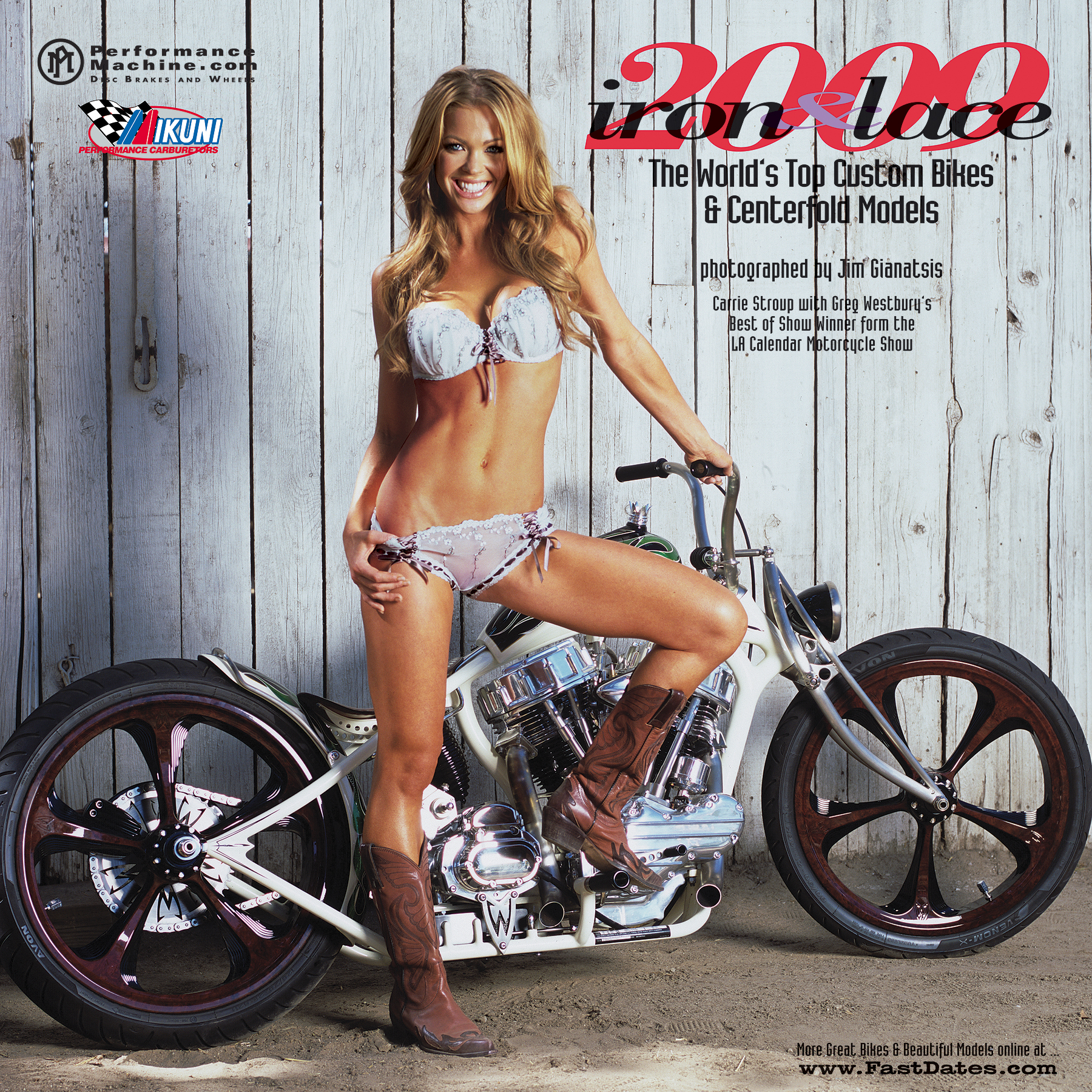 2009 Fast Dates Racebike Pinup Calendar
The SBK World Superbike endorsed 2009 Fast Dates Race Bike Swimsuit Pinup Calendar sponsored by Performance Machine and photographed by Jim Gianatsis offers a special treat this year with the cover bike being Casey Stoner's 2007 MotoGP World Championship winning Ducati GP07 bike photographed with sexy swimsuit model Carrie Ann Stroup. We've got Carrie washing down the world's winningest MotoGP bike in a secret back alley location that's guaranteed to steam up any sportbike fan!
Of course, there's all all the top factory race bikes of the SBK World Superbike Championship photographed on location at Brands Hatch International Raceway in Great Britain with beautiful SBK Fast Dates World Superbike girls Rhian Sugden and Gemma Louise Henry. Featured are all the top factory Superbikes from Yamaha, Honda, Suzuki, Kawasaki, and Ducati including double World Champs James toseland's Ten Kate Hannespre Honda CBR1000, Troy Bayliss' Xerox Ducati 999F07, Max Biaggi's Suzuki GSXR1000, and Regis Laconi's Kawasaki ZX10.
We also did some smokin' hot sportbike studio shots back in Los Angeles with Playboy model and Calendar Kitten Tiffany Toth with a limited edition Ducati 1098S Tri Colore and Hypermoto R, and a wild Shinya Kimura V-Twin sport custom that are guaranteed to have you bouncin' off the rev limiter and blowin' a head gasket.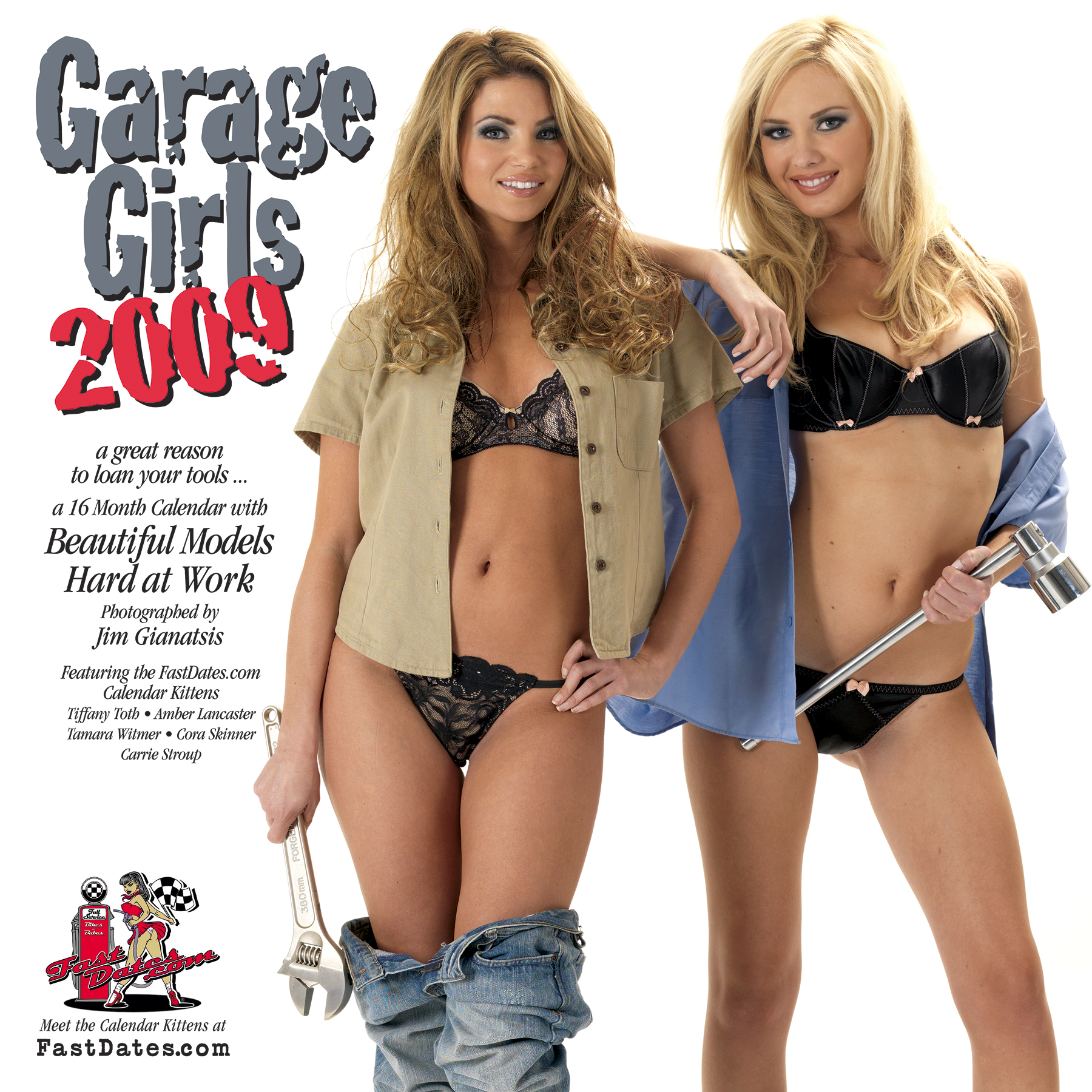 2009 Garage Girls Calendar
"All Killer, No Filler" is the only way to describe the exciting 2009 Garage Girls Calendar photographed by Jim Gianatsis which features a close-up look at the beautiful FastDates.com Calendar Kittens without the bikes getting in the way! This year's sexy Calendar Felines include Playboy model Tiffany Toth playing house with Amber Lancaster. After a hard day at work in the garage, Tiffany and Amber find they haven't a thing to wear as they hang up their just washed clothes to dry!
Also getting dirty in this year's Garage Girls Calendar are Playboy Playmate Tamara Witmer, Miss Hooters National Swimsuit Pageant finalist Cora Skinner, and our hottest new Kitten who also scored the covers this year on our other two calendars, Fast Dates and Iron & Lace, the beautiful Carrie Ann Stroup. Garage Girls is the perfect companion to our other FastDates.com Motorcycle Calendars so you can keep up to date all year long, both in the garage where you keep your tools, and in the house where you park your bike!
Ordering Information
The 2009 FastDates.com Calendars reveal a full 16 months of the world's top motorcycles with beautiful pin up models beginning with September 2008 and are printed in full color on 15x15-inch heavy dull coated art board and wire spiral bound for wall hanging. Calendars are available at you favorite motorcycle dealer from leading parts distributors, or order online at
http://www.FastDates.com
. Order toll-free by phone in the USA 1-800 461-1226.
For mail order specify the calendar name, quantity, your name, address, and phone number. Mail with check, money order, Visa/MasterCard info for $16.95 each, plus $6 S&H per US order. Mail to: FastDates.com Calendars, c/o Van Leeuwen, 13275 Paxton Street, Arleta, CA 91331 USA. International orders should consult the FastDates.com website for our international distributor listings.