Rev Up: Heart like a Wheel
Hello, everyone, and welcome to the Rev Up. There were several movies I watched growing up that have always stayed with me. I'm 31 years old, and to this day I use quotes from movies like The Blues Brothers, Smokey and the Bandit, and Star Wars. Another one of those movies that has remained steadfast in my memories was the 1983 biographical film, Heart Like a Wheel, about the life of Shirley Muldowney. Muldowney was the first female professional top-fuel dragster driver to win the NHRA National Championship. My parents were street drag racers in high school, so, of course, they loved the movie. We all watched it together as a family several times. It's no wonder why I'm never too far away from a race...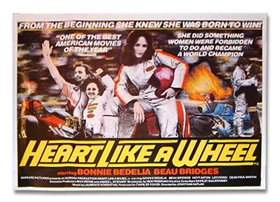 Where is your heart at?
As we sit here in idle during an off week, I've been running the recent events in and around our sport back through my head and I have to say that it has been an astonishing month. When I heard the news of Ashley Fiolek winning her first pro women's event at
Hangtown
, I wondered if Mrs. Muldowney knew about it. Wouldn't it be cool to deliver that news to her and maybe have her in attendance for the 2010
High Point
National when Ashley qualifies for the men's class?
But that was just one cool part of what's helped push the blood through my heart like a wheel.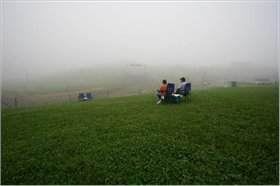 It was a great Father's Day
On June 1st, I rode my Harley to Dover, Delaware, to watch NASCAR. It was Clint's birthday, so I left a day early to meet up with him and Pops on their bikes. We rode an hour South to watch Clint's dirt Late Model team race, then rode back to the Monster Mile later that night, three abreast the whole way. I can close my eyes and hear our three V-twins singing together. That Sunday, the 07 was on the charge through the pack, running seventh – the fastest thing on the track by two tenths. He got cut down by a broken shock. It's been four straight weeks of 25th or worse since then, and he needs to turn it around. He will.
Fast forward to Sunday, June 15th. Father's Day. The scene was the 32nd annual High Point National, and I was getting to view the facility from atop the announcing tower beside Jason Weigandt. David Bailey was out on the track doing the Legend's Lap, and I was called on to talk a little during the Pre Show. It was just a few minutes of bench racing, but it was the coolest thing I had done since I could remember. Weege made fun of me because my arms were shredded into chicken skin when the Lites guys strolled out for their hot lap. But it was definitely all good. Last Sunday was just simply fantastic across the board.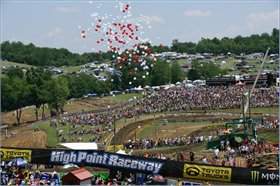 There is nothing like the Outdoor Nationals. Nothing.
In the middle of all of that, I sit here in MX Sports answering the phone. The folks on the other end of the line are going through some of the most stressful times of their life. They just want to make it to Loretta Lynn's. I've been in their shoes. I've gone 1-1-DNF when my clutch fried in the mud and had to pray to get in as an alternate. I feel the pain and the jubilation in the participant's voices when I get to tell them good or bad news. I'm proud to say that things are going well, and it's shaping up to be another wonderful week in Hurricane Mills, Tennessee. Loretta Lynn's MX Championships begin in 38 days.
I always like to take a few moments to remember the events that I've been fortunate to witness. This morning, for reasons God only knows, I thought about the time I watched Shirley Muldowney explode down the fresh 1/4-mile stretch of asphalt at Heartland Park Topeka. I remembered how she had crashed in Heart Like a Wheel. The image of her engine flipping down the track was tattooed in my head and I was nervous. Shirley was the first top fuel car to hit the brand new drag strip. Her pink Dragster with "Cha-Cha" painted on the side burned it in just over five seconds.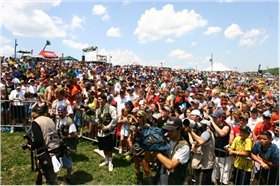 $4.15 gas didn't stop very many people
As I drove down the driveway to the
Racer X
HQ and looked at the cars parked out front, I just had to smile. Everyone in this building has a heart like a wheel. Four wheels, two wheels - dust, mud, trees, or stadium lights. The sign out front says, "We Race." Damn right we do. This weekend I'm heading to Muddy Creek for the
Oakley Summer Nationals
. It just never stops, and I like it that way.
Thanks for reading, see you next week.