5 Minutes with ... Jake Weimer
A few days after using 2-5 moto finishes to post a career-best runner-up finish at High Point Raceway, Jake Weimer, stopping off while on a drive-by through Carlsbad, CA, dropped by to say hello. As part as his ever-escalating dedication to all things physical fitness, the 20-year-old from Rupert, Idaho, had just come from a serious bout of VO2 Max testing. A gauge to calibrate maximal oxygen consumption — or how an individual's body can transport and use oxygen during physical exertion — Weimer was using the test as a sort of human dynometer to see where he was excelling and where he wasn't.
His breath caught and with some extra time on is hands as he didn't want to face the mind numbing traffic he was about to drop in to for his drive back to the Inland Empire, Racer X sat him down and talked to him about both his second-place finish in Pennsylvania and where he was off to next.
Racer X: Jake, what brings you over to the fine town of Carlsbad today?
Jake Weimer: I came down because my trainer Randy Lawrence wanted me to do some VO testing, which includes a bunch of different tests. I don't know the complete and appropriate names for all of them, but it's just a variety of different tests to let you know where you're at as far as body fat percent and stuff like that.
What did they have you do?
All I did was get on the bike and warm up a little bit. Then you're plugged into a sort of a program and you're hooked into a computer program and they have computers going everywhere. You're also hooked up to like a mask and they have you go through this physical program that just gets harder and harder and harder as it goes on and you pretty much go until you can't go any more.
So, say, were you struggling as much with this deal as you would be at the 30-minute mark of a moto?
Oh yeah. Way worse. Basically, the whole point of the test is that they just want to see how far you can go until you say, "I can't go anymore." And it doesn't take long because it gets harder and harder and harder pretty quick. The whole test took 20 minutes, maximum.
So when all was said and done, did these people give you any sort of indication of how you performed?
Yeah, the guy said that on some of it I was pretty good, but he also said there as stuff I could definitely improve on. I haven't spent a ton of time on a bike [bicycle] so that already made it a little bit tougher for me, but I don't think I did too bad. I think it was pretty good. More than anything, it was for Randy to see and know what areas could be worked on and what areas that I'm already doing pretty well in.
Obviously, Randy Lawrence has been working with Ryan Villopoto for quite a while now. Has Ryan been through this test?
Yeah, I know Villopoto has done it. I'm assuming other people (like Nick Wey) have done it, too, but I know that he's done it.
Do you guys know one another pretty well?
Yeah, I mean we use the same trainer obviously, so I see him every day. We ride together every day; we work out every day together; bicycle together.
So you guys get along well…
Yeah, I've been buddies with him since we were in the amateur stuff, so I've known him for a long time.
If you would, tell me about Mt. Morris. How did you feel going into the race; how did you feel about the track; and how did the two motos come to you…
Going into Mount Morris, I felt good. Last year, in 2007, it was actually the first national that I did fairly well at. I think I went like 5-7 for seventh. So I felt good going in there. I got good starts the previous year, which I did in motos this year. Going in I felt very confident because I like the place and I like the track.
In the first moto I got the holeshot and rode horribly the first lap and a half or two laps. I was just tight and nervous. It's intense to holeshot and be leading 40 of the best guys in the world!
You mean like trying to figure out what the pace is and all that…
Yeah, it was tough and I went off the track like twice on the fist lap. I want to say by the end of the second lap I was like in fifth place and then I just started to calm down. I rode behind some guys and I started to get my groove and by the end of the moto I ended up getting second. That was good and I was excited with that.
Then in the second moto, I think I started like in third or fourth and kind of just battled the whole moto with [Brett] Metcalfe. He was behind me for a long time and I made a mistake and he got around me and I pretty much followed him to the end. So the second moto was a lot calmer. There wasn't really a whole lot going on. I got a good start and I just kind of stayed fairly steady the whole time. As a race overall, it was really good for me. It was the first time that I got on the podium, so I was excited.
After getting that second place finish in the opening moto, mentally, did you feel like you up-shifted to another gear?
Yeah, for sure. It was nice to get second. I definitely think it was a move in the right direction for me. I think it was good for my confidence and it was good to start up front and see the pace for the first couple laps. I didn't really have to deal with [Austin] Stroupe or [Ryan] Dungey as they both kind of had their issues of their own. The series is definitely not over and there are some places for me to improve, so I mean as far as moto one goes and me getting second, that was big for me. It's good to work hard and then get some reward. It gives you more motivation and experience.
We're only four rounds into the 2008 AMA Toyota Motocross Championship, but the series seems to be shaping up with Villopoto at the top, Dungey and Stroupe slightly beneath him, and then maybe you and Metcalfe just a shard below. What's your take on that?
You pretty much hit the nail on the head. Villopoto is just in a little bit of a league of his own right now. I mean, he can holeshot and pull away and win or he can start 10th and come through and win. He's a little bit out of the question right now… For me, like you said, Metcalfe and I seem to be pretty close every weekend so it's about small goals like that: Trying to beat Brett every weekend. Hopefully I get that accomplished, and then the next guy is Stroupe or Dungey. I think it's kind of different every weekend. Dungey is very solid. He might not be the fastest, but he gets good starts and he usually keeps it on two wheels, so he's tough to beat. But like you said, right now, Metcalfe is pretty much on the same level that I'm at.
Where do you place Jason Lawrence in all of this? Is he more of a wildcard? I mean I don't mean to put words in your mouth with this presumption…
Yeah, I would agree. So far, at Glen Helen, he was definitely above my pace. Hangtown? I think I was a little closer. And at Texas, I definitely had him covered. And then last weekend, I fell down in the first moto when I was in third. Then I got back up and he was right on me and I pulled away from him. But in the very next moto he blew by me on the second lap, but then he had issues. So with Jason, you never know. He might be super-fast and be there with Villopoto or he just might be the guy just hanging out in 10th place.
The next race will be run under the lights outside of Denver. What do you think about that situation and what's your goal for the race?
I really don't know how it's going to be. I have no idea! I think that it could be pretty good, because it'll be different and it'll be a little bit cooler, which would make our bikes run better. Everybody's bikes are struggling to get air at that race. However, if it's not lit well, it'll be a mess. I don't really now what to think.
As far as expectations go, like I said, it's two good starts and two good motos and hopefully that puts me right on the podium or right near the top five.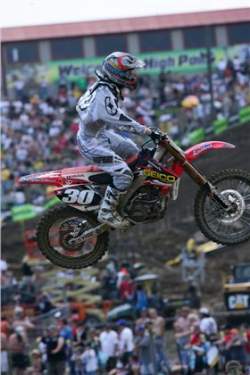 Weimer sits fifth in points

photo: Simon Cudby

I don't know if you can answer this question, but do you know what you're doing for 2009 yet?
I don't. Not yet. Not at this time. Hopefully, we'll find out soon.
Have you been entertaining offers? Have other people approached you?
Oh yeah, for sure. No doubt.
Do you have to keep all that on the down low?
No, everybody knows that I've talked to other people and that there are other offers. I think that's just part of the sport. I think it's good. I think it's kind of fun.
Can you tell us who some of these other people are?
[Laughs] I can't say who they are, but there are definitely some other people who are interested!
Okay, but that has to make you feel good…
It does, for sure. It's good. It's good to know you're wanted. It seems like every year that I've progressively gotten better and better and better. You know, the closer you get to winning that you get the cooler it is because people seem to really want you.
Right on, Jake, good luck in Denver.
Thanks.