5 Minutes with ... Tommy Hahn
Motosport/Xtreme Team Green rider Tommy Hahn had his best ride of the young outdoor season this past Sunday at Freestone. The personable Hahn was saving it all for the fans in his adopted home state, and despite starts outside the top ten both motos, he rode through the heat to 6-5 finishes and a fifth overall, taking him to eighth in the points.
Racer X: Tommy, great ride this weekend. Talk about your race.
Tommy Hahn: It was a good ride for me, for sure. Man, it was hot. I'm in Texas right now, just finishing up riding, and it's probably just as hot today as it was on Sunday. I think the fact that I've been in Texas for a couple of weeks must've helped me, being used to it. Both motos, I was outside the top 15 off the start and made the first two laps count and got by as many people as I could. I didn't really settle, but I found my groove and just rode in the flow of the track and started picking people off, which happened both motos. I didn't really get tired this weekend, but when I got off the track it really hit me, man. It was so hot! It was the hottest day for me so far this year.
Steve Cox wouldn't shut up about this "Bojangles Bar-B-Q" place all weekend and we ate there on Sunday night and saw you and the boys eating there. Cox told me that you were saying that I should've come up and say hi.
Yeah, I was like, "Why doesn't he come up and talk to us?" And Cox said that you were shy or something like that.
Well, I don't know all you crazy kids - maybe I wrote something bad and one of you wanted to punch me.
It doesn't matter, dude, you should've come up and said hi. All the cool people were hanging up there.
So far, this past weekend you had your best finish. I guess you're happy to be out of California?
Yeah, for sure, the two California races are always the worst for me. Actually, all the West Coast ones, including Washougal, are the worst for me. They are the worst tracks for me. I don't have anything against the West Coast. I don't know why, but I never do well there. I just don't. I think when we get back east I can start getting into that top-five group. Millville is one of my favorites and Southwick is also my favorite. I'm looking forward to those tracks.
I haven't read this anywhere, so I want to know what you think of the difference between your Honda of last year and your Kawasaki.
You know, it was really easy to adapt to the Kawasaki. I felt at home right away on it. It handles great and turns real good. The Honda and the Kawasaki are really similar in that way, and I have no problems with my bike. I like it a lot. My bike is great - nothing to complain about - and my Honda was good also. Pro Circuit builds most everything on my bike, and I think they really have the Kawasaki down pat. They obviously know how to make the Kawasakis run! And Honda is Honda - they know what they're doing as well. The bikes are really good. It wasn't that hard of a switch to make. They each have their positives and negatives, but I think they're really close. If I had to choose, I think the Kawasaki turns a bit better, but the Honda was more stable on the high-speed stuff.
That makes sense. What did you think of the track on the weekend? Do you Texas boys get to ride it much?
No, not at all. I've only ridden it twice - once last year for the national and then on Sunday. It's pretty good, a little bit better than last year. I love the sand whoops and thought that it was great.
Your brother rode great also.
Yeah, he was pumped for sure. He rode awesome coming from the back and has his confidence back. That's a good thing to have, for sure. He thinks he's the shit now. I'm going to have to put him in his place now.
What's it going to take from you to break into that top group of Lites guys?
I think it's going to take a good start from me, for one. I haven't started up there yet. Those dudes are in great shape, and there's a reason why they are up in the front all the time. I think I need to be a little further to the front to get in that mix. I know I have the speed, and I know I'm in shape, and I think I proved that I had the fitness this weekend. I've been working hard during the week, and I'm tired of getting fourths.… I think I get the most fourths or fifths out of anyone I know. I wanna break up there and get on the podium. I've never been on the podium outdoors and really think I can do it before the end of the year.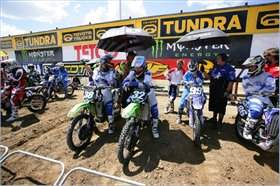 The Hahn brothers lined up next to each other in Texas

So you're signed to the end of 2009 with Motosport/Xtreme Kawasaki team, and after your 450 rides in SX this past year, any thoughts of moving up?
That's where I want to be. I think I ride the 450 a little better than the 250, and that's the plan, but I'm not sure. I guess we'll see at Anaheim 1. My 450 was full Pro Circuit in the beginning, and it was good because the bike I was riding in California was the same. When I went back home, I had a stock bike, but when I got to the races, the race bike was too much for me. I kept making it easier and easier to ride and eventually got to the point where it was basically stock except for a little head work and a bitchin' Pro Circuit pipe. Even being stock, I think the worst start I got was a fourth.